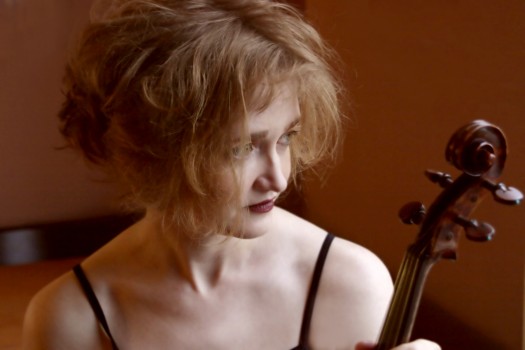 Amy Farris
.........................................................

(1968-2009) Austin, TX is a music city that attracts talent from here and abroad — a city known for its fertile musical climate and vibrant club scene. Listening to singer/songwriter/fiddle player Amy Farris, an Austin native who graduated from Davy Crockett High School and went on to study at the University of Texas, you can hear echoes of the city's rich musical history. (For you history buffs, one of Farris' forebears, James Butler Bonham, fought and died at the Alamo.)
At an early age, Farris discovered talents for writing and singing and soon picked up the violin. Although classically trained, it was Farris' gift for improvisation that brought her notice. "I could always improvise,"Farris recalls. "People would ask me how and I'd say, 'I just play what comes in to my head – what sounds good to me.'"
Farris' introduction to the rock 'n' roll lifestyle came through Alejandro Escovedo, who approached the young fiddle player for a no-frills tour. She jumped at the chance, telling the folks at the law office where she was a legal secretary that she wouldn't be coming back. She found herself — the only woman — sharing van space with six guys, luggage, assorted instruments and a cello.
"I would, like, sit on top of people," she says, laughing. "I had a sleeping bag and I'd sleep on the floor in between two beds full of guys. I was just so happy to be on the road and playing good music. We toured the West Coast — it was quite an education." Farris soon found herself immersed in the Austin music scene, where she went on to play, tour, and record with such artists as Kelly Willis, Bruce Robison, The Derailers, Tish Hinojosa and even country legend Ray Price (she holds the distinction of being the first single woman allowed on Ray Price's tour bus).
It was an education that paid off when Farris heard from her brother (also a musician) that singer-songwriter Bruce Robison was looking for a fiddle player to join his band. Knowing Farris was classically trained, Robison expressed reservations; he was looking for someone who could play classic Texas-style fiddle. Farris said, "Well, tell him I was country enough for Ray Price."
Robison called a couple of days later. "I studied real hard and learned all the parts on Bruce's record and all the harmonies. At the first rehearsal Kelly [Willis] walks in; I was a huge Kelly Willis fan and she just walked in. Bruce laughed and said "just take her," 'cause it was a joke that she'd take his good musicians."
Sure enough, Farris soon got the opportunity to work with Willis. "I told her I could sing the harmonies on her record," Farris says of her audition. "Little did she know I'd been driving around Austin for years singing the harmony parts in the car – she thought I was this genius." It was also the start of a friendship — it was the first time one of Willis' "sidemen" was a woman. "You know, there aren't a lot of women sidemen — you just end up acting like a guy, so it was great to tour with a woman."
Farris spent six years touring with Willis, including two huge Lilith Fair tours she describes as "the most wonderful summer camp ever — I got to see Emmylou Harris five times from the front row!"
Once Willis' touring schedule slowed down, Farris, who'd been writing her own songs, started pursuing a solo project in earnest. Although she'd been immersed in the Americana scene, her own songwriting was more eclectic. "My favorite band is either The Beatles or X – I can't decide," she says. "They were the bands I listened to the most during my critical years."
Enter Dave Alvin. Farris had first seen Alvin play at an X concert in Austin when she was 16 and she'd been a fan ever since. When the time came to make a solo album, the first person she thought of was Alvin. "I have a friend in California who knows him," she says. "I just decided, 'If Dave Alvin says yes to working with me, then it"s a sign, and I'm going to move heaven and earth to make it happen.""
With Alvin on board, recording sessions were originally scheduled in Austin but were bumped. In May 2003, Cinco de Mayo to be exact — Farris, who'd never lived anywhere but Austin, moved to Los Angeles to make what would become Anyway. Legendary engineer Mark Linett (whose recent projects include the DVD audio version of the Beach Boys' Pet Sounds), was brought in. "Dave called all of his friends — A-list guys in L.A. – and then I got to co-write with him, which at first was terrifying," she says. "But Dave allowed me to be eclectic and somehow managed to tie it all together in a way that made sense. We made an 'Americana pop'record, that's how we felt."
Anyway includes songs by Farris, Bruce Robison, John Doe and Exene Cervenka, along with three co-writes by Farris and Alvin. She also does a version of "Big Louise," inspired by Scott Walker"s interpretation of the song. A deeply original vocalist whose effortless style recalls such artists as Nanci Griffith and Alison Krauss, her fiddle playing alternately conjures Texas swing, country and pop (just listen to Farris' version of X's "Poor Girl" and you'll agree that she's made the song all her own), while Farris originals like "Heading East" and "No Exit" showcase her range and versatility along with her fluid, confident playing.
On Tour: