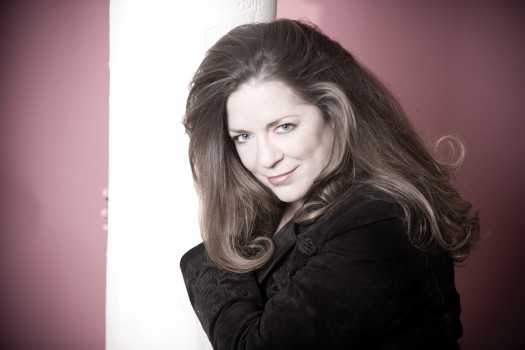 Carlene Carter
.........................................................

Love is the answer.
Acclaimed singer-songwriter Carlene Carter has emerged from a period of intense mourning and introspection to craft Stronger, an album that explores the power of love to hurt, to bring laughter, to change the heart and, most of all, to heal. "Just bring love, that's all you're gonna need," a redeemed Carlene sings in "Bring Love." She falls head over heels in her sparkling songs "Spider Lace," "It Takes One to Know Me" and "Light of Your Love."
And that is, in fact, what has happened to her. Carlene says that marrying actor Joseph Breen 2006 is what inspired her to create her first album of new material since 1995.
"Almost everything on this record I wrote since I've been with my husband," says Carlene. "The whole record was inspired, in a lot of ways, by Joe. He really encouraged me to start writing again. Every day he'd say, 'Have you written anything today?' At first, I'd go, 'No I haven't written anything. Leave me alone.'
"It had taken me such a long time to get over everyone passing away in that whole bad year. I just didn't really know if I wanted to mess with music anymore. But I don't know how to NOT write songs. It just took me awhile to process some of the stuff that had happened and to just get inspired again. Joe's loving support, coupled with the encouragement of my children, Tiffany and Jackson and the joy I see in my four grandchildren helped me return to my musical center."
In February 2003, Carlene's long-time partner Howie Epstein died. In May of that same year she lost her mother, June Carter Cash. Stepfather Johnny Cash died that September. Her little sister Rosey passed away in October. The quadruple grieving temporarily derailed her hard-won sobriety, but she met Joe during her recovery.
"I had just gone through so much stuff," she reflects. "That was a hard, hard time. Joe and I met in Los Angeles through mutual friends, and we just sort of hit it off immediately. We hung out in L.A. for seven or eight months before we decided to come back to Tennessee to do the Wildwood Flowers musical."
Joe is a veteran of the Broadway, television and studied singing at the Juilliard School of Music. The same school Carlene's mother, June wanted Carlene to study piano. He appeared with Carlene and her cousin Lorrie Carter Bennett in the 2005 Nashville musical Wildwood Flowers. The show was about the lives and careers of Mother Maybelle and the Carter Sisters. Carlene played her mother, June.
"I was happy playing Mama. It felt good. I was challenged, because it was really emotional. But it had a lot to do with me wanting to come back to music again."
Strengthened by the encouragement, songs began to pour out of Carlene. "Judgment Day" grieves for lost love, and "To Change Your Heart" has a folkie, wistful quality, but most of the rest of the songs on Stronger sound like celebrations. "On to You" is sly and sexy. "Why Be Blue" is catchy and sunny. Even the heartache lyrics of "The Bitter End" and "Break My Little Heart in Two" are delivered amid punchy, crackling rhythm tracks. She dusted off her wry 1980 tune "I'm So Cool" for the new project to give it one more irresistible rocker.
The one performance that stares directly into the enormity of her 2003 losses is the title track, Stronger. Its lyrics are an elegy for Rosey, and Carlene says that they came with some difficulty.
"It's the story about how I felt after Rosey died. It actually came because of the combination of all of those losses that year. I knew I had a song in me about it, but I couldn't quite get there. It was too painful. I was in such grief over everything. That song really helped me to heal a whole lot. When I started writing it, I was able to put into words how I felt about Rosey. The chorus being about survival is because I could never figure out why I was still here, as hard as I ran."
Long known as a Nashville "wild child," Carlene Carter is the daughter of June and honky-tonk king Carl Smith. As a youngster, she embarked on a series of ricochet romances, musical experiments and headline-grabbing escapades that made her one of the most colorful characters in the country-rock pantheon. A stint living in swinging London resulted in marriage to rock star Nick Lowe and to her acclaimed 1980 album Musical Shapes. It was the forerunner of a sound that Nashville would take to heart in the 1990s, but when it was released, the LP was way ahead of its time. A testament to the quality of the music that Carlene Carter made during this era is the fact that all of her early albums remain in print today.
When this "party girl" period ended, Carlene returned to Nashville. She joined her mother and aunts as a member of The Carter Family in 1986 and recorded an album with them in 1988. Doing that reminded her of her country roots, and the prodigal daughter began to make her own records on Music Row.
In the 1990s, Carlene sailed to the top of the country hit parade with such jaunty tunes as "I Fell in Love," "Come on Back" and "Every Little Thing." Her witty personality, ready smile and country-hip manner endeared her to fans. Carlene toured with fellow second-generation stars Pam Tillis and Lorrie Morgan and starred in her own cable TV series on both VH-1 and TNN.
Her career sputtered through the emotional whirlwind of her life, but she reclaimed her life, and now Carlene Carter has fought her way back. Stronger is the triumphant and undeniable proof.
"I started it with John Carter Cash [her step-brother, June and Johnny's son]. He basically said, 'Do you have any new songs? Why don't we just go into the studio and try something?' So we did. I was getting ready to go to Europe, so we put it together as a pre-release [in 2006]."
Carlene sold the first version of Stronger on the Internet and at her shows. But after performing the new songs for awhile, she decided she wanted the record to have more punch. She turned to her old friend and former band member, John McFee. When he was in The Doobie Brothers, she'd written their 1980 hit "One Step Closer." When he was in Southern Pacific, she'd sung with the band on a 1989 single called "Time's Up." McFee returned to the Doobies after Southern Pacific broke up. Carlene brought him the Stronger songs. He layered track after track of music on them, playing almost every instrument himself.
"He's amazing," says Carlene. "He actually did a lot of the overdubs while he was touring with the Doobies. He's very driven, and he was very passionate about it. I think he really liked the music. It was really a great experience doing this with him.
"I think the whole thing sounds kind of 'retro,' but at the same time, it's got a modern kind of feel to it."
Stronger sounds the way that it does because Carlene Carter is renewed in every way. Husband Joe Breen sings with her on her beautifully written waltz "It Takes One to Know Me," which concludes, "I guess you're the one." Joe never met June and Johnny, but feels a connection singing with his sweetheart on a song she wrote for Johnny when she didn't have money for a birthday gift. She was eighteen. Magic.
"We went down to the beach in L.A. and we were walking along," recalls Carlene of his proposal. "He had a ring in his pocket. He went down on his knee and said, 'Marry me.' That's what that song 'Bring Love' is about. He said, 'I'm going to tell you how it's going to be. You and me.' And that was it. We've been having a great time ever since.
"We had the most elegant, beautiful wedding reception and ceremony in front of a waterfall in Jamaica. We had huge candelabras and flowers. I had an autoharp-shaped wedding cake, which I thought was pretty cool. It was just me and Joe and Mom's best friend, Michele Rollins, on February 4, 2006."
Carlene has a new love, new songs, a new record, a new manager, a new booking agency and a renewed outlook on life. For Carlene Carter, the past is the past. And today begins the future.
"You know what? It was just my life – you can't change it. You can learn from it. Everything has been like a lesson. You just kind of pick yourself up and keep going. I used to think, 'Wow, I can't wait to see what happens next.' Then I went through a period where I didn't want to see what happens next.
"Now it's like every day is a blessing. I love where I live. I love my husband. I love playing music. I've got a cool little band. And I'm really looking forward to seeing what happens with this record.
"I always say I reinvent myself every 10 or 12 years. So we'll see what I do in the next 10 years. I feel spunky again."
On Tour: