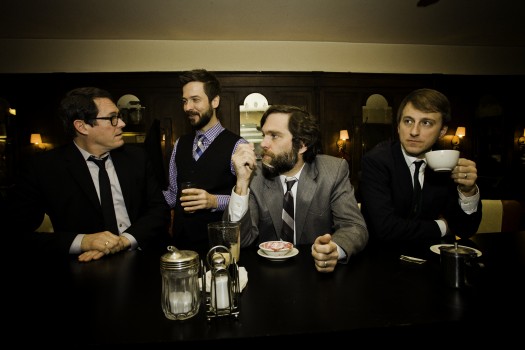 Chatham County Line
.........................................................

"There's a lot of growing up in this record," muses Dave Wilson, Chatham County Line's vocalist and guitarist. "The next generation is coming. We're maturing in this world and seeing things through a different set of eyes – and that materializes in a lot of these songs…"
Entering their second decade as an ensemble, Chatham County Line elegantly reconcile the past and future, tradition and innovation, on the fittingly titledTightrope, available May 20, 2014 on Yep Roc Records. The sixth studio album from the Raleigh-based four-piece follows 2010's winsome, soulful Wildwood and the career-spanning concert album and film undertaking Sight & Sound, which was released in 2012. "With anything you've done for a while," Wilson explains, "a period of reflection helps you identify your strengths. Doing the live album did that, and we do that every night with the songs we choose to play at a live show. We usually don't use set lists, we just play the songs that come to mind. That really helped us prepare for this record."
Stirring, provocative, and disarmingly poignant, Tightrope was born out of a year's worth of intense focus, during which the band examined their own legacy while carefully honing new material. All the while, the band's four members – Wilson (guitar), John Teer (mandolin, fiddle), Chandler Hold (banjo), and Greg Readling (bass, pedal steel, piano) – welcomed spontaneity and the sometimes palpable will of the songs themselves into the process.
"At the end of the day," Wilson continues, "you really want to write songs that have a reason for existing. For Tightrope, we worked together very closely on every decision and every word and every bit of everything to try to make it fit. We want every song to be on the future greatest hits album."
Produced by Wilson and Chatham County Line, Tightrope benefits from an unusually rich, resonant sound that blends each member's contributions into a powerful, dynamic whole. The poetic insight of the album's eleven original songs is grounded by Chatham County Line's ongoing commitment to classic stringband instrumentation. Tightrope also marks a return to Sound Pure Studios in Durham, NC, where the band recorded their third collaboration with Norwegian songwriter Jonas Fjeld. This unlikely partnership began in 2005, and has surpassed all expectations, resulting in chart-topping certified-gold albums in Norway, successful tours, and two Spellemannprisen (Norway's equivalent of a Grammy) nominations. Chatham County Line's ability to sincerely render Fjeld's music while still imparting their own perspective is testament to both the band's open mindedness and their deep roots in traditional stringband forms.
While their acoustic lineup informs their performances, it places no limitations on the band's formidable songwriting talent. "After our second record," Wilson says, "we learned to be ourselves and to let the song lead you." To work up the songs on Tightrope, Chatham County Line convened over a period of months in a number of spaces, from dedicated recording studios to Wilson's basement to the auditorium of a historic school building. Rehearsals of the still-coalescing songs were recorded, with each member helping to develop the arrangements and textures, making Tightrope the most collaborative album in the band's canon, with three songs credited to the band as a whole and several others reflecting the sizable contributions of Readling, Holt, and Teer.
By giving themselves more time, Chatham County Line allowed some songs to emerge out of informal jams or nascent fragments of melody. "Songs like 'Should Have Known Better' and 'Ships at Sea' were based on ideas that Teer had," Wilson explains. "We'd have instruments and mics set up, record the idea, and people would take the recording home and dissect it. We recorded them informally three or four times until we got something that could fit and make sense with what we do. It's those songs that we listen to the most now, because they were such spur-of-the-moment creations."
The title track epitomized the processes that went into making the album. "'Tightrope of Love' began as an instrumental that Chandler had written," Wilson recalls. "We recorded it at practice, and I heard something in Holt's winding, chromatic banjo part that suggested the image of a tightrope walker. I wrote lyrics to that and reassembled it, giving it a different life. We worked a lot on that song. Hours and hours, different versions. We talked about the lyrical approach together. We named the album after it, because this is what this band does. We work together, walking this weird tightrope between bluegrass and acoustic music, creating this alternative folk country sound, and we choose to stay on our own narrow path. That image fit."
Tightrope's more heart-stopping moments reflect back lyrically on loss and suffering that is inevitable with the passage of time. "Hawk" mourns the death of an aging World War II airman who had tenderly befriended a man more than a half-century younger. "You just have to go to one veteran's funeral for all that to make sense," Wilson shares. "We're losing over 400 World War II vets every single day. It won't be long until all the veterans of the last real global conflict are gone. It's something you want to pay tribute to."
The album concludes with the moving soldier's elegy "Final Reward."  "Being from the south, there's so much Civil War history oozing from the ground," Wilson says. Recorded first with just Readling on piano and Wilson singing, the band slowly constructed a haunting instrumental and vocal arrangement around it, concluding with the unlikely addition of a French horn part played on a Chamberlain – an arcane, mellotron-like keyboard.
Above all, Tightrope reinforces the deep bond shared by the members of Chatham County Line. The lineup has consisted of the same four men for ten years now, giving them an unusually solid foundation. They have grown up together, weathered storms together, and performed around the world – fostering a vital, instinctive collaborative sensibility and deep reserves of trust. "This band really started out of a couple of friendships," Wilson concludes. "I was buddies with Greg, and John and Chandler were really tight. We came together by chance. You can't just rotate a guy out and replace him when you have these friendships and do this kind of original material. It's something larger than that. It's a big train we're riding on and everybody's enjoying the ride."
On Tour:
Photos:
Media:
Press Releases:
Chatham County Line to Release Live Box Set, Sight & Sound (79 kB)
Sight + Sound Press Release (77 kB)
Links:
WEBSITE
TWITTER
FACEBOOK
YOUTUBE
Yep Roc Discography: