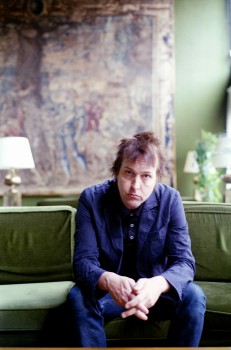 Chuck Prophet
.........................................................

The Limited Edition, 3D Night Surfer 7" Singles Collection will be out December 11th. This box set includes all 12 tracks from Chuck Prophet's Yep Roc Records release Night Surfer, plus 2 bonus tracks, on a total of seven 7" vinyl singles. Featuring new artwork specific to each song on the record sleeves and unique 3D cover art and back panel art on the box. 3D glasses included! A true collector's piece for a true Chuck Prophet fan.
Night Surfer was recorded in Prophet's hometown of San Francisco at Decibelle Recording Studio and in Nashville at Alex the Great with noted producer Brad Jones and was mixed in upstate New York by Paul Q Kolderie. Of the album, Prophet comments, "This record is loosely conceptual but universal all the same. It's all about a path forward, about looking around and imagining where we'll be in 20 years if we just follow that path. And of course, you'll find a persistent anxiety throughout; we live, after all, in anxious times. As John Murry told me after a first listen, 'It brings a tear to the eye and blood to the johnson.'" So yeah, a new record, new sound. It's got it's own groove with in your face guitars that snake and harmonize. They jangle too, thanks in no small part to special guest Peter Buck."
The new record follows Prophet's widely praised 2012 release, Temple Beautiful, of which Paste Magazine asserted, "Not since Lou Reed paid homage to the city and era that forged him with New York has there been a song cycle dedicated to a place and reality that offers the core immediacy with the thump, churn and ferocity of Chuck Prophet's Temple Beautiful."
Since emerging onto the music scene at age 18 as a member of the seminal rock band Green on Red, Prophet has collaborated with everyone from Warren Zevon and Kelly Willis to Jim Dickinson and Lucinda Williams among many others. In recent years, Prophet's music has been featured in several hit television series including HBO's "True Blood," Showtime's "Californication," and FX's "Sons of Anarchy." He also co-wrote all the songs on Alejandro Escovedo's 2008 critically acclaimed album Real Animal.
On Tour:
Media:
Links:
WEBSITE
FACEBOOK
TWITTER
Yep Roc Discography: