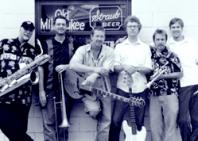 Countdown Quartet
.........................................................

Sparked while Dave Wright and Steve Grothmann toured through New Orleans in a previous band, the Countdown Quartet has been rambling nationwide through clubs and private events since 1998, when these two started writing and building a setlist that equalized thumpy trad-jazz, funky R&B, and grooving rocknroll. With Dave playing trombone and singing and Steve on upright bass, the pair soon drafted many standout players from the Raleigh and Chapel Hill music scenes, including the phenomenal guitarist and banjo-man David 'Smokebreak" Andrews, reed player Tim Smith from The Jumpstarts, drummer Ted Zarras from The Chickenwire Gang, guitarist Jimbo Mathus from the Squirrel Nut Zippers, and many talented others. Tours last winter featured the CDQ's original drummer Morgan Davis and Dag's Bobby Patterson standing in on bass.
The Countdown Quartet has rocked audiences regularly throughout the Southeast, from Savannah to Asheville to DC, and toured into the Midwest, Texas, and the Northeast. They spent the Millenium in Seattle opening for Chris Isaak and the Squirrel Nut Zippers, and have toured with NC buddies Southern Culture on the Skids. National notice of the band includes positive reviews in Billboard, JazzTimes, Modern Drummer, and the use of CDQ music on MTV's The Real World.
After two CDs (1999's debut Countdown Quartet and 2001's Party With!) and a few lineup changes, the band has put together an even more varied album that still features this group's unifying elements: the hot frontline of horns, soulful vocals, the live party atmosphere, and a rhythm section that thumps traditional jazz as easily as it beats out a swampy, distorted blues. For Sadlack's Stomp, the CDQ finally recorded with David Andrews, and with the tasteful, funky drummer Ray Duffy, previously a partner of Dave Wright's and Steve's in a number of acclaimed NC bands (Six-String Drag, Tonebenders, How Town). Trumpeter Je Widenhouse came from the Squirrel Nut Zippers to make the quartet a six-piece, and Zip Irvin, Scott Adair, and Steve all contribute saxophone to the new cuts.
This band simply recorded twelve new tunes that they liked best, four by Dave Wright, four by Steve, and four by Dave Andrews. They include R&B instrumentals ("The Cook," "Watchdog," "Snow Monkey"), Dave's R&B/rockn' roll vocals (the R-rated "Wildcat," the marching Bible tale of "Joseph"), an instrumental ska tune ("Mr. Tippy"), a blues/free-jazz hybrid ("F.P.T."), and four "trad" tunes with banjo and clarinet, including Smokebreak's "Mardi Gras in Gloucester," sung from the point of view of a reveler at a small Cajun music festival held on NC's outer banks. Engineer Rob Farris recorded the songs to tape in a large wooden living room, almost entirely live.
official website: www.countdownquartet.net