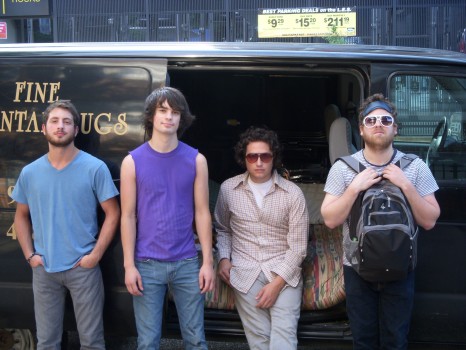 Drink Up Buttercup
.........................................................

"Drink Up Buttercup, a quartet from Philadelphia that lunges joyously into every jangly chord and full-throated chorus…brought a smile to every face I could see, and the bashing on that garbage can lid couldn't obscure some genuinely pretty and expressive harmonies." – The New York Times
Philadelphia pop quartet Drink Up Buttercup will release their first full length album, Born and Thrown on a Hook on March 23, 2010 via Yep Roc Records.
First brought to the attention of music fans through their debut "Sosey & Dosey" 7inch on Brooklyn's Kanine Records (Grizzly Bear, Chairlift), the Philly group comprised of Jim Harvey (vocals, guitar), Ben Money (bass, organ), Mike Cammarata (drums) and Farzad Houshiarnejad (keyboards) stormed CMJ and SXSW and earned early praise. Described as, "Beatle-esque but in a kitchen sink kind of way," (Brooklyn Vegan) and "60's psychedelic carnival" (Stereogum) the band's nuanced yet bombastic live show is a vital part of its growing legend, with the New York Times saying that DUB, "mesmerizes and clobbers live."
Drink Up Buttercup may hail from Philadelphia but the geography of their debut album is less easily located on a physical map. It's an occasionally surreal mythology filled with tales of hopelessly flawed characters, star-crossed lovers, drunks, fairy tales & bad trips. It exists in a world touched upon previously by Tom Waits, Hans Christian Anderson and Lloyd Kaufman while musically it follows the direct lineage of classic songwriting: Bowie, The Beatles & The Beach Boys' late 60s lysergia, early Roxy Music, Sabbath's bass heavy pulse & the crescendos of Arcade Fire.
Born and Thrown on a Hook, produced by sought after Philly go-to-guy Bill Moriarty (Dr. Dog, Man Man) and mixed by Rusty Santos (Animal Collective, Final Fantasy, Panda Bear), follows the "Even Think" 7inch (their first release on Yep Roc) which enjoyed remixes from Andrew W.K. and electro-pop maestro Cale Parks. The release of their debut full-length foreshadows a busy 2010 for DUB, with the band booking shows by the fistful to build on live buzz created through tireless east coast gigging, as well as by having shared the stage with talented bands like Dr. Dog, Bishop Allen, Marnie Stern, Fiery Furnaces, Blood Warrior, Stellastarr and Free Energy.