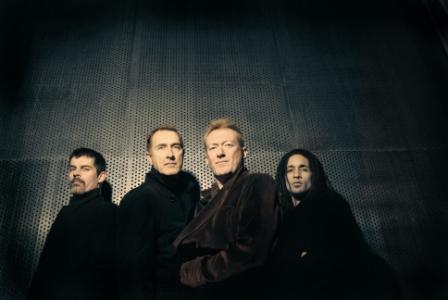 Gang of Four
.........................................................

Gang of Four are one of the most radical, and radically important, rock groups of the last 30 years. Their music, starting with 1978's Damaged Goods EP, offered a danceable solution to the problem of where four-piece guitar bands could go next after punk. They also provided the perfect answer to the question: how to be polemical without being po-faced, ponderous, banal or doctrinaire?
Four young men in their early twenties who convened in the late '70s in Leeds, they were the first rock group to come up with the idea that using funk rhythms would be a way forward for rock 'n' roll, a way out of punk's cul-desac. Gang of Four were like Dr. Feelgood jamming with Parliament Funkadelic produced by Lee Perry as a Radio 4 newsreader intoned balefully in the background.
More than anything, Gang of Four are about visceral, high energy, maximum impact rock 'n' roll. They make you dance and they make you sweat, just as they make you think. That exclamation mark at the end of the title of their 1979 debut album Entertainment! — incidentally, one of the greatest debut albums ever made; in fact, one of the greatest long-playing records, period — was no accident or sleight of design. Nor were they rent-a-gobs or rabblerousers. They managed to inveigle complex ideas into powerful songs that were provocative yet simply thrilling. The music on that debut long-player was born out of a specific time in history, the result of a series of very specific circumstances and conditions — social, economic, emotional, political, musical — and yet it remains as true, as resonant, as relevant, as universally applicable three decades on as it was the day it was released.
The big bands of the 80s, the Chili Peppers, INXS, REM, have all spoken of their debt to Gang of Four but in more recent years, the band's influence has become almost universal with the emergence of post-punk influenced bands such as Modest Mouse and Radio 4 and then the rise of Franz Ferdinand and Bloc Party.
Their classic songs have connected with a new generation of fans, many of whom have discovered the band through finding the source that has inspired many of the best current guitar outfits. In 2005 Gang of Four re-recorded a selection of their favorite tunes on Return the Gift, featuring Mark Heaney on drums while Hugo Burnham played live shows with the band until mid 2006, when he left to focus on his successful academic career in the USA. Mark then took over as drummer for live appearances and has played across the world with the band ever since. In April 2008 bassist Dave Allen was replaced by Thomas McNiece.
Gang of Four, contends Jon King, are as challenging and questioning now as they were in 1978. "What I've been thrilled by over the last few years is that our music still seems to make sense to our audiences, whatever age they are, and these days they're mostly under 30. They tell us that our music means something, that it makes them want to go start a band. That amazes me. I would never have imagined when we started off that we would have this impact after such a long time. We are a noisy, great rock'n'roll band. And that exclamation mark still applies: we should call ourselves Gang of Four!"
More than anything, Jon is excited by the new material that he and Andy have been writing. "What we're trying to do is keep it totally stripped down, where everyone in the band makes an equally intense contribution: guitar, bass, drums and vocals." He's as energized as ever by his old school friend's guitar playing. "I love what Andy does on guitar — it's completely unique. How many original guitarists have there ever been, not just now? He's one of the few living signature rock guitarists: you can recognize an Andy Gill riff a mile away and you can recognize who's been listening to him."
The fruit of Jon and Andy's collaboration is a new album, the first new studio album in 16 years. Content. As powerful as their early material, as insightful and more, the album needs neither exclamation nor explanation.
On Tour:
No upcoming concerts or festivals.
Media:
Links:
WEBSITE
TWITTER
FACEBOOK
MYSPACE
Yep Roc Discography: