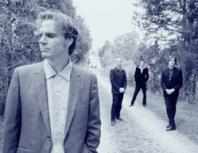 Greg Hawks & The Tremblers
.........................................................

Greg Hawks and the Tremblers are probably the truest sort of "country-rock" band. As much as Greg's songs recall the old time country of Buck Owens, they are just as often as evocative of Bruce Springsteen's American balladry. Throw in some innovative touches of tex-mex and acoustic folk and you have a good idea of the sound, a unique blend of all the types of music Greg is drawn to.
The Tremblers first formed in 1994 in Chapel Hill by Greg Hawks, a veteran NC musician who had played for years in the singer/songwriter circuit and in a few local bands (Two Dollar Pistols, etc.). After a break from music, Greg quickly picked up where he left off, playing solo shows and setting up his 4 track to record all the new songs he was coming up with. He shortly reformed The Tremblers when he met former Backslider Danny Kurtz. Danny checked out some of Greg's 4 track material and offered some insightful feedback. This interplay (Greg's songs, Danny's arrangement ideas) became the defining point of a relationship that took off and the collaborators soon found themselves with a ton of great new ideas for Greg's music. They hooked up with Nate Stafla on drums and re-recruited former Trembler Mike Krause to take up lead guitar once again. Their first show was at Charlotte's well-known Double Door Inn and the second was back home in Chapel Hill at Local 506 where they opened for rockabilly legend Ronnie Dawson. Nowadays, they can be seen touring a refular circuit across the Southeast.
Greg Hawks defines his music as "personal" and driven by his overwhelming love of roots music (soul, blues, country). " This record has soul & it's 100% real because it came from a pretty pure place," says Hawks. He speaks and writes from personal experience, and you might just say he's "lived the life." Fool's Paradise is striking largely because of Greg's ability to translate these emotions into immediate, resonant songs that bristle with vitality and his love for life. The thrill of writing songs is one of his greatest pleasures, that and the feeling he gets from playing, are what keep him involved in making music. "When you're playing with a band and you can tell everyone's in the pocket, everything sounds just right, it feels like you are weightless, levitating in the clouds. Away from all the shit that weighs everyone down in day to day life. Besides sex, I have yet to do anything else that even comes close. The reasons I began writing songs are a little more complicated, but the joy that happens when something clicks, is quite similar. I would have to say that the main reason I keep hanging around the music world is the thrill I get out of writing a new song."