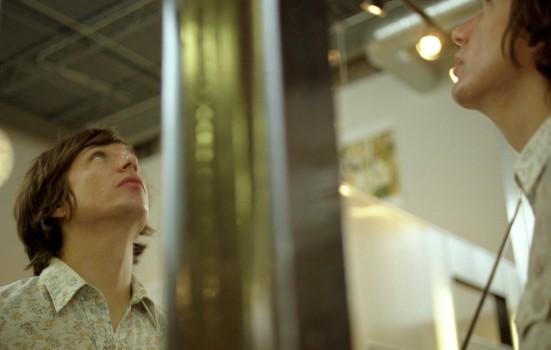 Ian Moore
.........................................................

"The journey is the destination." While this is a good mantra for remembering to live your life in the present moment, it could also go a long way toward explaining the career path of Seattle-based troubadour Ian Moore.
Texas native Moore first made a name for himself in Austin's vibrant roots-rock scene in the early '90s, gaining national attention for his self-titled debut on Capricorn Records. While the album established him as a heavyweight guitar player, Moore eschewed the role of rock guitar hero on his next release,Modernday Folklore, recorded with Mark Howard in Daniel Lanois' studio. On Modernday Folklore, Moore asserted his growing sensibilites as a singer-songwriter; the album was subsequently chosen as "one of the best moments in contemporary art in 1996" by Dave Hickey in Art America magazine. But Moore's follow-up album so confused Capricorn that the label dropped him. Refusing to see this as a set back, Moore took advantage of his newfound freedom to redefine just who he is and what it is that he does.
And what exactly is "it"? "I don't know what "it" is," Moore admitted to one reviewer. "Stevie Wonder encapsulates some of it, but a lot of my music isn't soul-oriented. I consider it Southern Gothic, like Flannery O'Connor; that whole creepy feeling with lots of shades and subtleties. It includes soul, gospel and Appalachian stuff, plus a lot of Celtic and Indian music. I don't fuckin' know, man." Put the question to him these days and he laughingly tosses out the term "Goth-spel." Surprisingly, its fits: Moore's music is passionate and full of yearning; it aches for answers but only finds more questions and, occasionally, some temporary salvation. His songs, like those of similar artists such as Grant Lee Phillips and Wilco, manage to be at once classic and modern. It's not the kind of music, however, that lends itself to easy categorization.
But what's in a label, anyway? Ask any of Moore's current fans what it is that draws them to him and the response is unilateral: his voice, his songs, his presence. Seattle weekly The Stranger dubbed Moore "a stellar songwriter blessed with an absolutely stunning voice." Another magazine went so far as to proclaim that "Moore has moved foursquare into the circle of guitarist-songwriters like (Richard) Thompson, Mayfield, Hendrix and Buckley, where pop isn't a dirty word and where music comes straight from the soul."
Luminaria, Moore's first release for Yep Roc Records, is a richly varied, deeply soulful affair that should free him once and for all from any lingering misperceptions or misconceptions of who he is as an artist. The quiet strains of "What I've Done" both open and set the tone for the album, the music winding its way through the speakers in much the same way as the protagonist winds his way from destination to destination – and through life in general.
It's only fitting that the recording of Luminaria was just as much a journey as everything else in Moore's life — when you're a musician who's constantly on the road, you don't have the luxury of taking weeks (or sometimes even days) to sit in a studio and record. Bits of Luminaria had their beginning in friends' houses, on days off, or on the fly. Serendipity occasionally stepped in — paths crossed, drum parts were recorded here and there, old friends in faraway places appeared to make their contribution. Moore's journey literally became the destination.
"It's a very natural record made by friends," he explains. "I made this album with pretty much everyone who's played with me over the past six or seven years. It started in Austin with the Screen Door guys, then I took it to Seattle, and then on the road. The drums on "Caroline" were recorded with Chris Searles in Tucson – I was on the road, stopped by KXCI for an interview and he happened to be in town with his girlfriend so we recorded on the spot."
"Paul Brainard and Matt Southworth both came out to my home studio on Vashon to record," he continues. ""Caroline" was started on tour at a friend's apartment in San Francisco while they were still sleeping – hence the quiet first couple of voices. "Abilene" was recorded with Jeff Saltzman, and quite a bit of the record was done in Portland with Paul and Jay Clarke from The Standard and Dolorean."
But while life on the road takes its toll (even when it helps shape great albums), it also makes for great live shows. As a performer, Moore consistently manages to reduce packed houses to stunned silence through the sheer power of his voice, his songwriting and the unadulterated emotions he conveys. He's an artist who's built a reputation through his live shows, one convert at a time.
It's doubtful that anyone would have been able to predict so much subtlety and depth from an artist that started his career as a Texas guitar hotshot. That is, except for Moore himself, an artist who's willing to trust where his spirit takes him and to allow us to accompany him on that journey.
On Tour: