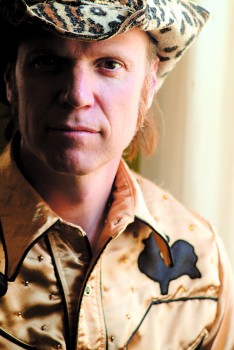 Jason Ringenberg
.........................................................

THE ORIGINAL ROOTS-PUNK BARNSTORMER
SEEDS ARE SOWN… 
Born in 1958, our barnstorming brother grew up near Sheffield, Illinois, a rural patch of that Prairie State, raised on the sweat equity of production agriculture and its tenacious sensibilities. At an early age he learned to play guitar and harmonica in the rustic cornfields of his small town, the morning hours spent tending to the family's hog raising operation near the Rock Island Line Railroad as his father's sun-cured careful hands placed him on the plow. An honest living that embraced practicality, it would provide the basis for the staggering work ethic that would soon become young Jason's calling card.
But whatever it is that keeps a young man local – the family, the crisp air that settles at the back bottom of your lungs tastes like so much rich soil and potable water, the lucid, redemptive howl of Opry echoing across the plane – never found purchase in the boy, at least not to plant down permanent roots. For just beyond the horizons of Bureau County, where the seemingly endless blue sky meets the sprawling expanse of corn, wheat and soy, something was calling. And country music would never be the same.
Ever the pragmatist, Jason dutifully attended Southern Illinois University at Carbondale in 1977, where he and his friends were exposed to the explosive might of the first punk rock movement, England's Sex Pistols and The Clash, America's Ramones. There he refined his budding musical largesse into an agent of fortune, a medium maximum that harnessed that raw power and infused it with donkey-punch honky tonk right into Mother Nature's sweet story-telling bosom.
ROOTS ROCK RADICAL… 
It only seemed logical that Jason should take that ripening convergence of sound, image, landscape and land-speed trial to the next reasonable level: Nashville, Tennessee. In a deliberate gesture, he set off for the music capital of the world on July 4, 1981, in search of willing craftsmen to buoy his hunger for something that was loud, fast, heartstrung and poisonous if swallowed. He found what he was looking for in guitarist Warner Hodges, drummer Perry Baggs and bass man Jeff Johnson, each one all too willing to indulge Jason's heavy duty leanings, and Jason and the Scorchers was born. As Nashville's incendiary redheaded stepchild, the Scorchers summoned the ghost of Johnny Horton as he marched through the Battle of New Orleans and star-cross'd that fate with Johnny Thunder's vulnerable but uncompromising swagger. The unholy union of country and punk rock was met in some circles with turbidity, but was ultimately upheld and critically acclaimed by anyone with a soul as "TNT from Tennessee."
The Scorchers commenced to laying waste to venues both at home and abroad, bringing their infamous, eviscerating live performances to indefatigable heights and gladly throwing themselves over the proverbial edge. Their aptly dubbed first EP, Fervor, gained the attention of the majors, but it was Lost And Found, the band's first smoldering full-length LP, that set Nashville on its ear. The album received rave reviews and earned them a spot on tour with thenradio giants R.E.M.. The single "White Lies" in particular proved to be an important hit for the band. MTV old timers might even recall catching the video for "Shop It Around," in the days before spring break programming limped into every brainwashed delinquent's psyche. But the all-too-common pressures of the recording industry, coupled with the normative rock and roll excess, split the band prematurely in 1989.
Jason found time to rediscover his country roots with his 1992 solo venture One Foot In The Honky Tonk, a record that dabbled in the judicious Nashville mainstream, perhaps with our hero not fully aware that this joint would foreshadow the future towpath he would soon slink on down with his daddy long legs and good sheriff Stetson. The Scorchers regrouped to unleash slew of stark, arse-crumpling LPs in the mid-90's, including the magnanimous A Blazing Grace and Clear Impetuous Morning. Those years saw some personal changes for Jason, who remarried and settled down on a farm west of Nashville with his wife and children. It was also slowly becoming clear that the road show of faith and madness that Jason and the Scorchers delivered, while still a virulent rodeo circuit machine all wholesome and hellfire laden, was slowly running its course.
FAITH HEALER…
With that kind ghost of the Scorchers finally exorcised in 1999 (Jason prefers the term "semiretired"), it was time to set out building his future, and people, he likes to build it tall, with all killer/no filler spring-fed country goodness. The new millennium saw the release of A Pocketful Of Soul, a stripped-down affair chock full of bricks-and-mortar countryside themes – finding it, keeping it, losing it, giving it away. It also marked the creation of Jason's very own Courageous Chicken Records. The CD reconciled his past with his present and refocused his moral compass on what was slowly opening into a gracious parasol of musical prose that shed and bled light upon the pages of his own history and how those experiences colored his perception of American history at large.
That legacy was expanded with All Over Creation, which provided collaborations and duets with everyone from Steve Earle to Swan Dive to UK rockers The Wildhearts, adding essential hues to Jason's eclectic prism of light, sound and history. Seeking and finding critical acclaim on the same level or better as that of the Scorchers, it redefined his career. The response was so favorable that the tour went worldwide, again his capacity for road wear unfathomable with over 300 shows in 18 months. That's more than the Rolling Stones have played in 20 years, for those out there keeping track. The live shows featured Jason on guitar and harmonica, the new bark shop folkster, but even alone he burned with the intensity of a dozen radioactive cattlemen. No, not your daddy's country. But daddy would surely approve behind momma's back.
And then, of course, just when you figure you had him nailed, the man up and hits you smack in the breast plate with a 180-degree paradigm shift. Hoping to leave his young ones with something personal when duty called him to England, Germany, Norway or France, Jason assumed the persona Farmer Jason to create A Day At The Farm With Farmer Jasonfor children of all ages. With three kids of his own, our man found it easy to assume his alter ego, engaging youngsters with classic sing-a-longs like "A Guitar Pickin' Chicken" and "Whoa There Pony!"
Was this a respite? A chance to relax for a man who so entirely deserved to do so after 20-plus years in the original soul-stealing business? Naw, it was really a means by which he could double-book himself across the United States, doing public schools and libraries for kids during the day, and hitting the drinkin' venues by street lamp!
A LOOK BACK…
After 30 years in the music business Jason Ringenberg is ready to look back. The new 2-disc retrospective Best Tracks And Side Tracks 1979 – 2007 includes tracks from all phases of Ringenberg's storied solo career – new versions of Scorchers classics, re-mastered original solo material, rarities and new unreleased tracks. Re-worked Scorchers classic, "Shop It Around" starts out the Best Tracks disc and "Help There's a Fire" from Side Tracks represents Jason's pre-Scorchers band Shakespeare's Riot, making this the definitive Jason Ringenberg compendium. The set even includes material from Ringenberg's children's music persona, Farmer Jason. Built for hardcore fans and country music historians alike, Best Tracks And Side Tracks 1979 – 2007 sums up the career of one of roots music's most influential artists.