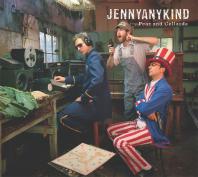 Jennyanykind
.........................................................

"We were working…we had to assimilate the music into our daily routines, so it became cyclical, not linear like Big John's,…but repetitive, reflecting the interconnectivity and interdependency of all things. We worked together and communicated, and enjoyed the time making our art…MI. Holland"I Need You, recorded and mixed in October and November of 1999 at Jennyanykind's Big John's Studio, is a departure in terms of its predecessors,Revelater and Big Johns, in that it was unplanned and unarranged as it came time to record. I Need You was made by individual performance in the true spirit of the blues." "Touring behind Big Johns became a nightmare. We had all these different people coming in and out of the band, like contractors, trying to make gigs, just to keep playing. You can hear those currents on the live CD we put out (Money Can't Buy Mojo). We weren't a band anymore, the life style is just too hard for most people, and there was no money…but we still had our little studio, so we decided to do it ourselves, on the fly….extemporaneously. " – MA Holland.
I Need You invokes the attitude of life musicians, great jazz artists and bluesmen, but with an eye in the present and future tense, crafted like Pop, but more "experienced" than "made", so the end result, if there need be one, speaks of process, not product.
"I believe that it sounds like what it is, that's all that really matters to us, I guess. Music is simple, you know…a rhythm to connect with, a melody to remember, and usually something to say that might provoke some thought….but when you record it, then you gotta decide how to present it," said Holland.
That is where I Need You finds its place. Recorded with the individual characterization and craft of , not even Pop, but dare we sayDub, it still conveys the primal universal constants of Roots music, especially the blues, while suggesting the space of Ambient music.
On Tour: