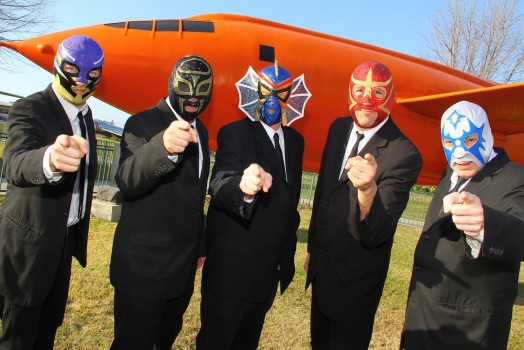 Los Straitjackets
.........................................................

When it comes to delivering high-energy rock and roll instrumental music, no one equals the finesse, power and perseverance of Grammy-nominated Los Straitjackets. Yep Roc Records is pleased to deliver the band's latest offering, Jet Set, a collection of 14 carefully crafted guitar-driven songs that prove to be the most diverse and inventive of Los Straitjackets' oeuvre.
Before Jet Set evolved, the band was hit with a crushing blow when original guitarist, Daddy O Grande a.k.a. Danny Amis, was diagnosed with Multiple Myeloma in the summer of 2010. "It took me out of commission for two years, even put me in a wheelchair for a while, but once I started recovering I began writing new songs like crazy and was able to record with the band again," Amis explains.
After Amis underwent a successful stem cell transplant in 2011, the band played a benefit concert for Amis in Los Angeles that featured guest appearances by Conan O'Brien, Johnny Rivers, and more. As Amis recovered, and grew stronger thoughts turned to a new recording and Jet Set was underway. The group decided to include Amis' replacement, Greg Townson (of The Hi Risers), along with Amis and fellow founder Eddie Angel in a three-guitar alignment.
Longtime friend and revered musician Janne Haavisto, formerly drummer for Finland's Laika and the Cosmonauts, produced the album. Los Straitjackets returned to The Pow Wow Fun Room studios in the Mar Vista neighborhood of Los Angeles where they recorded The Further Adventures of Los Straitjackets (2009) and Twist Party!! (2006). Haavisto put melody at the forefront of this collection, backed by an amalgam of sweeping percussion, lush horn arrangements and distorted strings.
"It's all here, the instrumental fury and superb melodic textures. It brings me back to the magic feeling I had when I first saw the band in 1994," said Glenn Dicker, co-founder of Yep Roc Records.
Jet Set has its fair share of guest appearances. Friends from Conan, The Basic Cable Horns, added their signature sound to two songs on the record: "Crime Scene" and "Walking Down Third Street." Additionally, Finnish actress and musician Irina Bjorklund contributed to tracks like "Low Tide" and "Sardinian Holiday."
It's been 18 years since Nashville-bred Los Straitjackets first dressed in their easily recognizable attire of Lucha Libre masks. Since then the group has toured around the world, released 11 studio albums, 2 live LPs, including collaborations with Eddy Clearwater and The World Famous Pontani Sisters. But it's Jet Set that brings something extra to the table. Guitarist Eddie Angel reflects, "I think it's remarkable that this far into our career, we could do something that I'd consider our best work."
On Tour:
Media:
Links:
WEBSITE
FACEBOOK
TWITTER
Yep Roc Discography: