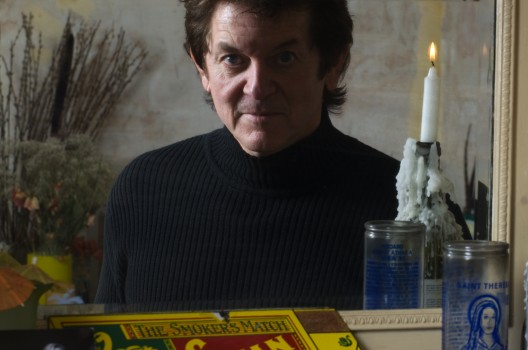 Rodney Crowell
.........................................................

Last January Rodney Crowell rented a house in my little town in Montana just to feel the cold. He had been here before, but always in the summertime, when Livingston is a temperate and sociable outpost for writers and actors and artists on the banks of the Yellowstone River. But as soon as the first blizzard rolls in most of the amateurs sensibly depart for Tucson or Key West. By January, the coldest month, the local population is down to seeds and stems. That's when Rodney and his wife, Claudia Church, arrived for a long visit. He wanted to work on his memoirs, now nearly finished, and he wanted to experience a real Montana winter, the kind he'd read about in Ivan Doig's sweeping novels. The boy from the Houston swamps figured he might learn something new in the frozen north. Rodney was disappointed when a chinook kicked up from the west and the weather turned mild. Snowdrifts melted into puddles.
"Global warming ruined my vision quest," he said. But he perked up when the winds gusted to 80 mph and started tipping over trucks on the interstate. He took to walking on the levee every morning, leaning into the teeth of that wind, surrendering to its indifferent anger – a happy man.
You may sense an analogy coming around about now, and here it is: As an artist, Rodney Crowell is all skin and membrane. He wants to feel everything – sucking the world in and filtering it out again through words and music. It's a precarious way to live, but it works for him. You can feel that edge in his latest album, Sex and Gasoline.
The CD was recorded in quick live sessions with the fabled producer, Joe Henry, a brilliant musician and songwriter in his own right.
Sex and Gasoline is a collection of songs about women – lovers, daughters, friends, Madonnas and whores – often told from an imagined female point of view. A Montana blizzard couldn't put Rodney Crowell in any more peril, not in this sexual/political climate. But his craftsmanship is so fine-tuned that he manages to pull off a song like "The Rise and Fall of Intelligent Design" that begins: "If I could have just one wish, maybe for an hour, I'd want to be a woman, and feel that phantom power…"
Rodney says that "Intelligent Design" and the title song, "Sex and Gasoline," wrap up a cycle of what he calls "manifestos" – songs of social commentary that grew out of his struggle to come to terms with the new millennium. But it's the second stanza of "Intelligent Design" that reveals the theme he's been exploring all along: "Maybe I could find out if I'm a half decent man, or if I'm just a joke…" In the end, by adopting a woman's point of view, he tackles what it means to be a father, a husband, a friend. A man. It's no accident that the album lands on the simple, wry and beautiful song, "Closer to Heaven." It starts out as a rant by a grumpy imaginary narrator and breaks into a heartfelt catalogue of the things that matter most to Rodney Crowell:  "I love my friends, I love my wife. Four little babies, are the light of my life…"
Like I said, it's dangerous to own a heart this wide-open. But these kinds of epiphanies have been Rodney Crowell's trademark since the early 1970's, when he migrated from Texas to Nashville to learn to be a songwriter. The strength of his writing, singing and guitar playing earned him a spot with Emmy Lou Harris's Hot Band and launched his career.
Here are some things you probably already know about Rodney Crowell. In 1977, he formed his own group, The Cherry Bombs, and in 1978 released his first album, Ain't Living Long Like This.
In 1988 he released Diamonds and Dirt, which generated an unprecedented five number-one singles, including "It's Such a Small World," with Rosanne Cash, his wife and partner at the time. They split up in 1992, but they are still friends.
His acclaimed autobiographical album, The Houston Kid, in 2001 marked his break from the constraints of mainstream record labels.
There have been some awards along the way: Rodney won a Grammy in 1989 for the Best Country Song, "After all This Time." He was inducted into the Nashville Songwriters Hall of Fame in 2003. After he re-formed The Notorious Cherry Bombs in 2004 with his old pal Vince Gill, the band was nominated for a CMA Top Vocal Group award.
Hundreds of versions of his songs have been recorded over the years.
Here are some things you probably don't know about Rodney:
He shares a house in Nashville with Claudia and two canines: a lab mix named Flearoy and an embarrassingly small dog named Mono who, says Rodney, could kick the butt of a 150 pound Great Dane.
Claudia Church, the woman who offers him "unconditional love," is an actor, model and a first-rate singer who is now writing a screenplay about a serial killer. Since I recently wrote a book about a serial bomber, this gives us a lot to talk about, although it makes our husbands nervous.
I haven't known Rodney Crowell very long, but I've been a fan most of my adult life. I was a young editor at Rolling Stone back in 1980 when I heard Rodney's first hit single, "Ashes by Now." One of the music writers kept playing it over and over on his stereo, and we all drifted out of our offices and down the hall to find out who owned this gorgeous haunted voice. The song was so raw and direct and vulnerable – it sounded like something brand new on top of something we've all known forever.
Rodney still has that power. And he knows how to draw a crowd, even in Montana in the dead of winter when most of us hibernate like bears. Our mutual friend, Joanne Gardner, a former music business executive who regained her mind and moved to Livingston a few years ago, organized an evening at a local roadhouse called the Pine Creek Cafe for Rodney to read from his memoirs-in-progress. Word bounced around the valley like a rifle shot on a foggy night, and the place was packed to the rafters. The wind dropped and a light snow started to fall as Rodney read about his childhood in Houston and his painful teenage years. Between the passages he picked up his old Martin New Yorker and played some of his most familiar songs, making them new again: "I Know Love is All I Need," "'Til I Gain Control Again," and a mournful acoustic version of "Ain't Living Long like This." I can't fully describe what happened in that hushed room, but it felt something like grace.
It's clear that Rodney Crowell has one foot in the music world and the other in the land of literature. We should all be holding our breaths for the publication of his book – but Rodney is a painstaking writer and he says he has another year to go. Damn. But it will be worth the wait.
A few days after Rodney and Claudia flew back to Nashville, a blue 'norther dropped down from Canada and the temperature plunged to 18 below. Our Ivan Doig winter finally arrived and Rodney missed it. But I suspect he will be back again, with his wide-open heart ready for anything. Maryanne Vollers is the author of two books of nonfiction: Ghosts of Mississippi and Lone Wolf, and has collaborated on two bestselling memoirs: Ice Bound, with Dr. Jerri Nielsen and Living History, with Hillary Rodham Clinton.
On Tour: