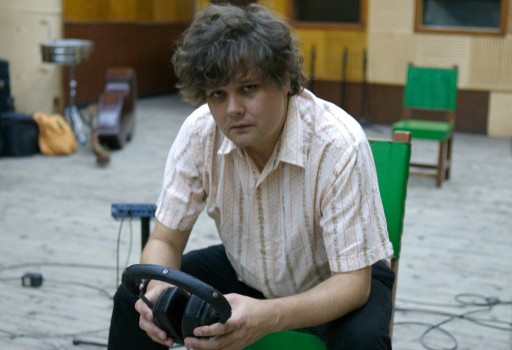 Ron Sexsmith
.........................................................

Ron Sexsmith is a major contemporary writer/artist who has amassed a sizable and consistently enthralling body of work since making his major label debut in 1995 with his self-titled album on Interscope, followed by such eloquent musical gems as Other Songs(1997), Blue Boy (2001), Retriever (2004) and Time Being (2006). Each has its own particular character but is connected to the rest by the overarching intelligence, impeccable taste and understated emotionality of this single-minded voice in the pop-cultural wilderness. As one new fan put it in a comment on iTunes, Sexsmith's music "wins you over with a silk punch." Well put.
On his ninth album, the cagily titled Exit Strategy of the Soul (with an emphasis on the last word of this provocative phrase), released July 8 on Yep Roc, Sexsmith once again brings a provocative new wrinkle to his expansive aesthetic. Informed but not entrapped by soul and gospel music, ornamented by a Cuban horn section and his own gorgeously imperfect piano playing, the album achieves a sort of metaphysical dimension while maintaining breathtaking intimacy.
Working once again with Swedish-born, London-based producer Martin Terefe, who brought a burnished, Beatlesque lilt to Retriever, the artist finds an unexpected sweet spot in a stylistic and thematic realm he calls "shadow gospel." It's in full flower on such memorable songs as the horn-drenched "This Is How I Know," the aching "Hard Times," the playful "Brandy Alexander" (his first recorded collaboration, in tandem with fellow Canadian Leslie Feist) and the buoyantly humanistic "Brighter Still." Exit Strategy is framed by a pair of evocative instrumentals redolent of Randy Newman's film music, "Spiritude" and "Dawn Anna." It wouldn't be an overstatement to say that these 14 songs not only encompass the gamut of human emotions but do so with psychological acuity and plainspoken poetic grace.
The album finds Sexsmith at his most soulful – not that he sounds like Al Green. "I don't have that kind of voice," he acknowledges, unnecessarily. "'This Is How I Know' was the first song I wrote for the record," says Sexsmith, "and it felt to me kind of like a gospel tune. As I continued writing, I started getting this vibe that there was a spiritual element to them. One song, 'Poor Helpless Dreams,' predates my first record; I tried recording it over the years and never got a version I was happy with, but lyrically it seemed to fit in with these new ones. 'Brighter Still' was lyrically very positive, and I felt the record needed that kind of song, which is sort of in a Bill Withers mode." He pauses for an aside. "I keep hoping he'll make another record someday."
None of it was premeditated. "When Martin and I go in the studio, we don't want to repeat ourselves," says Sexsmith. "Retriever was a straight-ahead, '60-style pop album, and in a way this one is even more old-fashioned and rough. But the plan this time was to not have a plan. At the heart of it is some very questionable piano playing by me. The last bunch of records have been mostly written on piano, but when I'm working with Mitchell [From, the keyboard-playing veteran who produced Sexsmith's three Interscope album's and the previous Time Being], I don't really have the nerve to play in front of him. With Martin, I'd played one song on each record on piano, but with this one, I was determined to track the whole thing on piano, because that's how I'd been doing it at home, and at the core of the record, I thought it might be kind of cool to have an element that was kind of unpolished, and have the other musicians play around that. So that became the springboard for the sound of the record, with me banging away on the keys."
The spirit of spontaneity extended to the lead vocals, although this aspect, too, was unplanned. "Before the band came in," Sexsmith explains, "I would record each song with guitar and voice, and then we'd get everyone in the room and we'd all play along to that – that's when I'd be banging away on piano. I never thought we'd wind up using the guide vocals, but when I went to New York to re-sing the whole record, even though I was singing everything technically better, the guide vocals had more personality. I still worried about it, but I love hearing Dylan records like that, where you can tell he's not getting too fussy about his singing, and I didn't want to get too precious about it."
The album was near completion at Terefe's Kensaltown Studios in London when, out of the blue, the producer suggested a trip to Cuba to add a horn section. Though the players had been used by Terefe on a project with the Alex Cuba Band – Sexsmith even sang a duet with the bandleader on one track – the artist was initially nonplussed by the idea. But he'd had spent enough time in the studio with Terefe during the course of their three albums together to trust the producer's instincts, and so, with some trepidation, he went along with the idea. He wrote a song on the flight to Havana – which became the climactic "Brighter Still," cut on the spot with a roomful of Cuban musicians.
"There's certainly nothing Cuban about my music," says Sexsmith with a laugh. "When I heard the horn players running through the first song, I was thinking it was over the top. But when I heard the tracks back in New York, I was really excited; it was a whole other flavor, one that I've never had on a record before. So it didn't make sense to me at first, but now it really makes sense to me when I hear it." Once again, Terefe's instincts were spot-on – because in going to Cuba, they'd somehow located Memphis circa 1968… and just maybe a half acre of heaven as well.
Here as always, Sexsmith's priority is the song itself. "I want the lyric and the melody to be as flawless as possible," he says, "so I'm always pretty critical of my own stuff. In general, I try to write songs that will stand up by themselves if I'm not there. My heroes are people who could write all different kinds of songs. Lennon could write something really powerful, and be really funny in the next song; Dylan the same way. I feel all sorts of things, and I want the songs to have different character traits."
As he was writing the songs that would comprise Exit Strategy, Sexsmith realized that what he was feeling was somewhat headier than the psychological terrain he'd previously inhabited. "It was exciting in a way," he recalls, "because I was getting these lyrical ideas that were a bit different for me; they were reaching for something. I wouldn't call it poetry or anything, but I was trying for something that was a little more poetic. And I think that was partly inspired by what's going on in the world. There's something about writing on the piano, too – it has more of a gospel-y attitude, and it puts me in a different place."
As for his place in the musical universe, Sexsmith says, "Over the years, I've built it up to the point where I have a cult following, for lack of a better term. I don't have a huge following, but for the most part they're very into it. So that's encouraging, and that's really all you can ask for these days. When I got signed, I was already 30, so I never really expected to be filling arenas. I felt that what I was doing didn't really fit in with what I was hearing on the radio. That's why it always confuses me when I hear people saying, 'Why isn't Ron more famous?' It's not that I think a breakthrough album is out of the question, but it's such a mysterious thing. I mean, I just write the songs, and feel really lucky that I have a career.
"Recently I was in this bookstore," he continues, "and I saw this giant encyclopedia of modern music. So I thought, 'Hmm… I wonder… ' I open it up and, sure enough, there I am, right beside the Sex Pistols. So I suppose I have made a mark in my own way. What I can honestly say is that I'm proud of every single song that's ever been on one of my records. I'm not always proud of the production or the singing, but there's not a song that I couldn't play you now and not feel good about it."
On Tour: