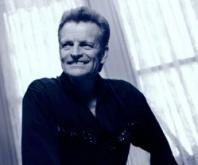 Ronnie Dawson
.........................................................

Ronnie Dawson, 1939 – 2003
Ronnie Dawson was born in Dallas, Texas on August 11, 1939; raised as an only child in Waxahachie, Texas by Pinky and Gladys Dawson. Ronnie formed his own band, "Ronnie Dee & The D Men," and within two months entered the talent contest at the Big D Jamboree in Dallas. Ronnie won ten weeks in a row and Ed MacLemore, who at the time was Gene Vincent's manager, signed the band. Ronnie's first single, "Action Packed" was on Backbeat Records, backed with "I Make The Love", followed by the now legendary "Rockin' Bones", which came out on MacLemore's Rockin' label with the new moniker "The Blonde Bomber–Ronnie Dawson." Both singles sold respectably in regional markets and in Texas, but it wasn't until Dick Clark called to offer Ronnie a recording deal with his Swan Records label along with an appearance on American Bandstand, that Ronnie's career appeared to be set. Then the payola scandal hit, dragging Clark and other prominent DJs into extensive legal battles and leaving Ronnie without a record or much of a career. In the interim, Ronnie toured with the Lightcrust Doughboys, played drums on recording sessions for Paul and Paula's "Hey Paula" and Bruce Channel's "Hey Baby", as well as later releasing tracks for Columbia Records under the names Snake Munroe and Commonwealth Jones.
Throughout the 60's Ronnie performed with a Dallas based group called The Levee Singers, touring nationally and appearing on such notable TV shows as: The Danny Kaye Show, The Jimmy Dean Show, Hootenanny, and Hollywood Palace. During the 70's and 80's he formed a country-rock band called "Steelrail" which he referred to as one of his proudest accomplishments.
The RONNIE DAWSON story might have ended there but in 1986 Ronnie received a call from British record collector Barney Koumis telling him that some of his old recordings had become legendary and were collector's items in England and asking if he had any other material that he might be willing to release on Koumis' indie label, No Hit Records. Subsequently, No Hit put out Rockin' Bones, a compilation album of early hits, followed by Monkey Beat and Rockinitis, and Just Rockin' and Rollin, all three recorded in England and issued in the US. Ronnie accomplished something few artists in the rock and roll genre have with his performances at New York City's Carnegie Hall and Lincoln Center. In 1995 he acquired many new fans as well as pleasing many old fans when he blew the roof off the studio during his appearance on Late Night with Conan O'Brien.
1998 proved to be a landmark year for Ronnie. On January 16th and 17th, in Austin, Texas, Ronnie's first ever live recording was made — Live! At The Continental Club — on Continental Records and was released in April of 1998 and made available through RD & CD Enterprises Inc. in Dallas and The Continental Club in Austin. His recording of "Yum,Yum,Yum" (Rockinitis/Crystal Clear Sound) was featured in Mike Nichols' movie Primary Colors starring John Travolta, which opened in theaters across America in March of 1998. Izzie Straddlin, (Guns and Roses lead guitarist) covered Ronnie's "Up Jumped the Devil" (Just Rockin' and Rollin"/Upstart/Rounder Records). Playing The New Orleans Jazz and Heritage Festival, Willie Nelson's Annual 4th of July Picnic and Viva Las Vegas Rockabilly Weekender made an exciting 1998 touring year for The Blonde Bomber.
More Bad Habits, was completed in Maine in October of 1998 (his first recording in the US since the 1960's) and was released on March 16, 1999 on Yep Roc Records and distributed by Redeye in the US and vinyl by NoHit Records in England. The release coincided with the beginning of his 1999 touring year making each stop in each city a CD Release Party and included a second appearance on Late Night with Conan O'Brien in July as well as a performance at Lincoln Center. Ronnie Dawson was interviewed for an NPR Morning Edition feature on More Bad Habits.
Ronnie continued to sing after his 2002 diagnosis of throat cancer. One of his last gigs was an emotional performance at the Rockabilly Rave festival in England in February.
"Word had gotten out about my situation, and I could see people crying even before I finished the show – I wasn't prepared for that," he told The Dallas Morning News.
"Don't feel sorry for me, man," Ronnie said after finding out his cancer was terminal. "Last year was the first time I was ever in the hospital. Sixty-three years of quality life … are you kidding? I'm celebrating."
Ronnie passed away in 2003, leaving a legion of dedicated fans both old and new.
On Tour: