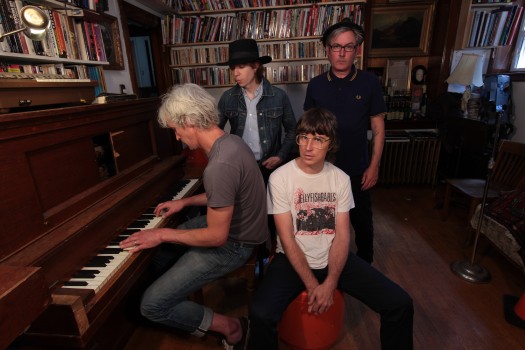 Sloan
.........................................................

On September 9th, the Toronto-based quartet Sloan will release their 11th studio album Commonwealth via Yep Roc Records. The 15- song collection sees Sloan creating one of the most unique and ambitious recordings of their two-decade-plus career.
The Toronto-based rock quartet is perhaps the most truly democratic group in the annals of pop, with Jay Ferguson, Chris Murphy, Patrick Pentland, and Andrew Scott all contributing original compositions to each record, equal partners with equal say over every aspect of their work. Where in the past creative lines have been blurred to create the multi-faceted Sloan sound, Commonwealth sees the four bandmates disassociating ever so slightly to create an old-school double album sequenced with each member staking out a single side as their own artistic dominion .
Designated by the four playing card suits, the essentially solo sides allow for all four members' work to at last be heard through the prism of individual identity. Ferguson's opening "Diamond" side showcases his remarkable knack for symphonic pop, Pentland's "Shamrock" offers a substantial helping of pedal-hoppin' psych rock, and Murphy's "Heart" is fit to burst with wit, jangle, and eclectic energy. As if the four-sided concept weren't challenge enough, Commonwealth finishes with "Forty Eight Portraits," an ingenious 18-minute pop suite that fills the entirely of Scott's closing "Spade" side. Ultimately, what makes Commonwealth so special – and so distinctly Sloan – is how the fragmented approach in fact only serves to underscore the veteran band's extraordinary strengths, showcasing the particular ingredients without ever losing sight of the sum of their parts.
Song cycles and concept-driven albums are nothing new to Sloan. Over the course of 10 albums and more than 30 singles – not to mention multiple EPs, hits and rarities collections, live albums and official bootlegs released, like all the band's work, on their own independent label, Murderecords – the band has tackled countless creative conceits while ever forwarding a sonic palette that blends pure pop and radio rock into what is now a truly trademark sound, all big melodies and power hooks, cheeky charm and tearjerking introspection, rich harmonies and idiosyncratic personality.
Commonwealth follows 2011's The Double Cross, which earned Sloan some of the most glowing notices of their acclaimed career. "(Sloan's) impeccable power pop has often felt like the apotheosis of the genre," wrote SPIN. "The hooks and harmonies rarely disappoint." "An unapologetic celebration of Sloandom," praised AV Club, "and a safe place for those who believe good dual-guitar breaks are the reason why we're here on Earth." Pitchfork summed it up best: "20 years in, they've made one of their best albums…That (Sloan) sound this creatively fresh this deep into their career is a real treat for people who've stuck with them through the years. If you've never given them a chance before, this is a great time to get to know them."
Diamond Side (Jay):
1) We've Come This Far
2) You've Got A Lot On Your Mind
3) Three Sisters
4) Cleopatra
5) Neither Here Nor There
Heart Side (Chris):
6) Carried Away
7) So Far So Good
8) Get Out
9) Misty's Beside Herself
10) You Don't Need Excuses To Be Good
 Shamrock Side (Patrick):
11) 13 (Under A Bad Sign)
12) Take It Easy
13) What's Inside
14) Keep Swinging (Downtown)
Spade Side (Andrew):
15) Forty-Eight Portraits
On Tour:
No upcoming concerts or festivals.
Media:
Links:
WEBSITE
FACEBOOK
TWITTER
Yep Roc Discography: