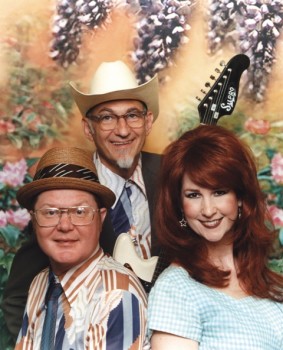 Southern Culture on the Skids
.........................................................

Southern Culture On The Skids and Fred Schneider are proud to announce their first ever collaborative 12″ EP, "PARTY AT MY TROUSE," due out February 10th on Yep Roc Records. This 12″ nugget of colored vinyl, which will also be available as a digital download, features remixes by THE UPTOWN EXPLOSION (Alap Momin and Jon Spencer) and DJ King Smoothie.
SCOTS have done almost everything in their 30-year career, except this — a 12″ Dance Mix single with Fred Schneider! That's right, Rick, Mary, Dave and Fred revisit their instant sell-out Record Store Day 7″ single ("Party At My Trouse" / "Hey Mary"), to concoct the most booty-shakin', southern-fried, countrypolitan set of remixes ever. 
Fred and SCOTS (Mary Huff, Dave Hartman and Rick Miller) met up one hot week in August at Miller's studio — The Kudzu Ranch — in rural NC to record an ode to butt shakin', "PARTY AT MY TROUSE" B/W the slinky chaser "HEY MARY." The Record Store Day 7″ sold out immediately. Millions of fans missed out on the limited edition so by popular demand….. the band decided to extend the boogie into the night with a 12″ EP featuring 5 brand new jukin' remixes!!! 
Bringing the all-night Trouse Party into the third dimension is a 12″ slab of Everclear and Grape Kool-Aid vinyl in a tiki-tickled sleeve by fantabulous illustrator Derek Yaniger. 
Like the Disco Rooster says, "Hot Dogs and cold beer — party's in the rear!"
The Tracks
Side 1
"PARTY AT MY TROUSE": Mary and Fred have a trash-talking duet fueled by Dixie Peach Wine, greasy boogie riffs and shake-a-butt backbeats. Sure to get any Saturday night off to a good start.
"HEY MARY": Fred and the boys do their best to get Mary to…….Hhhhmmm?…Uhn-uh! While the background music swings smooth as a moonshine martini. This one is for the Hillbilly Hipster.
"PAMT UPTOWN EXPLOSION REMIX": The Party gets turned up and inside out by Alap and Jon. Big City meets The Country Funk and catches the bus to Soul City. Go-Go Midnight Cowboy!!!! 
Side 2
"HEY MARY – DJ KING SMOOTHIE REMIX": Take a trip to the outer limits of the sonic solar system with ass-tro-nutt DJ King Smoothie. His remix is a Latin tinged concoction perfect for a space lounge conga line.
"PAMT SKIDZ MIX": Do the Hunch or do the Hustle, it's Studio 54 with a broken screen door – 4 on the floor leave you screaming for more!!!! 
*TROUSE: \'traus\ n: half trailer-half house, common architectural hybrid located primarily in the Rural Southeast of the U.S. A TROUSE is the combination of an offsite manufactured home such as a mobile home or trailer with another connected structure built on site. Stylistically diverse the TROUSE is known to reflect the personality of the owner/occupant and can be considered "folk art" by more progressive art historians. 
Stream the title track of the hip-shakin' hoedown here: "Party At My Trouse"
On Tour:
Media:
Links: