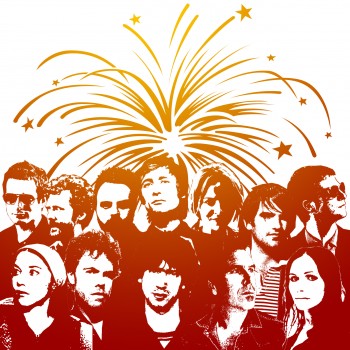 The Cake Sale
.........................................................

"The Cake Sale is not just the best "charity" record we've heard in years, it's one of the best records of the year." – The Irish Times
The Cake Sale is a band featuring a loose and expansive collective of musicians and writers who have combined to create a 9-song CD of the same name. All profits will go to support Oxfam's Make Trade Fair campaign and their overseas programme work.
Recorded in Dublin last year, the bones of The Cake Sale's tracks were laid down by Bell X1 duo Crosby and Paul Noonan along with Crowded House bassist Nick Seymour and drummer Graham Hopkins. All songs were previously unreleased and recorded specifically for the Cake Sale project with all publishing royalties being donated by their writers. Lead vocals were provided from Snow Patrol's Gary Lightbody, Glen Hansard (The Frames/ ONCE), Nina Persson (The Cardigans), Gemma Hayes, and Josh Ritter among others. The song "All The Way Down" written by Glen Hansard and subsequently appearing on the soundtrack of indie movie hit ONCE, now features vocals by Gemma Hayes.
Subsequent to the initial recording sessions, vocalists and additional musical parts were recorded in a range of studios and countries according to the touring and recording schedules of the artists involved. On the duet "Some Surprise" Gary Lightbody and Lisa Hannigan (former Damien Rice collaborator) recorded their vocal parts in different countries at completely different times with the song's ultimate success only being proven in the final mix.
"From a creative point of view, I was interested in making a cohesive sounding record for charity by co-ordinating the efforts of a disparate group of people. All the artists involved wanted The Cake Sale to be an authentic album, with all the songs relating to each other in a relevant way" explains Crosby. "There was a really enthusiastic response from everyone who was approached to write songs or perform, which made it a relatively easy project to put together. Everyone got the vibe of what we were trying to achieve. In fact, the only tricky bit was co-ordinating everybody's conflicting schedules."
After recording Paul Noonan and Brian Crosby left for Tanzania to observe how the proceeds from The Cake Sale would be dispersed. Noonan explains, "Seeing at first hand how the fruits of your labours will be used is at the same time both affirming and humbling. As musicians it was obviously a totally different world for us but it gave us a certainty that the album and the money from those who buy and enjoy it, is working as it should be."
Originally released in Ireland in November 2006, The Cake Sale is a double platinum album in that country. Ireland's Metro Life raved "…a quite dazzling showcase of the Irish music scene." while Hot Press went on to write, "…this is the album other charity records aspire to be."
Songs written and performed by:
1. Last Leaf (Dave Geraghty): Sung by Lisa Hannigan
2. Vapour Trail (Paul Noonan): Sung by Josh Ritter
3. Black Winged Bird (Emm Gryner): Sung by Nina Persson
4. Some Surprise (Paul Noonan): Sung by Gary Lightbody and Lisa Hannigan
5. All The Way Down (Glen Hansard): Sung by Gemma Hayes
6.Too Many People (Ollie Cole): Sung by Glen Hansard
7. Good Intentions Rust (Conor Deasy): Sung by Conor Deasy
8. Needles (Damien Rice): Sung by Lisa Hannigan
9. Aliens (Matt Lunson): Sung by Neil Hannnon
Songs on the album have been written by:
Glen Hansard (The Frames/ONCE)
Ollie Cole (Turn)
Conor Deasy (The Thrills)
Dave Geraghty (Bell X1)
Emm Gryner
Matt Lunson
Paul Noonan (Bell X1)
Damien Rice
Lead vocalists for the project are:
Glen Hansard
Gary Lightbody (Snow Patrol)
Conor Deasy (The Thrills)
Lisa Hannigan
Neil Hannon (The Divine Comedy)
Gemma Hayes
Nina Persson (The Cardigans)
Josh Ritter
Musical contributors to the record include:
Rob Bochnik (The Frames)
Ollie Cole (Turn)
Brian Crosby (Bell X1)
Graham Hopkins
Kevin Horan (The Thrills)
Colm Mac Ion Iomaire (The Frames)
Padraic McMahon (The Thrills)
Paul Noonan (Bell X1)
Dominic Phillips (Bell X1)
Ken Rice
Daniel Ryan (The Thrills)
Nick Seymour (Crowded House)
On Tour:
No upcoming concerts or festivals.