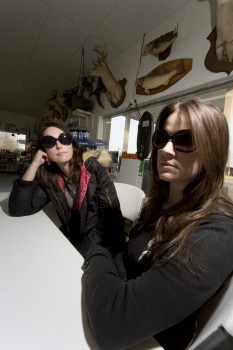 The Moaners
.........................................................

NO FEAR, NO ENVY, NO MEANNESS – An Open Letter from the Moaners
A place is a funny thing.
On one hand, it's the physical space you inhabit at a particular time but really, it's somuch more than that. This fact has never been clearer to me than this fall when Laura [King] and I recorded our new album Blackwing Yalobusha. A place is a place, but the specters of past events march on through time forever, through your life, through your thoughts and as we were soon to find out, through your music.
A while back, the folks at Yep Roc Records suggested we record our new album with Jimbo Mathus (Squirrel Nut Zippers). We were into the idea since we really respect Jimbo and had known him from around the Chapel Hill music scene for a long time – and besides, he's funny as all hell. He lives in Memphis now and has his own studio nearby in Mississippi so we booked the time, gassed up the van and set out to Mississippi on the sketchiest back country roads we could find.
Videographer (Yep Roc head honcho and party-time friend Tor Hansen) in tow, we rolled down through Memphis calling Jimbo about a thousand times along the way. He never answered. Not once. But what were we gonna do? We pressed on. No fear, right? Yeah, right. That night we grabbed some sleep in a truly [David] Lynch-esque motel complete with a live alligator in the lobby and 72 in. televisions.
We arrived in Como, MS, the home of Jimbo's studio, and rolled up to the address we had scrawled on a, by now, tattered scrap of paper. We expected to see an apologetic Jimbo, beer in hand, welcoming us with open arms. Unfortunately, what we got was the Taylor family. I'm sure the Taylors are nice people and all but we were trying to make a damn record here. So, we figured we had the wrong address, called Jimbo a hundred more times and got his voicemail a hundred more times. It turned out that Jimbo had been dealing with a nasty little gremlin infestation at his studio resulting in major electrical issues that would make it impossible to record there. But with the bad news, Jimbo had a little good news too. He had booked us at the old Money Shot studios (the new room housed there is dubbed Blackwings Studio). Money Shot was the home of Fat Possum Records and heroes like R.L. Burnside and Junior Kimbrough. Como, MS was also the home of the man who inspired me to learn to play slide guitar, Mississippi FredMcDowell.
I had seen a documentary on R.L. and Junior and all those guys that showed some of them playing in that same house, in that same room, so when we walked in I recognized everything. You could almost physically see the vibe in there. We were both in awe of our surroundings but yet we didn't want to just play the blues. That's not us. That's not our sound.
We wanted to capture the atmosphere of the blues and the feeling of the south, Faulkner's south, O'Connor's south, but play with the form and take it somewhere new. Being in that studio, smelling its smells and walking among its ghosts, made the music just come out. It was almost as if it was coming from somewhere else, practically jumping out onto the tape. Three days and 300 drinks later we had our album.
Blackwing Yalobusha is a testament. It's an offering made at the altar of our heroes but with the understanding that we will take what they built, tear it all down, and build it again – harder, stronger and all our own.
– MELISSA SWINGLE & LAURA KING
Chapel Hill, NC, December 2006