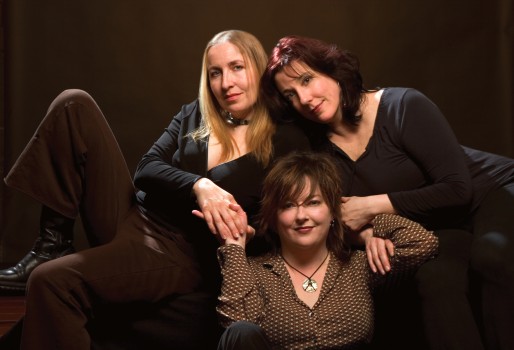 Tres Chicas
.........................................................

Tres Chicas are in the process of creating a new proof for the old adage that the sum of the parts is greater than the whole. The group is a sisterhood of singing and songs born out of friendship and mutual admiration among Lynn Blakey, Caitlin Cary and Tonya Lamm, who debuted together in 2004 with Sweetwater (Yep Roc), "a landmark album." (Los Angeles Daily News).
They now return with Bloom, Red & The Ordinary Girl, a shimmering, sophisticated album that proves the trio anything but ordinary. It is, in fact, a rather extraordinary blossoming beyond their initial outing, which was widely praised for harmonies that are "perfect" (by Paste and No Depression), "gorgeous" (Amazon.com), and "rousing" (The Village Voice), along with what No Depression calls their "truest strength," the threesome's remarkable songwriting talents.
The new album was recorded in London, England with kindred souls Neil Brockbank and Robert Trehern producing, and features a core band comprised of Geraint Watkins (piano & organ), Matt Radford (upright bass), and Robert "Bobby" Trehern (drums), along with a star-studded cast of "extras" including Nick Lowe, Steve Donnelly, Bob Loveday, and Bill Kirchin. Tres Chicas' journey from their North Carolina home to collaborate with some of the most accomplished British aficionados of American music results in a virtually borderless Americana sound that's resonant with humanity, wisdom, heart, and irresistible charm.
What the LA Daily News hailed as "some of the sweetest country rock ever" on Sweetwater blossoms like good wine arriving at its fullest flavor on Bloom, Red & The Ordinary Girl. In addition to original compositions, the record features a number penned by Geraint Watkins as well a country-pop legend Johnny Carver cover and a song by fellow Carolinians Lou Ford. The album's effortless variety is paired with subtle intention; each song is given its due in character, spirit, and musical innovation, something of a Tres Chicas trademark.
All of the threesome have notable careers that continue alongside Tres Chicas. Blakey is known as the front-woman for Glory Fountain as well as for her early work as a member of both Let's Active and Oh Ok. Cary was an original member of the groundbreaking alternative country rock group Whiskeytown and now enjoys a career as an acclaimed solo artist as well as a duet partner with brethren Yep Roc artist Thad Cockrell. Tonya Lamm was a founding member of the band Hazeldine, which found favor as an indie act in the U.S. and won a major label deal and wide European audience. All three are also known for their vocal and musical contributions to recordings by other noted artists.
The Chicas met and became friends when, over the years, their respective bands shared live bills. The three gravitated toward one another and eventually started writing and singing together. At an initial gathering at Cary's house, the magic was immediately evident: "I had to call a friend and get the ladies to sing a song on his answering machine because it sounded so great," recalls Blakey. Following a show at a Raleigh club by their longtime friend and colleague Alejandro Escovedo, the budding trio first sang together in public during an after-hours hang. The response of their friends and fellow musicians convinced them that they had created something special together. For their debut gig at Raleigh's Lakeside Lounge, the club owner dubbed the nameless act "Tres Chicas," and the name stuck.
After several years in which the Chicas played local shows "for fun" when time allowed, they got together to record the songs they had been writing. The band assembled in the North Carolina studio of friend and musical co-conspirator Chris Stamey. "We really just wanted a document of this wonderful music we were making," says Cary. "We didn't take the recording all that seriously, but we'd played a lot of shows by that point, and we had real faith in the quality of the songs and in our passion for singing and playing them?we wanted our kids to hear it someday." Stamey invested a great deal of energy in the recordings, and eventually convinced the Chicas that what they had created was not merely a record "for posterity," but an album that deserved a wider audience. Sweetwater was released by Yep Roc in 2004 to wide critical acclaim. "Sweetwater brings us country music the way it was intended," raved the Chicago Sun Times, "with ache and soul and passion and not a little bit of ballsiness. It's haunting, evocative and gorgeous roots country."
When the trio met producer Neil Brockbank (Nick Lowe, Geraint Watkins, Bryan Ferry) on a bill shared with Watkins in their hometown of Raleigh NC, yet another mutual admiration society was born. "They were a knockout," recalls Brockbank. "After the show we went and had a few drinks with the girls, just to socialize, and we all hit it off." Brockbank impressed the Chicas immediately as someone with a grasp on how the next record should be made. "We had a great show and night of music and fun, and then we just decided to continue it," Blakey says. "Nobody made any plans that night, but I was thinking, 'I want to make a record with these people,' because I loved the way Neil talked about making music. He's really into this organic live approach and letting things happen."
Fortune smiled, plans were made, and at the end of their 2005 European tour, Tres Chicas joined up with Brockbank and his production partner Robert Trehern?also known for his drumming with Nick Lowe and Van Morrison among others?at their London studio. "We tried to put a different spin on it over in London," explains Brockbank. "The kind of Americana thing they do is like second nature to us, but it's not the same. We've got other influences as well, a lot of European stuff." There was a true meeting of the minds in London. "Geraint is one of the most sympathetic, inspired players I've ever heard, let alone worked with," says Cary, "and he just sparkles." Watkins, who recently released his US solo debut on Yep Roc, is known for his work with Paul McCartney, Bill Wyman, Van Morrison, Mark Knopfler, and countless others. The Chicas also credit Bobby Trehern's drumming as integral to shaping the sound of the record: "We would arrive in the morning and find Bobby at the kit playing and talking to Neil over headphones. When the rest of the players arrived, we'd all just fall in with him and the song we'd chosen to cut that day would spring to life," says Lamm. "We all really bonded on a social and musical level while we were there," recalls Blakey. "We had a good meeting between the way they do things and our personalities, and we ended up with something remarkable."
You might guess that the title Bloom, Red & The Ordinary Girl refers to nicknames of the members, and in some ways it does: "We might each take one of those names at different times?they refer to emotions and different ways of being, and they all are universal," says Cary. The title also refers to three songs on the album: Lynn Blakey wrote "All the Shade Trees in Bloom," Caitlin contributed "Red," and Geraint Watkins wrote "My Love," in which Lamm sings the refrain, "I'm not Jesus Christ/I'm just an ordinary girl."
From the trio's inception through their latest creation, what drives Tres Chicas is the songs and friendship they share. "The music is like a big boat carrying us along," says Blakey. "No matter where our lives and musical careers may take us in the future, I'm sure that the three of us will always sing together," says Lamm. With Bloom, Red & The Ordinary Girl, the Chicas pronounce to the world that what started as a side project has grown and deepened into a lasting collaboration that bears rich fruit.
"Everything that has happened to us has seemed almost magic," concludes Cary. "It's been kind of miraculous that we could even do this, and then to see it morph into something that means so much to us?it is serendipity. I don't speak this way normally. I'm not the kind of girl who talks about acts of God or Fate or anything like that, but somehow it feels that way; it's a blessed little thing that the universe did for us."