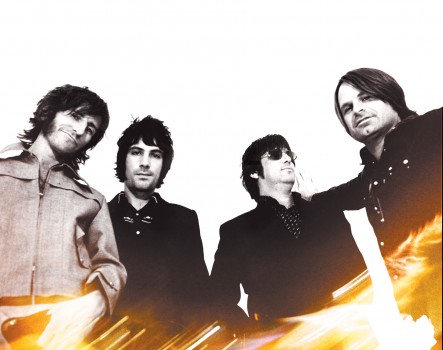 You Am I
.........................................................

"Hey, d'you remember that night when you told me, 'You know, you're pretty good, but you're no Ray Davies'?" asks You Am I lead singer Tim Rogers, with raised eyebrow and a sly grin, before cuffing me on the shoulder, laughing like a drain, and spluttering, "I'll always remember that…"
To try and make amends for this gaffe, from a draughty vantage point roughly 4,000 miles east of your good self, this whinging pom would like to take a few minutes of your valuable (drinking) time to reflect upon why Australia is one lucky-assed country to have a band like You Am I warming their cockles, nursing their broken hearts, and sound-tracking the downing of a schooner (or three).
Since 1992, You Am I have bagged seven ARIAs, set a record for three consecutive straight-in-at-No. 1 albums in Australia (Hi-Fi Way, Hourly Daily, No. 4 Record), attracted legions of adoring fans, sound-tracked two movies (Idiot Box, Dirty Deeds), picked up some heavyweight admirers/touring partners (Oasis, Soundgarden, Sonic Youth), been asked to gig with their idols (The Who, The Rolling Stones), given foreign artists their first widespread exposure downunder (The Strokes, The Detroit Cobras, The Dirtbombs), AND inspired a host of Australian bands to do things their own damn way (Silverchair, Jet, The Vines, The Sleepy Jackson, Wolfmother, Dallas Crane, etc, etc). Well, that ain't too shabby, for starters…
Now that we've got the maths outta the way (never anyone's favourite part of the equation), it's down to the real business at hand. Also, you can just forget them headlines concerning onstage meltdowns, celebrity dwarf tossing, and whiskey-stained action slacks, cos this here album offers cast iron proof that Rogers and his cohorts — Russell Hopkinson (drums), Davey Lane (guitar, vocals), and Andy Kent (bass, vocals) — are still at the top of their game. And, as ever, ladies and germs, that game is pure-brewed rock'n'roll – in the form of a freshly-squeezed pint (and a half) of soul juice known asConvicts, You Am I's first outing for their new US home, Yep Roc Records.
To paraphrase the late Bob Hope, Convicts will put hairs on your chest (or other places), and part them in the middle. It's a darned effective musical elixir for whatever ails you. It's a quick (36 minutes), slightly grubby and occasionally freaky, 12-track reminder of Messrs Rogers, Hopkinson, Kent and Lane's considerable collective charm. The sheer vim and vigour of "Convicts" makes it gosh-darn difficult to grokk that it's YAI's SEVENTH album — let alone their ninth, if you count live set Saturday Night 'Round Ten and the double-disc retrospective, The Cream & The Crock.
From the feedback-strewn opening punch of "Thank God I've Hit The Bottom" (confesses Andy Kent, "We actually slowed that down"), it's onwards and upwards in a riot of ear-melting rifferama. But never fear, tender hearts, as thanks to such tunes as the simply gorgeous "Secrets," there's also a Tim Rogers-sized portion of seriously heartstring-tugging humanity on the side.
If you ever danced your socks off at a "Rumble," hit the pillow accompanied by "Heavy Heart," played air guitar to "Who Put The Devil In You," or got joyfully smashed while singing "waited all summer just to piss on your lawn," then Convicts is a cert for your bar, boudoir or barbecue. No dreaded 'comeback' soft-soap here, this is the tightest AND loosest You Am I have ever sounded. It's (yet) another Rogers-penned tour de force of rock'n'soul'garage'n'punk'n'beat'n'folk'n'country'n'Junk.
What makes Convicts all the more amazing is that its producer – veteran YAI mucker and "all-round good guy" Greg Wales – wrested this absolute rip-snorting monster of a rekkid from the tough'n'tender hooligans in a total of only 16 days in five different studios, spread haphazardly over the course of as many months. Rumour has it that they've even got enough material in the can for another album – whatta work ethic! Jeez, at this point in most band's careers, they're barely communicating, let alone working out their kinks (pun intended) on record, as You Am I do with Convicts' supersonic second track, "It Ain't Funny How We Don't Talk Anymore."
Yeah, bub, it seems like the whole darn world's been starved of You Am I-style suss'n'strut for too frickin' long. But nobody could accuse Tim, Rusty, Andy or Davey of resting on their laurels during You Am I's hiatus, as each of 'em managed to shoehorn another career into the available space: Tim toured all over the globe, acted on TV, and made a mighty fine, soul-scouring double album with The Temperance Union. Rusty started a record distribution business/label, Reverberation, and joined Radio Birdman, with whom he's toured and made a new album. The inscrutable Andy Kent became a manager (and not just of You Am I, themselves), worked on boutique tours/records with Love Police and played bass on the latest Vines set. And for his part, dear Master Lane painted his own, full-length masterpiece with The Pictures, played with The Wrights and toured with Jimmy Barnes.
So, to sum up (and stop the waffling), Convicts is the new You Am I record, and it's a cracker. Play it loud, right now, preferably at someone's sister (or brother) …
Righty-ho, I'm off, and I guess I'll see you at the bar? As Mr. Rogers once suggested, during a lazy night in a smoky London boozer, "Let's split this round — you do the poms, and I'll get the convicts."
I'll raise a glass to that idea.
"God bless the fucking lot of us!"
Joss Hutton
Sonic Reducer
Londinium
March 2006