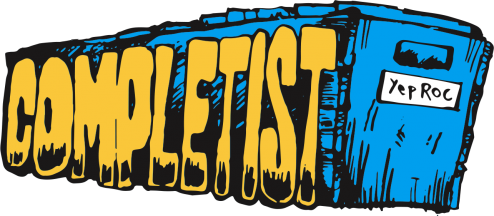 Enter to win a FREE 1-year subscription to the Yep Roc Records Completist Club (a $299.99 value)! By entering your email address at the link below, you will automatically be entered to win!
ENTER COMPLETIST 2017 GIVEAWAY HERE
What exactly do I win? A LOT! Every 2017 Yep Roc Records standard new release on your choice of CD or LP delivered to your door! Estimated to include 18 new releases in 2017, The Yep Roc Records Completist program will include great releases from Tift Merritt, Chuck Prophet, Wesley Stace, Dave Alvin, and many more. Additionally, you will receive 10% off and free shipping on anything else you order from yeproc.com throughout the year.  Completist members will receive many extra items along the way, which may include – a Completist T-Shirt, signed posters and test pressings, bonus releases, VIP opportunities at Yep Roc artists shows (guestlist, meet and greets) exclusive video and audio.*
This contest ends at midnight on September 30th, 2016.  A winner will be announced by October 1st . No purchase necessary. scroll down on this page for more details on the Yep Roc Completist Club
*Note: The subscription excludes deluxe editions, Record Store Day-exclusive titles and re-issues. But the 10% and free shipping code included in the package will work on anything in the store, for the entire year! Entering this contest opts you into receiving updates from Yep Roc Records.
See Official Contest Rules Here
________________________________________________________________________________
What Completist Club members are saying –
"I hope to have the opportunity to see lots more great Yep Roc artists over the course of the year ahead, and to continue being a 'completist' for a long time to come!" – Steven / Member #18
"I just want to say how much you guys rock and it's been a joy getting the records and all the cool bonus stuff! Thanks again for this great club and everything you are offering us!" – Carl / Member #7
"I have enjoyed being a member of the Completist Club.  It provides an opportunity to hear music that I would never have considered, but has been vetted by Yep Roc." – Jeffery / Member #5
"I wanted to let you know how much I appreciate the Completist Club communications and I also appreciate that you are so receptive to input and feedback from all us." – Steve / Member #27
"I've really enjoyed the program this year, particularly receiving CDs I wouldn't normally buy, along with ones I'd snap up in a heartbeat. Definitely want to enroll for next year's edition." –  Duncan / Member #14
We have some hardcore Yep Roc fans out there, who love our artists as much as we do. We are offering those "Completists" the opportunity to receive every Yep Roc release of 2016 – an estimated 18 titles! – at one discounted price, including shipping and handling and exclusive bonuses along the way.
It's a great holiday gift for the Yep Roc-er in your life, and will include new releases from label mainstays as well as some of the newest additions to our roster. We'll also send digital and physical "extras" along the way.
Now, for the details…
What do I get? All "Completists" will receive every standard Yep Roc new release for an entire calendar year, January 2017 – December 2017, an estimated 18 total releases. Records will be delivered in the month of their release, and other perks including extra records and a 10% off and free shipping code good on all purchases in 2017, will also be yours. You can choose either the CD or LP subscription.
What's in it for me? We have some really passionate and loyal fans, thanks to the talented artists we work with. We'll also get you an exclusive 10% off discount code and free shipping good for any purchase you make in the Yep Roc Store in 2017.
How much is it? The vinyl package is $299.99 and the CD package is $179.99, with shipping for the entire year included. We'll also send you "extras" along the way.
How do I get started? Head to The Yep Roc Store by Dec. 31, and choose either the CD or LP package.
Note: The subscription would exclude deluxe editions, Record Store Day-exclusive titles and re-issues. But the 10% and free shipping code included in the package will work on anything in the store, for the entire year!