In celebration of Liam Finn's April residency at New York City's Knitting Factory, download new demo "I" from his upcoming album. Follow THIS link, click "Buy Now" and enter "0" as the amount. Enter your email address and download your free song.
A note from Liam about "I":
"I" is one of those demos that I find myself chasing throughout the recording process. Music that is made without self consciousness that anyone will ever hear it often captures an atmosphere impossible to re-capture later down the track. I thought why not just put the demo out there, involve you in my plight and then once the record comes out you can tell me how much you prefer the demo… But you won't… You'll say you prefer the live version.
As we say in my family "All the usual excuses" which mean all or some of the following. The lyrics will/have changed. I fixed that bit. I know there's too much reverb. Yep, I heard that bung note. I'm going to orchestrate that part with the sound of howling dogs. It is saxophone."
Five fans that download the song by Liam's last show, April 29, will be randomly chosen to win a limited-edition Murmuration show poster shown below.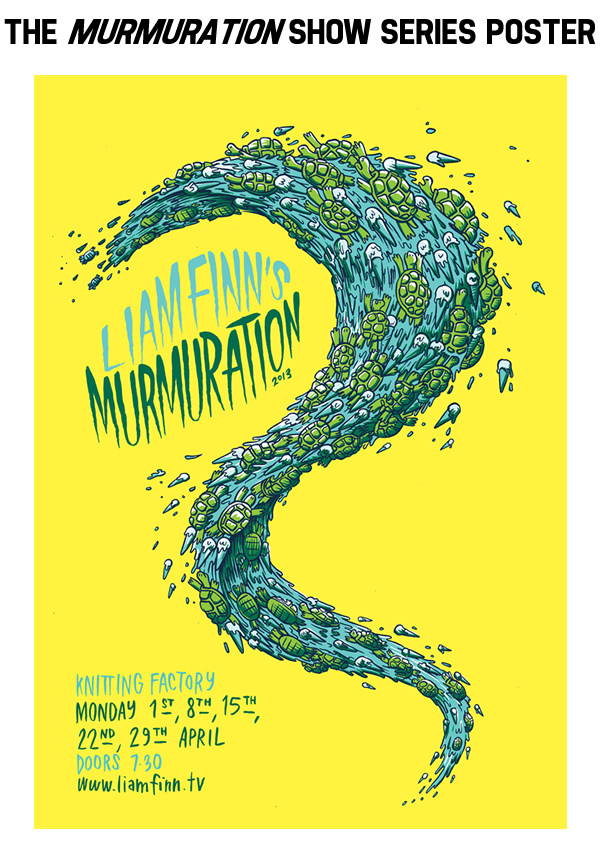 Tags:
liam finn
,
murmuration
,
the knitting factory