"In family life, love is the oil that eases friction, the cement that binds closer together, and the music that brings harmony."
– Eva Burrows
Truer words were never written, especially in the case of The Good Family, and now they are ready to release their debut album of original material.
Over the past 40 years music has been an integral part of who this family is. It is for the love of family and music that this act came to be for it was not created rather, it simply happened.  When watching and listening to The Good Family you can feel the energy from the stage and see a family who undoubtedly love what they are doing.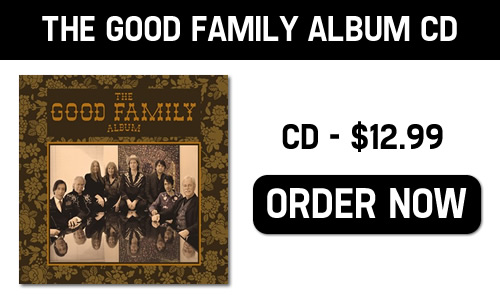 The Good Family is no stranger to stage and studio as members consist of two of Canada's premier acts. They are Bruce and Larry Good, two-thirds of Canadian Country Music Hall of Fame inductees and multiple Juno Award recipients The Good Brothers along with Juno and Indie award winning Travis and Dallas Good of The Sadies.
Rounding out the family is Margaret Good, wife of Bruce and mother of Travis and Dallas. Margaret is also a veteran performer who appears on several recordings by both The Sadies and The Good Brothers. She also sang on The Ronnie Prophet show "Grand Old Country" aired on CTV for three seasons backing such artists as Charlie Pride, Loretta Lynn, Mickey Gilley, Tammy Wynette, and Dolly Parton just to name a few.
The Good Family talent pool does not end here as niece and cousin D'Arcy Good completes the musical magic with her fiddle and outstanding vocals.
And just when you think it can't get any better it does with The Sadies' bassist Sean Dean and Mike Belitsky on drums, indeed the heart and soul of The Good Family.
Two of these songs were co-written by Greg Keelor and the only guest is the late Terry Clements.  The album was mixed by Michael Timmins (Cowboy Junkies).
They say that sibling harmonies are unbeatable… well imagine these six musicians and singers blending their family harmonies in a way that is mesmerizing and unique. Imagine the mix of electric and acoustic guitars along with banjo, auto-harp, dobro, harmonica, fiddle and mandolin. Or don't imagine. Come hear and see for yourself.
Tags:
Dallas Good
,
Margaret Good
,
The Good Brothers
,
The Good Family
,
The Sadies
,
Travis Good