Yep Roc Records is proud to offer the exclusive North American vinyl edition of Willie Nelson's latest LP, Heroes. This is a 2xLP pressed on 180 gram vinyl and packaged in a gatefold cover.
Heroes is the first album to be featured as part of Willie's homecoming to Legacy recordings, and his 65th studio recording. No themes or gimmicks involved with this album, just 14 new recordings produced by Buddy Cannon (Academy of Country Music's producer of the year 2006), and recorded with Willie's friends and family.
The strength of Heroes is Willie's unmatched way with a melody and his committed love of collaboration in the service of the song. Many of the songs here – some new compositions, some covers, and some new takes on old Willie classics – take on a reflective, emotional tone. But there's plenty of fun and humor involved as well.
Snoop Dogg, Kris Kristofferson and Jamey Johnson pitch in on the rollicking good time of "Roll Me Up", while Willie and Merle Haggard add depth and grace to their duet on "A Horse Called Music". Other guests on the album include Sheryl Crow (in a duet of Tom Waits' "Come On Up To The House), Ray Price and Billy Joe Shaver. Also featured prominently are Willie's sons, Lukas and Micah Nelson. Lukas contributes vocals on 9 of the tracks here, and the similarity of his voice to that of a younger Willie is astounding.
Also not to be missed are the astonishing, if a bit unexpected, covers of Pearl Jam ("Just Breathe") and Coldplay ("The Scientist").
This beautiful album – sometimes amusing, sometimes poignant, but always engaging and surprising – should have broad appeal among Nelson's core fans and beyond.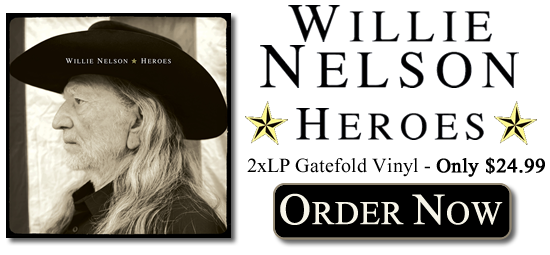 TRACK LISTING:
01. A Horse Called Music ft. Merle Haggard
02. Roll Me Up ft. Snoop Dogg/Kris Kristofferson/Jamey Johnson
03. That's All There Is To This Song
04. No Place To Fly ft. Lukas Nelson
05. Everytime He Drinks He Thinks Of Her ft. Lukas Nelson
06. Come On Up To The House ft. Sheryl Crow/Lukas Nelson
07. Hero ft. Jamey Johnson/Billy Joe Shaver
08. My Window Faces The South ft. Lukas Nelson
09. The Sound Of Your Memory ft. Lukas Nelson
10. Cold War With You ft. Ray Price/Lukas Nelson
11. Just Breathe ft. Lukas Nelson
12. Home In San Antone ft. Lukas Nelson
13. Come On Back Jesus ft. Lukas & Micah Nelson
14. The Scientist
Tags:
Heroes
,
Vinyl
,
Willie Nelson