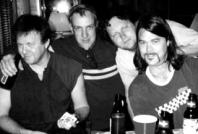 Bad Checks
.........................................................

The Bad Checks intensify and mark their original brand of Southern Punkadellic and Voodoobilly rock with High Dollar! Since the early 80's these guys have brought to the east coast and to Europe a level of rock that is unparalleled.
Reading through radio lists and press clippings from the Bad Checks album releases, (Action Music label-French `85 & `86), you probably couldn't think of better bands to be compared to than the names that pop up: Gun Club, early Led Zeppelin, Iggy Pop, and the Cramps. The Bad Checks were at the top of radio play lists over Replacements' Tim, The Pogues' Sally Maclennane, Dinosaur's Dinosaur, and Alex Chilton.
High Dollar has all that and more.
You will see the crazy stage antics of Hunter "Crash" Landen and the Bad Checks performing in the clubs. Go. Go rock.
On Tour: