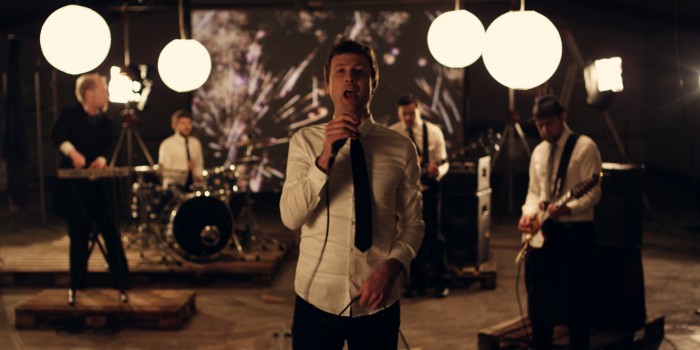 Bell X1
.........................................................

"Sgt Pepper's killed music!" Bell X1 frontman Paul Noonan is laughing down the phone from Dublin. "Ian Stewart said so. Wonderful as it is, it encouraged people to use the studio as an instrument, to faff away in there to their heart's content. Instead of having their shit together before they went in, and to use the studio take a good photograph of where they're at. And now, everybody has a computer so we can all take the record home and just tinker endlessly and get lost in a spiral of options and doubt. We say Down with That Sort of Thing!! "
For their new release, Bloodless Coup, the group wanted to return to a more traditional way of recording. As in, write the songs. Rehearse the songs. Record the songs. In a recording studio. With other humans. And leave it alone.
Bell X1–singer Paul Noonan, guitarist Dave Geraghty and bassist Dominic Phillips, –brought two new humans into the studio fold this time — Rory Doyle on drums and Marc Aubele on keys and guitar. "We started playing with the boys around the time we went on the road with Blue Lights on the Runway," says Noonan. "We got on well and we knew we had to make the album with them."
Bloodless Coup is about the idea that momentous change often happens in subtle or benign or lateral ways. Like realizing that you'll now never do certain things. Our own country's economic implosion. Stepping up with grace and holding a loved one as they slip away. Losing one's religion. But it's also about how, through friendships and shared human experience, the good will win out. "Ireland is in a state of flux at the moment and there's lots of frothy soul searching–who are we and why are we in such a mess?" Noonan says. "We all need to step up and play a part, and within the artistic and wider community there's an awareness and a desire to do so. I suppose there's a romantic notion of a bloodless coup to this, as there no is Great Hope in the political landscape to look to."
To produce the album, Bell X1 brought on Rob Kirwan, whom they had known for a while: "He's been very much in demand over the years and we couldn't really tie him down. This time we were lucky in that he moved home to Dublin. After we met up and played him the songs, we all wanted to make it happen."
With Bloodless Coup, once again the band mixed the organic with the machine, the latter coming to the fore a little more than in previous outings. Noonan's infectious voice whisks you away with lyrics that range from social commentaries to more personal introspective songs like, "Nightwatchmen" and "74 Swans," and the unforgettable first track "Hey Anna Lena." "There are certain moments in the process of making a record when it just clicks," says Noonan, of the song. "And it's not from banging your head off a wall or constantly trying to verbalize what sort of journey a song should take. It just happens, and there are few more satisfying things in this game. These moments are few and far between for us and make them all the sweeter!"
The album's lead single is "Velcro" a fitting track about sticking together and working hard through the tough times.
"Safer than Love," sees the band in full electro mode, and could be the band's "Dylan goes Electric" moment… "Yea, we're bracing ourselves for rioting in the aisles with that one", laughs Noonan. "We really resisted the urge to add more organic elements to it. It just felt so complete without those in it's crap home made-ness. I'm interested to see how people take to it."
While the past few years have seen Bell X1 making major artistic and career strides, the group has been honing its sound since its formation in 1999, and its members have been making music together since the early '90s. Having met at school in Ireland's North County Kildare, Noonan, Geraghty and Phillips first recorded as members of Juniper, whose lead singer was Damien Rice. After Rice departed to launch his solo career, Noonan, Geraghty, Phillips and Crosby regrouped and rechristened themselves Bell X1, borrowing the name of the first plane to break the sound barrier.
Bell X1 debuted with 2000's Neither Am I, produced by Crowded House member Nick Seymour. That disc became a modest cult hit in Ireland, where the band's tireless touring efforts won it a reputation as a powerful live act. The sophomore effort Music in Mouth followed in 2003, and established Bell X1 as both a major attraction and a critical favorite in its homeland, while winning the group increasing popularity in Europe.
Upon its release in late 2005, Flock, produced by studio vet Roger Bechirian, of Elvis Costello/Squeeze/Undertones fame, became a smash, establishing Bell X1 as one of Ireland's best-selling recording acts and most popular live bands. This momentum lead to a North American release in 2008 and won Bell X1 a substantial audience in America, where the band toured, and managed to survive unscathed after their tour bus caught fire in Medford, Massachusetts. Undeterred, the band would tour America 3 more times that year and the group's stateside profile was further enhanced by performances on The Late Show with David Letterman, Late Night with Conan O'Brien and The Late Late Show with Craig Ferguson.
The success of Flock led to Bell X1 setting up its own label, BellyUp Records, giving the band complete control over its musical output. The new imprint's initial release was the hugely successful live CD/DVD packageTour De Flock, which debuted at Number Four on the Irish charts, the highest-ever debut for a self-released title.
Hailed by the likes of Vanity Fair who heralded their US arrival as an international phenomenon and the New York Daily News who said, "Paul Noonan has sweated out enough smart work to make him one of pop's most promising writers," the band showed no signs of stopping. Their last album Blue Lights on the Runway debuted at Number One in Ireland, and was certified multi-Platinum while going on to become the biggest selling independent title that year and spawning the number one single "The Great Defector" — a track that also went top 10 in America and spread across Europe.
Their new album, Bloodless Coup, proves Bell X1 is a diverse band that continues building on their solid fan base. "I remember being 14 or 15 and really falling for music. In those first throes, songs were incredibly powerful and I'd ache to feel their impact. A new and wondrous thing," Noonan says. "When we get people coming up to us at gigs, or emails from people saying that our music is doing this for them… there's no greater reason to do it."
On Tour:
Media:
Links:
WEBSITE
FACEBOOK
TWITTER
YOUTUBE
Yep Roc Discography: