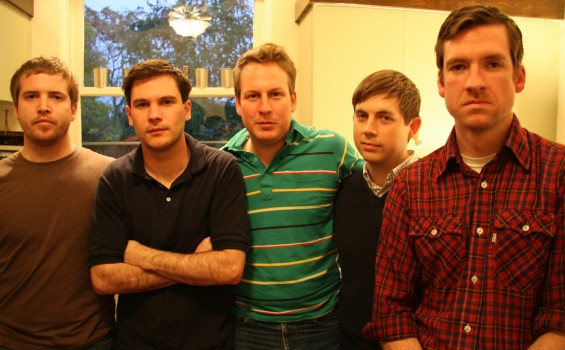 Dolorean
.........................................................

Al James Oct. 31, 2006:
At the beginning of 2006, when we started recording this album, the words "You Can't Win" were an incredibly real feeling that I had. I was tired of being broke. I was tired of personal relationships falling apart. I was tired of feeling completely ungrounded day to day. A year has passed and none of that has changed much, but I've realized there's a power in giving up on the idea of winning. Most of my closest friends in and out of our band knew I was in a darkplace when we were working on this record. They all told me at different times to go ahead and go all the way into that feeling and try to come out on the other side. As the project wore on I eventually did, and the sentiment of "You Can't Win" changed drastically. Instead of the frustration that I was feeling early on there was a renewed appreciation of hard work, a belief in the complexity of love, and a newfound joy in creating music.
You Can't Win is by far Dolorean's most ambitious album to date. We'd become overly predictable when we entered the studio, so I did my best to change things up. I stole an idea that I came across in Jimmy McDonough's Neil Young biography Shakey. Neil used to book studio time and shows for himself and Crazy Horse without rehearsing new songs with the band. I knew that we'd be up for a similar challenge so I booked three shows in three weeks during February – all of them at a Portland speakeasy called Dunes. In between the second and third shows I booked three days at Type Foundry, a local studio known for it's big, open tracking room. We invited EMIL AMOS, of psych-noise band Grails, to join us at the shows and on the record, playing electric guitar. I didn't leave the band completely in the dark, but I didn't reveal much. I had almost a dozen new songs and we went over the changes a couple times before the first show. The performances were raw, passionate, and loose – everything that we hadn't been able to capture on previous recordings. At Type Foundry we recorded multiple takes of the same songs, trying out different arrangements as we went. We didn't worry about what we were going to use or erase, we just got down as much as we could. We could sort through it later. To assist and direct on this recording we asked for help from engineer, and longtime friend, ROB OBERDORFER. He understood that we wanted to get things down quickly and was able to capture great sounds while still keeping the session moving.
For the most part, the heart of You Can't Win was created on that weekend in February. We finished up minimal tracking over the rest of the spring and JEFF STUART SALTZMAN mixed the album in the summer. Throughout the entire process, we drew heavily from what we heard on J.J. Cale's Naturally. The arrangements on Cale's 1972 masterpiece are tight and extremely concise, but the playing and sounds are very live. In addition to Naturally, I was affected deeply by the re-issue of Bill Fay's Time Of The Last Persecution. I'd read about this recording for years. When I finally heard it, it exceeded all of my expectations. The singing is imperfect and bare, exactly what I needed to hear, and learn from, as a singer. I listened to this album most of the year and made copies for everyone in the band.
In ways You Can't Win contains the most honest, most direct songs I've ever written. It's also the most collaborative effort from the band. There was almost no direction from me concerning where and how the other musicians should play. Pianist JAY CLARKE and drummer BEN NUGENT played nearly every instrument on some tracks, like opener "You Can't Win." EMIL AMOS' fluttering guitar solos on the extended ending of "Beachcomber Blues" ensured that I never picked up an electric guitar for the entire session. There was never any need. Again, like on other Dolorean records, bassist JAMES ADAIR combined with BEN NUGENT, re-establishing their place as the best rhythm section in all of Portland. Jay and Emil worked together better than we could have hoped. Emil's Richard Thompson style guitar runs playing off the space created by Jay's melodic keyboard minimalism. There are many types of music that we pulled from on You Can't Win – Chet Baker's cool jazz, Yo La Tengo's broken grooves, Palace Brothers' country gothic, Meddle-era Pink Floyd. It all somehow fits together better than any collection of songs we've released It's a rougher, freer Dolorean captured on a recording. And thankfully, it's no longer just one hardened heart singing "You Can't Win," there's a chorus of us reassuringly combining our voices with the same words, but a different message, "It's okay, quit trying so hard, You Can't Win."
On Tour:
No upcoming concerts or festivals.