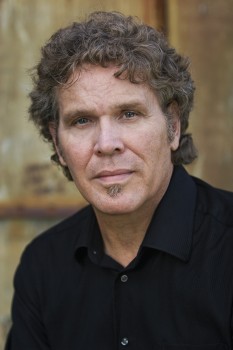 Doyle Bramhall
.........................................................

It's apropos that Doyle Bramhall's new Yep Roc CD is titled Is It News because, although they're absolutely true to his deep roots in the blues, its dozen original tunes mark a turning point that is both ambitious and the logical summation of his artistic evolution. The answer to the forward-thinking, envelope-pushing CD's title is a resounding yes-and the news is all good!
"I wanted to make an all-original record that was big, energetic, intimate, and unpredictable,"Doyle states. "We got a lot of the sounds by pushing everything to the limit and then pulling it back from there."
Fans already accustomed to Doyle's high standards and willingness to chart new territory will nonetheless be pleased and surprised at just how high he raises the bar. This instant classic is the benchmark of Bramhall's storied career-which is saying a lot! Continuing the tradition he started with the songs he co-wrote with Stevie Ray Vaughan, which struck a chord with the biggest audience the blues has ever enjoyed, he deftly expands the idiom's vocabulary and texture.
Any discussion of Texas blues, be it T-Bone Walker or Stevie Ray, is incomplete without mention of Doyle Bramhall. As singer, songwriter, and drummer, he has been an integral part of that rich state's music for almost 40 years and, indeed, one of the founding fathers of the blues/roots resurgence synonymous with the Lone Star state and the migration from Dallas to its musical epicenter, Austin. Considering the impact Texas, the state and the state of mind, has had on music around the globe, Bramhall's importance cannot be overstated.
Growing up in Dallas, his Chessmen opened for Jimi Hendrix in 1968, when Doyle was still in his teens. Moving to Austin with the band's guitarist, Jimmie Vaughan, the two formed Storm, which Bramhall eventually left to form the Nightcrawlers-this time with Vaughan's little brother, Stevie Ray. Two Bramhall compositions, "Change It"and "Lookin' Out The Window,"became linchpins of Stevie's repertoire, and the pair began a fruitful songwriting collaboration that yielded seven more classics-including "The House Is Rockin',""Tightrope"and "Wall of Denial"from In Step, and three tunes from the Vaughan Brothers' Family Style, which featured Bramhall on drums.
The term legend is bandied about, often in reference to Doyle, but there are few triple-threats as strong-as songwriter, singer (sited by Stevie Ray as his biggest vocal influence), and instrumentalist (blues queen Lou Ann Barton calls him as "the best drummer in the South"). So it was little surprise that his 1994 album, Bird Nest On The Ground, was such a powerful debut. Following that success, he produced critically acclaimed albums by Marcia Ball, Indigenous, and Chris Duarte, while leading his own rocking band. His follow-up CD, Fitchburg Street, was a heartfelt ode to the blues and R&B he heard during his formative years in Big D-which also happens to be Doyle's nickname, to differentiate between him and his son, guitar great Doyle Bramhall II.
Doyle II is just one of the guitar greats Bramhall enlisted for Is It News. Bandmates from the past Denny Freeman and Jimmie Vaughan turn in stellar performances, along with Mike Keller, Charles "C.C."Adcock, and Mato Nanji of Indigenous-as do bassist Scott Nelson, keyboardist Billy Etheridge, and others.
Louisiana swamp-rocker Adcock co-produced the CD with Doyle. "I had a vision for this record,"Bramhall explains, "and, because I love Charles's records and lyrics and the way he records, I really wanted him to be involved. Charles said he could come up for a few days, and he ended up staying for two years."
Of that vision, Doyle notes, "I'm not comparing myself to them, but I always loved the way the Beatles recorded, especially later on, where they approached each song differently and experimented with all kinds of sounds. I wanted to try different things and have everything complement each other-the rhythms and melodies-without getting in each other's way. I wanted this album to have a totally different feel. Grab whatever's in the studio and see how it sounds."
Adcock agrees: "Every day we'd pick a song and see where it went. 'Tortured Soul' started out as a shuffle, but ended up like a New Orleans street parade. 'Cryin' is a shuffle and a 6/8 Fats Domino feel at the same time."
"We recorded 'Cryin' in Mike Napolitano's studio in New Orleans several months after Katrina,"Bramhall details. "I was thinking of that song 'No Other Baby' that McCartney did on Run Devil Run, and then I heard 'Lonely Blue Boy' by Conway Twitty. In about two days I had it written, and then C.C. came up with the outro. For 'Tortured Soul,' recorded by Brent Sigmeth, I put newspaper inside two empty 2″tape boxes, and we mic'ed them from underneath and above. And, of course, Nappy and Justin Stanley added their magic."
Napolitano's credits, as producer and engineer, include the Neville Brothers, Ani Difranco, Squirrel Nut Zippers, and Adcock's Lafayette Marquis. "He's a great mixologist, and he can use all these computers and gadgets to trick things out,"C.C. points out, "but he's really good at keeping things pure and real.
"I'll Take You Away" is about as pure and real as it gets-ranking with the great soul ballads of any era and love songs of any genre. "My wife, Barbara, was going through a real rough time trying to connect with her birth parents,"Doyle explains. "It just came to me: 'I'll take you away from all that you come from. We can leave today, before more damage is done.'"The spare, tasty, tremoloed guitar solo is courtesy Doyle II.
The hard-charging funk/jazz instrumental "Chateau Strut" was made up around 1974, when Nightcrawlers Doyle, Stevie, and keyboardist Billy Etheridge were warming up at a club in East Texas called The Club Chateau. This rendition, featuring Etheridge on piano and Mike Keller on guitar, was done in one take, because, Doyle jokes, "my arms couldn't do any more."Another Bramhall, daughter Georgia, makes her recording debut, along with Tina Vaughan (daughter of Jimmie, niece of Stevie)-our "stewardesses"on this transatlantic flight. (And, yes, Georgia was named after the Ray Charles classic, which was Doyle's showstopper in his Chessmen days.)
The laid-bare "That Day" was written August 27, 1990-a day no blues fan will ever forget. "I wrote those exact words the same day I heard that Stevie died,"Doyle reveals. "Later, I tried to add other words to it, but it never felt right. I decided to keep it as simple as possible, just say what I had to say, and let Denny play beautifully."
The day Doyle lost his longtime collaborator and best friend, he recalls, "I woke up, and there were 25 calls on my answering machine. And nobody said anything except 'I'm so sorry.' I didn't know what was going on. There was a knock on the door, and it was Barbara saying, 'Stevie died.' Within thirty minutes, I was in my room with my guitar, writing this song. Of course, it's about anyone who's lost someone, but that's what inspired it."
Another song, written while Stevie Ray was still alive, reflecting on their lives together, is "Life By the Drop,"which appeared posthumously on Stevie's Sky Is Crying album, as well as Fitchburg Street. It was penned by Doyle and his wife, Barbara Logan. With an assist from Adcock, they wrote "Top Rank Boxing" about a Friday night TV tradition. Of Keller's stinging guitar work, Doyle smiles, "By the end of that solo he was just smoking!"
"Big" and "Ooh Wee Baby" feature the type of "sicker is better"guitar aesthetic favored by Stevie Ray, ZZ Top, the Thunderbirds, and their compadres-in this case, delivered by Freeman, who has been Bob Dylan's lead guitarist of late. "Oh, Denny is the master of that,"Bramhall nods proudly. C.C. (who, Doyle points out, supplies the "chicken"riff) concurs: "For every solo Denny played on this record, which were all cut prior to him getting the gig with Dylan, there are four other equally amazing outtakes for each song. "Little Star (The Moon Is Shining)" bears the indelible stamp of guitar vanguard Jimmie Vaughan. "That's a song that Indigenous recorded, and also Jennifer Warnes, who recorded it in Spanish, but it was never released,"Doyle recounts. "I wanted to do it differently than they had. I didn't want the vocal to be way out front; I wanted it more ethereal, in the back."
Though Big D makes no claims of being a guitarist himself, Adcock stresses, "Even though he's not a guitar player, when he writes he hears a lot of guitar licks and solos. As rudimentary as they might be, he's got about a 99% success rate of those becoming the signature hooks of the songs."
"I can't play 90% of that stuff, but I can hum it or whistle it,"Doyle laughs. "Because of my limited ability on guitar, only knowing a few chords, if I had to compare myself to anybody, Jimmy Reed was a big influence on me-because it was simple and something I could do. For instance, when I was writing 'Change It,' I wasn't trying to do something different; the words just kind of led me there. The chord progression just kind of fit with my vocal."
Exploiting that unconventional, fresh approach and pushing it a step further, Adcock concludes, "Too many artists sell themselves short by thinking they have to stick to one thing. I'm a big advocate of, no matter how far you push someone, it's always going to sound just like that person."
Doyle offers clues to who that person is: "Stevie and I both loved rock & roll and soul and jazz-all kinds of music we wanted to bring in. All the way up to Family Style, in 1990, we didn't stop ourselves from trying whatever we felt. We always stayed close to our roots, but we were very influenced by other things. We wanted to just open up and let the song take us wherever the hell it wanted to take us. He was open to anything that hit him and triggered him. 'Whatever you want to do, let's do it.' We could be talking about the most straight-ahead blues when we were writing, and then ten minutes later something could come into the picture and the whole song would change. If Stevie and I are writing 'Wall Of Denial,' we're not going to stop ourselves if something comes into it that's really out there; we're going to look at it and say, 'What happens if we do that?' That's what was so fun about Stevie-like, what's going to happen next? He was not predictable."
The same, of course, can be said of Doyle, especially in light of this groundbreaking release. "I never viewed myself as a blues person or rock person or whatever,"he explains. "I just see myself as a music person."As usual, what sounds simple and unpretentious on the surface, like Doyle Bramhall's multi-layered music, speaks volumes.
On Tour: