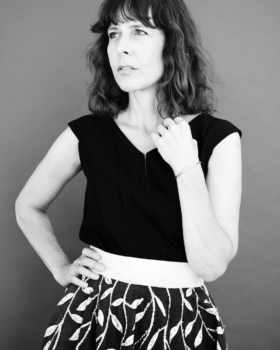 Eleni Mandell
.........................................................

Acclaimed Los Angeles-based singer-songwriter Eleni Mandell is releasing four new digital singles.  This campaign is the follow up to the release of Unsung Heroes, Songs of Eleni Mandell. The 17-track digital-only album that featured her peers covering her catalog.  Born out of an annual tribute benefit show hosted by Inara George, the album came together after George decided to pay tribute to one of their own, Mandell, instead of a well-known artists like they'd done for years.  Eleni's latest studio album, Dark Lights Up, was released in 2015 on Yep Roc.
These new singles are a callback to Eleni's early sound – more electric and harking back to influences like Tom Waits.  These new songs touch on themes of new love, old love, and hope for the future in her darkly, humorous way.
The first two singles, "Man on Fire" and "Good to You", were released in 2017.  When talking about the inspiration for "Good to You" Eleni explains, "I had fallen in love after deciding that I was probably through with relationships for the rest of my life.  I felt like I could take them or leave them.  But then, surprise, surprise, I fell in love again.  The song tells the story of the light and dark, good and bad, of all the things you hope for at the beginning of a relationship.  I like that it sounds dark because love can be dark sometimes."
"I Belong To Someone New" will be released January 18th and "Don't Forget How Good It Is" on February 21st.
On Tour:
Media:
Links:
WEBSITE
FACEBOOK 
TWITTER
Yep Roc Discography: