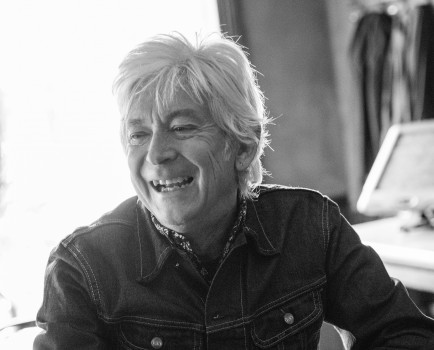 Ian Mclagan
.........................................................

British rock legend Ian McLagan will release United States, his first new studio album in five years, June 17 via Yep Roc Records. The album, his first since being inducted into the Rock and Roll Hall of Fame as a founding member of the Faces, alternates between lusty grooves and reflective musings, showcasing McLagan's beguiling charm and timeless gift for crafting memorable hooks. Yearning standout "Love Letter" leads into the smooth and moody take-charge song "Who Says It Ain't Love," while "Shalalala" draws from classic soul and "How Blue" rides a boogie-woogie shuffle.
The 10 original tracks on 'United States' feature McLagan on vocals, keys, and guitar, joined by his longtime collaborators the Bump Band ('Scrappy' Jud Newcomb, Jon Notarthomas, and Conrad Choucroun), with Leigh Mahoney (David Byrne, the Tosca Strings) on violin for album closer "He's Not For You." McLagan recorded and produced the album at his own The Doghouse Studios in Manor, TX. The songs were mixed by longtime friend Glyn Johns (The Faces, The Who) and mastered by Bob Ludwig (Led Zeppelin, the Rolling Stones).
McLagan recorded his 2009 album 'Never Say Never' after losing his wife Kim in a tragic car accident. CBS Sunday Morning hailed it as a "knock-out of an album," and Mojo described it as "Pub Rock's answer to 'Blood On The Tracks.'"
McLagan's musical career began in the 1960's in the UK as the keyboard player for the Small Faces and the Faces. He has performed and recorded with the Rolling Stones, Bob Dylan, Bruce Springsteen, and Billy Bragg among others. McLagan relocated to Austin, TX in 1994 and has been a key player in the thriving music scene there for two decades. The Faces reunited (sans Rod Stewart) for a charity performance at Royal Albert Hall in 2009 and performed select dates over the next three years, including their Rock and Roll Hall of Fame induction ceremony in 2012.
United States Tracklist:
1. All I Wanna Do
2. Pure Gold
3. Don't Say Nothing
4. I'm Your Baby Now
5. Mean Old World
6. Love Letter
7. Who Says It Ain't Love
8. Shalalala
9. How Blue
10. He's Not For You
On Tour:
No events...
Media:
Links:
WEBSITE 
FACEBOOK 
TWITTER 
Yep Roc Discography: