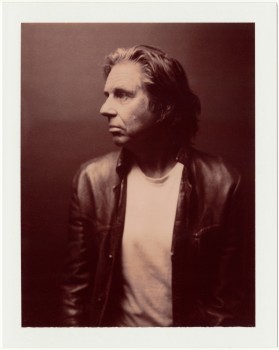 John Doe
.........................................................

John Doe is much more likely to look ahead to what's next, rather than fixate on the past – even a past as storied and influential as his own. "When you look backwards, you just end up thinking 'I wish I could write that song again – that was a good one,'" he explains. "You gotta keep going forward. But, within the past five years or so, I've begun to realize some of the advantages of reflection."
Doe's sizable contribution to the music of X and The Knitters, which first brought him to international attention, made clear what was important to him: haunting songs, heart-rending vocals, pronounced country/rockabilly underpinnings, and no-frills production. His commitment to these values only deepened as he branched out on his own.
Part scrapbook, part roadmap,The Best of John Doe: This Far – available May 6, 2014 via Yep Roc – guides listeners through Doe's solo catalog. Compiled by Doe himself,  the generous track listing (24 songs on download and double vinyl, 21 on CD) encompasses nearly a quarter century, highlighting songs from from nine records on six different labels. But, Doe is quick to point out, this is no epitaph. "I wanted to convey the idea of the best: this far," he says. "This is not 'I'm done, I'm over, this is the best I'm ever gonna do.' This is more like a celebration of the not-so-distant past."
"It seemed like a good time to undertake this," he continues. "With the last record I put out [2011's Keeper], I realized that I had done more albums on my own than with X. That was strange. That feeling was part of how this project got started. Along with the fact that maybe 75 per cent of these songs are from records that are hard to find or out-of-print. Also, a few people kept asking me about doing a 'best of,' like my longtime friend and producer, Dave Way, Eddie Vedder, and a few other people I trust."
Sequenced non-chronologically, The Best of John Doe: This Far was compiled with four vinyl sides in mind. ("Side three is the quiet side," Doe offers.) There was no formula: These are simply Doe's favorite moments, including in-concert staples, pivotal collaborations, personal milestones, and even a pair of unreleased reexaminations of songs from his past.
"The rewarding part was that nothing sounded too dated, like it was recorded exactly from September to December of 1995," Doe says of the collection, which packs a coherent, authoritative punch despite the varied dates, personnel, producers, and labels. "None of the sounds are tricky. I don't go for that sort of thing. I try to put across good core values of songwriting and recording, singing and playing. Those values were good enough for James Brown or Hank Williams and they're good enough for me."
Even while first making his mark with X, amidst the tumultuous Los Angeles punk scene of the late '70s, Doe's roots ran deeper – his burnished howl equally inspired by dustbowl troubadours, the pioneers of early country music, and rock forebears like Jim Morrison and the Rolling Stones at their most raggedly desperate. His songs stood out as gripping vignettes, focused to a razor's edge, and the vocal blend of Doe and his songwriting partner Exene Cervenka only ratcheted up the intensity. His 1985 album with The Knitters (featuring Doe, Cervenka, X drummer DJ Bonebrake, bassist Jonny Ray Bartell, and guitarist/songwriter Dave Alvin) further emphasized Doe's connection to roots music, and suggested avenues to be explored more fully in his solo career, which began with 1990's Meet John Doe.
These days, his voice is more lived-in, more able to inhabit the increasingly complex characters of his songs. Taken as a whole, the material gathered onThe Best of John Doe: This Far also documents a slow turning in his outlook. "There's an emotional, romantic and lyrical thread through these songs," Doe explains. "It starts on the down side, the unhappy side. But I'm glad to see that changing, as I change."
As a songwriter, Doe has now come to reflect on both the good and the bad – and the contrast between the two. Among the first songs chosen for the anthology, 1998's "A Step Outside" lurches forward with a terse, claustrophobic drumbeat, over which the narrator laments, "It's shattering / and splintering / It's crumbling / I can't fix it."  This hopelessness is only briefly relieved by an airy, uncluttered chorus: "Then you step outside / There's a whole rainbow / The colors hurt your eyes / They're so hopeful / and weak and pale." As the song builds into a chilling portrait of a man hopelessly in love with a dire, damaged situation, the tension between the light and the dark winds more tightly. Left unresolved, it's a snapshot of that rare moment when love may not be the best answer…
One of Doe's most beloved solo recordings, "Golden State" celebrates from all sides, from exhilaration to ache. "You are the dream in my nightmare," Doe sings, his voice entangled with Kathleen Edwards'. "I am that falling sensation / You are my needles and pins / I am your hangover morning." The soaring melody and tenderness of Edwards and Doe's rapport make the song, with all its dark humor, intimate and believable.
Elsewhere on The Best of John Doe: This Far, he shares the mic with other fellow travelers like Aimee Mann, Neko Case, and Grant-Lee Phillips, emphasizing Doe's gift for writing and delivering songs with multiple points of view. "I just like singing alongside someone else," he explains. "It gives both sides of the story. Especially if it's something about a relationship, you can read it from the man or the woman's perspective. Of course, that's one of the advantages of staying alive – you get to play and sing with more cool people."
The two new tracks, both tackled solo, came out of a desire to refocus the listener's attention. "I did 'Take 52' [originally cut on Doe's debut LP] because I hated the original recording so much," he says, "but I like the song and continue to play it. Over the years, people keep requesting it. The X song, 'Poor Girl,' was a song that I feel I can pull off solo. I wanted to emphasize the story of the song more."
The anthology's title was actually chosen without considering the song of the same name – but the song turned out to be a fitting inclusion. "'This Far' was a bit of a turning point for me," Doe recalls. "I felt like I found a certain voice that hadn't been there before. It was also the first time I worked with Aimee Mann, the first time Joe Henry and I worked together – it was a bunch of firsts. It was also one of the first times I did a duet or shared the telling of the story of a song with someone other than Exene."
Even before the release of The Best of John Doe: This Far, Doe is almost halfway done writing and recording a new solo album. "I've done some recording with Howe Gelb (Giant Sand) out in Arizona," he says. "Howe and [recording studio] Wave Lab have a sound: space, reverb, distance – just like the desert." A greater willingness to embrace his past has not dimmed his enthusiasm for the future. "It's always shocking to see how far you've gone and how close it is to where you started," Doe concludes. "The trick is to be more at home with what's real, and not what you want reality to be."
On Tour:
No upcoming concerts or festivals.
Media:
Links:
WEBSITE
FACEBOOK
Yep Roc Discography: