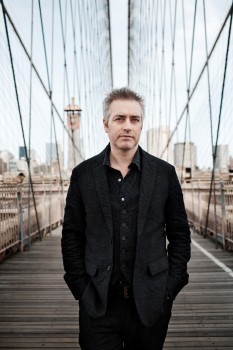 Wesley Stace
.........................................................

So how did the new album come about?
I'd had it in mind to ask the members of The Decemberists to be the backing band on one of my records for some time–I love their playing and I love their versatility–and when they said yes, Portland was clearly the place to do it. I made my previous album there, with The Minus Five, and I love the place and the people I know there. Add Peter Buck–another local–into the mix, with Scott McCaughey producing, a few days at The Type Foundry and: BINGO.
It sounds like it was a lot of fun.
Best time ever. And the smartest thing I ever did, at Chris Funk's suggestion, was getting a proper photographer, Jason Quigley, to come down to take some real photos, which are on the inner sleeve. So I actually know it happened. Also, other friends were floating around–Steve Berlin lives in Portland, Rebecca Gates happened to be there, John Roderick's just a hop and a skip up in Seattle–so it was a bit of a party. We rehearsed for two days, recorded the backing tracks in three, and then did all the vocals and acoustic guitars over the next two. It sounds like a rush but it was totally fun and relaxing. Scott and John Moen took care of some percussion and harmonies after I'd gone home. Rosanne Cash recorded in NYC, but everything else was in Portland. And then Tucker Martine mixed it later on. So easy.
When were the songs written?
Mostly over the previous year or so, since Who Was Changed and Who Was Dead. Having said that, I also wanted a particular group of songs to suit the potential of the band on hand, so the album contained the right variety, and that also meant combing through some older material. Thus "I Should Have Stopped" is a little older–it didn't quite fit on the last record but I knew it was a good one to revisit. That was probably written in 2000 or so and I've played it live many, many times. In that song, I wanted a female voice to sing the bridge in the role of "my ex-girlfriend" because I couldn't get to the high notes anymore: things change. Enter Laura Veirs! The very newest of the songs is "Sing Your Own Song" which I wrote right before the sessions: it mentions that my daughter is four. When I played her the test pressing, she said I had to change it because she was five now: harsh! Actually, that song is kinda the flipside of "Top of the Bottom" on my last record. It's another fake autobiography–it's "sortabiographical."
Was there an idea behind the poppy sound?
As always, I just try to let each song be the thing that it really wants to be, without imposing some stylistic straitjacket on it because of an overall sound I want people to hear. Songs come first. So the idea was the members of The Decemberists and myself playing live and making a great noise. And I'd forgotten that the more people you have playing good parts live, and (most importantly) getting them right, the less time you need to spend doing overdubs.
I'm a serial band hijacker, from Pete and Bruce of The Attractions and Steve Wynn's band in the early 1990s through The Minus Five to The Decemberists: it's my privilege as a singer-songwriter. Otherwise I'd just be at the mercy of whatever counts as today's production trend. But if you're asking what I like right now or what the musical influences on the songs are, I'd say (looking randomly through the list) that I'd hope you'd hear The Kinks, Julian Cope, The New Pornographers, Leonard Cohen, Phil Spector, George Formby, Gilbert O'Sullivan, The Beatles, The Pogues, The Small Faces, Procol Harum, Sir Douglas Quintet, Sparks, etc. Anyway, those were thoughts I had. Yours may be quite different.
Is there a general theme to the lyrics?
Same as usual: anything that occurs to me, though each song is about something specific. The songs, in order, are about: being yourself, regret, the previous generation, love, the effect of divorce on children, looking back on a break-up, gentrification, the widening of the class divide, sex, science, exams, dying love and the harmony of the spheres. Roughly.
How has being a novelist, bestselling or otherwise, affected your music?
It's always a great relief to get back to writing and recording songs, doing gigs and having fun with my friends. It's the prize at the end of writing. Music is a social, collaborative activity, done publicly; after the solitude of writing, that's heaven. Writing, however, has definitely broadened my portfolio, and that's been very good for me as a musician. It's also relaxed me about making music, and I hope that the relaxation shows. I'm 45 years old. I should be having fun at the very least. And I am.
The Sound of His Own Voice?
I'm not actually sure about the inspiration for the title. The working title on the demos was Songs About Songs, but my album titles always go through a lot of changes. I remember this one coming up as we all went out to dinner in the pouring rain, and everyone laughed and liked it. Perhaps because I have a lot to say (talk a lot)? It was probably the 30th title I'd come up with.
And the cover image?
That's by a wonderful photographer called Jamie Baldridge. Check out his website. I own a couple of his prints and I asked him to do the cover and, amazingly, he agreed. I sent him the music and the name of the album, and he said "I'll give you a Cadillac of a cover," and what you see is what he came up with. And I love it. I don't want to tell you too much about his methods, because he's a magician, but the man's a genius and I love his aesthetic.
How about the Cabinet of Wonders?
I'm mixing with a better class of entertainer nowadays. It's rubbing off. The Cabinet is fantastic fun–once the show begins, it's easy. There's a bit of work before then, but it's all worth it. Many interesting collaborations have come from the show, the evidence of which will be floating around shortly.
What's next?
I'm working on Novel #4, which is actually set in the present day, and I've written all the songs, in fact way too many songs, for the next album, which will be very different.
How many albums have you released?
This is either #12 or #18 depending on who's counting. Because I believe that every album of unreleased songs counts as an album, and I'm not hung up on what comes out on a label and what I release myself, then this is #18. And the next one is #19.
On Tour:
No upcoming concerts or festivals.
Media:
Links:
WEBSITE
FACEBOOK
TWITTER
Yep Roc Discography: