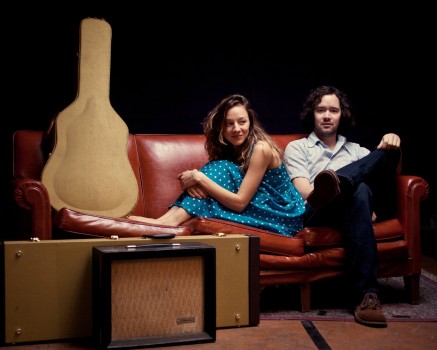 Mandolin Orange
.........................................................

On Mandolin Orange's third release, This Side Of Jordan, there's a Lightnin' Hopkins lyric, "If fate's an old woodpecker then I'm an old chunk of wood." "I love the imagery that creates," Andrew Marlin, the duo's lyricist says, "You just picture death as this woodpecker that just lands on your shoulder and starts chipping away at you until there's finally nothing left." In 2011 around the release of Mandolin Orange's acclaimed Haste Make/ Hard Hearted Stranger, Marlin had a near fatal accident. "It was scary," Emily Frantz, the other half of the North Carolinian duo says, "But ultimately it brought us together during a time when we needed a nudge in that direction."
This Side Of Jordan is the story of that healing process, with tales of love and loss, told honest and bare. The opener, "House of Stone," quietly fades in with the hush of Frantz's fiddle then Marlin's guitar joins her, blooming. It's a moment of beauty and a gentle easing into the record that's drenched deep in the old time music of Southern Appalachia. Frantz explains of old time, "They're simple songs that just anyone can play with anyone they don't know, but music is what they have in common. And I think that's so much of what we value in that kind of music." That old time tradition brought Marlin and Frantz together at a local jam in Chapel Hill in 2009.
Recorded at the Fideltorium in Kernersville, North Carolina with bassist Jeff Crawford and a backing band, This Side Of Jordan still maintains Mandolin Orange's modest aesthetic.  It's the appropriate juxtaposition to Marlin's undeniable lyricism. Religious faith and fable thread throughout the record with Biblical references used to "convey a different point," Frantz says. "In the south especially, we hear the Bible construed in any and every way to justify people's comforts and discomforts," Marlin further explains, "and it's so frustrating to watch those stories be used to limit people's happiness." This sentiment inspired "Hey Adam" which Marlin says is "a letter written to Adam from his secret male lover." During its chorus Marlin and Frantz urge in unison, "Our Father loves you all ways."
But this is not strictly a lyrical record. The duo's understanding of classic country, rock, and blues naturally appears. "Waltz About Whisky" swings like a honky tonk thanks to Nathan Golub's bending pedal steel as Marlin and Frantz plead, "Won't someone dance with me to a waltz about whisky and turn my sad songs to lullabies?" When Marlin's busy guitar weaves "Black Widow," Josh Oliver's sparse piano chords frame the track until its eerie conclusion. And "Morphine Girl" lazily trudges to James Wallace's drum while Ryan Gustafson conjures on electric guitar.
The closer, "Until The Last Light Fades," was written before Marlin met Frantz. With just Marlin's mandolin and Frantz's guitar, it's the most fragile track on the record. Although it's always been one of the duo's favorites to play, it didn't feel right on either of their previous releases. "It was so rewarding to have held out and have it come full circle," Frantz explains in choosing the track to end the record. And as Frantz sings, "Born to die, born to die, darling you'll live no longer than your years," it comes across like an old adage, something faintly familiar.
Marlin and Frantz have rambled through the dark and came out together on This Side Of Jordan holding onto some promise, more confident than ever. They've made simply structured songs with easy chords and humble harmonies. These are the hymns that Mandolin Orange was meant to offer.
On Tour:
Photos:
Media:
Links:
WEBSITE
FACEBOOK 
TWITTER
INSTAGRAM
Yep Roc Discography: