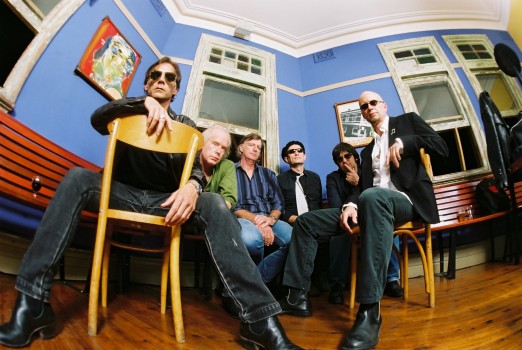 Radio Birdman
.........................................................

After forming more than thirty years ago, Australian rock pioneers Radio Birdman will finally tour the US for the first time this summer, hitting a series of major cities throughout August and September. Featuring four of the six original members, these shows will be a unique opportunity to catch this legendary Australian underground band live. To make things ever better, the band will also be releasing a new album on Yep Roc Records, Zeno Beach, their first new recording in twenty five years.
Ann Arbor born guitarist Deniz Tek and vocalist Rob Younger started Radio Birdman in 1974 in Sydney, Australia. They envisioned a band that would break rules and have no regard for the status quo of the parochial Australian rock business of the time. The band would play extremely volatile music with maximum involvement from the members at all times. It was to be an art form created from passion, with no strict format or structure, which could go in any direction at any time. This would include forays into improvised visual as well as sonic realms. Loose, wild feedback drenched glory – no two performances were ever to be the same.
The Australian musical establishment reacted predictably. There were many doors slammed shut, engagements cancelled after the first song, often with the threat of actual physical violence as club bouncers were let loose on the band itself. The band had to resort to putting on its own shows in small community halls, eventually starting their own venue, The Oxford Funhouse, in Sydney's inner city suburb of Darlinghurst. Finally free to perform regularly and without restrictions, Radio Birdman made The Funhouse available to other likeminded groups. Most notable of these were The Saints, who made their first Sydney appearance there.
The Funhouse was to become the center for the incipient crystallization of the Sydney punk scene, even though Radio Birdman itself was less a punk band than a Detroit orientated high-energy rock act with a myriad of garage, Surf, and New York influences.
Radio Birdman recorded the EP Burn My Eye and the albumRadios Appear at local Trafalgar Studios. The band and the studio created their own label and the records were self distributed, the local music industry continually shunning the band. This changed when Sire Records president Seymour Stein arrived in Australia to sign The Saints, saw a Birdman show at the Funhouse, and immediately licensed Radios Appearfor US and European release, signing the band to a recording contract as well. They then toured Europe and England, frequently playing with Sire label-mates The Flaming Groovies before recording a second album, Living Eyes, at Rockfield Studios in Wales.
Radio Birdman was a volatile mix. The chemistry of the members – Rob Younger, Deniz Tek, Chris Masuak, Warwick Gilbert, Pip Hoyle and Ron Keeley – combined to form a whole that was much greater than the sum of the parts. In effect, a new force was created whose energy seemed to empower some of the members but corrode others. It is a wonder that they lasted as long they did, finally giving up in June of 1978 at the end of a long UK tour after being dumped by Sire. The second album remained unheard for another three years, finally appearing as an Australia only release.
Despite this, the effect the band has had on the Australian music scene has been both profound and pervasive. In hometown Sydney, their brand of high energy rock predominated for several decades and is still felt today. Despite a twenty plus years' time gap, silverchair recorded a cover of the Birdman track "New Race", even going so far as to fly Tek (the song's author) to New York City to guest on their recording.
More important, Radio Birdman's DIY ethos created a mindset of self reliance among Australian bands that made walls topple. The example they set was a major influence on Australia's alternative music scene in the 80's, inspiring up and coming bands to follow their musical passion rather than depend on the local music power structure for direction. A new breed of independent labels, managers, and venue bookers grew up around this movement. Many Australian bands that became prominent in the 80s and 90s did not necessarily follow Radio Birdman's stylistic example, but the environment in which they prospered owes a huge debt to Radio Birdman's legacy.
The two albums Radios Appear and Living Eyes have been re-issued continually in Australia since the 80s, with the band's international reputation developing alongside a constant stream of exported pressings in conjunction with various members' new groups and recordings. More recently, the compilation1974-1978: The Essential Radio Birdman has been released world-wide by the SubPop label, bringing in a new legion of fans and solidifying the band's ever growing recognition as a significant player in the development of the punk movement.
In 1996, the original line-up reformed for Australia's Big Day Out festival. Guitarists Tek, Masuak, and vocalist Younger had all been creatively active in their own bands since the breakup but had maintained contact, occasionally working together and with keyboard player Pip Hoyle. They found that a unique chemistry and special presence returned when they played together as Radio Birdman.
After several more local tours, bass player and long-time friend Jim Dickson joined in 2000, and the group toured Europe, making festival appearances and playing sell-out club shows. The current line-up was completed last year with the arrival of Russell Hopkinson, well known for his role in You Am I and considered by many to be one of Australia's best rock drummers.
With a fresh rhythm section opening up new vistas of sonic exploration, the band spent the better part of 2005 readying an album of new material. Recently recorded in Sydney and produced by Deniz Tek and engineer Greg Wales, Zeno Beachbreaks much new ground and will defy expectations. Yep Roc is set to release the disc mid August.
Radio Birdman are, and always have been, independent of the mainstream music industry. The new recording, as well as their live performance schedule, is totally self-financed and self-directed. They see their independence as essential to maintaining complete artistic freedom. What you hear is solely the creative output of the band – not a marketing strategy.
This year will be an eventful one for Radio Birdman and their many fans. Those who love the real thing are invited to climb aboard…it promises to be an amazing trip.