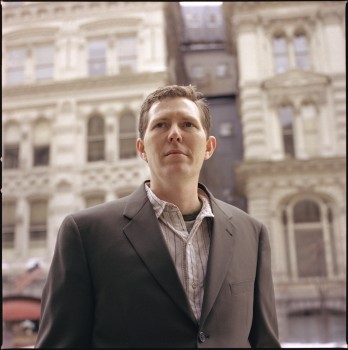 Robbie Fulks
.........................................................

Forget the labels… "Insurgent," "Retro," "Alternative," … and focus instead on the music. Some might try to copy old music, but ROBBIE FULKS knows it, loves it, and brings its spirit, its humor, and its otherworldliness to his own work. He's the man who famously gave Nashville the middle-finger salute-in-song and then devoted an entire album to rare and obscure country songs that almost no one in latter-day Nashville had even heard. And while most current country music is calculated to form an inoffensive backdrop to the suburban shopping experience, Robbie Fulks writes songs that make you think and feel and quite often laugh outloud. And now, in response to requests from "the two fans who follow me around" (and a bunch of others who come up after the shows and write into robbiefulks.com) he has finally produced a live double CD, Revenge! And, of course, because it's by Robbie Fulks, it's a live CD unlike any other live CD. Retailing at $15.99, Revenge! is two CDs for the price of one. Half of the two CDs are new songs, including one that is guaranteed to become a fan favorite, "We're on the Road." The double CD started off as a single disc showcasing Robbie with an acoustic group of friends (recorded in his adopted hometown, Chicago, last November) and his hard-rocking road band (recorded in Champaign, Illinois last September). Several track permutations later, it became clear that the two sets belonged on separate CDs. "After that," says Robbie, "it was just a mental game of how to get it so it felt right." The eclecticism that has always been Robbie Fulks' hallmark is well in evidence. There's Cher's 1998 single "Believe," followed by "In Bristol Town One Bright Day" that sounds as if it was written about three hundred years ago, but was actually written by Robbie not so long ago. And then there's a deliciously obscure hillbilly song, "I Want to Be Mama'd" by the very late, very weird Jimmy Logsdon. And we're not yet halfway through the CD! Now add some jazz, bluegrass, brilliantly incisive songwriting, and a guest appearance by Kelly Hogan.
Born in York, Pennsylvania, on March 25, 1963, Fulks' father was an academic, and the family moved to Mount Joy, and Mountville, Pennsylvania; Waynesboro and Charlottesville, Virginia; Wake Forest, and Creedmoor, North Carolina. "My dad was kind of a pointy-headed '60's bluegrass fan, and he was into folk music, too," Fulks says. "I think the necessary angle for him to get into bluegrass was for it to have some kind of educational overtone to it." Robbie picked up Aunt Stella's banjo when he was seven and Aunt Mildred's fiddle a few years later, but by age eleven, he'd focused on the guitar. He was awarded a scholarship to New York's Columbia University, but spent more time hanging out in the Village. In 1983, with failing grades and a child on the way, he moved to Chicago, and did whatever he had to do to pay the rent. Meanwhile, he immersed himself in the Old Town folk scene. In 1987, he joined a bluegrass band, Special Consensus, touring with them until 1990. "I was trying to make a living from music and that left me half a dozen things I could do," he said. "Being a bluegrass guitarist was one of them. It allowed me to learn some chops and make money for a couple of years, [but] it eventually dawned on me that the only way I was going to be able to really satisfy myself was just to go out under my own name and write songs."Robbie led his own Trailer Trash Revue at Chicago's Deja Vu bar. Newly-formed Chicago label, Bloodshot Records, recorded the Sundowners playing one of his songs, "Cigarette State," on a 1994 compilation. Two years later, the label gave into Robbie's demand for three thousand dollars, and released his debut LP, Country Love Songs. This was an album that friends handed on to friends, insisting that they must check it out. In the profusion of new artists, new bands, and new labels, and in the confusion of changing technologies, it was clear that a major new talent had arrived.Robbie's second album, South Mouth, appeared in 1997. One of the songs was a sour valentine to the Nashville way of doing things. Since 1993, he'd been under contract to a major country music publisher, trying hard to write something Nashville might like, and he enshrined the experience in "F**k this Town." Nashville, he concluded, wanted songs "to bolster people's upbeat fantasies about themselves and to ply them with pious platitudes about their meager existences." He tried, but he couldn't do it, so he left. The major label flirtation left an equally sour taste. He was courted and signed by Geffen Records, and his 1998 Geffen LP, Let's Kill Saturday Night, was recorded in Nashville with a sizable budget and big name guests, but, as Robbie said later, "The plane got to the end of the runway, but wouldn't take off." The label gave him back his contract, and he returned to Bloodshot Records for the vault-emptying Very Best Of in 1999.There were two albums in 2001: a tribute to country music's lost, forgotten, and downright bizarre anti-heroes, 13 Hillbilly Giants, and an adventurous song cycle, Couples in Trouble. "I don't like songwriters who keep making the same record over and over and so I try not to be one of those myself," he said at the time. In 2004, he produced a tribute to the sadly neglected Johnny Paycheck, Touch My Heart. An astonishing array of performers from Mavis Staples to Paycheck's former substance-abuse buddy, George Jones, signed on, and the album made several of the year's best-of's. Another tribute album, this one to Michael Jackson, still sits on the shelf. In January, 2005, Robbie signed with Yep Roc Records, and his first album for the Chapel Hill, North Carolina-based label, Georgia Hard, came out in May that year. Since then he has been on the road, and, most recently, he and Danny Barnes have scored a 1926 movie, Harry Langdon's Tramp, Tramp, Tramp.
On Tour: