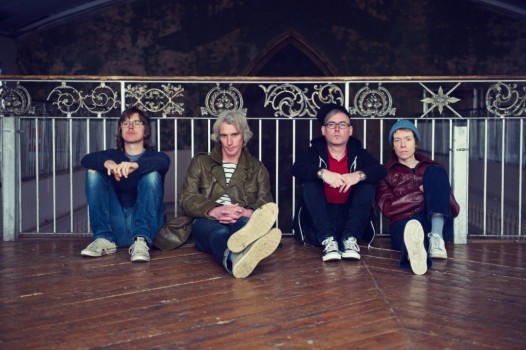 Sloan
.........................................................

In 1991 Jay Ferguson, Chris Murphy, Patrick Pentland and Andrew Scott formed Sloan in Halifax, Nova Scotia, Canada. In those days, the band's sound had a lot in common with the guitar-heavy art rock of bands like Sonic Youth and My Bloody Valentine. Their first record, the Peppermint EP, introduced Canadians to "Underwhelmed", a song that prompted listeners to consider the importance of grammar and spelling in the formation of a successful relationship.
The success of Peppermint caused Sloan to be snapped up by Geffen records, the label that released the full-length Smeared and promoted the band as Canada's answer to Nirvana. A rerecorded version of "Underwhelmed" was released as a single and hit #25 on Billboard's Modern Rock Tracks chart.
Today, with the Arcade Fire winning Grammy awards and Drake and Justin Bieber being all over television, radio and every other media source, it might be tough to recall a time when Canadian music existed in the shadow of the U.S. and the U.K. But it's not a stretch to say that Sloan was instrumental — fundamental, even — in creating Canada's current music scene. Back then, pundits pegged Halifax as "the new Seattle", when everyone was trying to discover and claim the next big thing.
With Sloan's own Murderecords label at its heart, Canada's East Coast became one of the most vibrant music scenes of the '90s. Bands like Eric's Trip, the Super Friendz, Hardship Post, and Thrush Hermit released singles on Murderecords before being snapped up by American labels. They toured together, named each other in interviews and created excitement about Canadian music, nationally and internationally.
With their second album, Twice Removed, Sloan started showing the depth of their musical influences, moving away from the big guitar sound of their early days. This change didn't sit well with their American label, but it marked a new era for the band and became one of their most highly regarded albums (it's topped Chart magazine's best Canadian albums list twice). No less a cultural touchstone than the Trouser Press Guide ("the bible" of alternative rock since 1983) glowed over the album's "carefully intertwined, spaciously electric arrangements, evanescent '60s harmonies and trickier rhythms."
Perhaps more important than critical acclaim is the loyal audience that Sloan has accrued over the years. In the '90s, when the internet was picking up steam, Sloan's audience found a home in Sloan Net, an active forum where all things Sloan-related were discussed. This chance for fans to connect with the band and with each other bred a connection that few bands achieve.
And now, ten studio albums, a double live album (4 Nights at the Palais Royale), and countless singles later, Sloan present The Double Cross. It's everything we've come to love about Sloan. They span genres and styles, from gentle, acoustic ballads to some of the most up-tempo rock songs they've ever written. While each song can be attributed to a specific singer, songs like Andrew's "She's Slowing Down Again" and Jay's "The Answer Was You" bring in Chris for the bridge, a signature technique that never fails to elevate their songs from good to great.
"Ten records," says Patrick, "I don't think it's enough. I think we'll do some more."
"I'm happy that we've been able to continue making strong records that I really like this far into our career," adds Jay.
And this far into their career, Sloan's influence has infiltrated Canadian music, even in some seemingly unlikely places. Everyone from Fucked Up's Damian Abraham to k-os, Broken Social Scene's Kevin Drew to Billy Talent's Ben Kowalewicz, has gone on record to acknowledge Sloan's influence on their music.
These aren't people who set about trying to imitate Sloan or even approximate their sound; they are fans who heard Sloan's songs and felt inspired to take a chance on their own music. It's hard to imagine a more fitting tribute to a band that's written some of the best songs of the past 20 years.
Four men, ten albums, twenty incredible years: ladies and gentlemen, Sloan!
Select Discography
1992: Peppermint E.P.
1993: Smeared
1994: Twice Removed
1996: One Chord to Another
1998: Navy Blues
1999: 4 Nights at the Palais Royale (Live)
Between the Bridges
2001: Pretty Together
2003: Action Pact
2006: Never Hear the End of It
2008: Parallel Play
2009: Hit and Run E.P.
2011: The Double Cross
On Tour:
Photos:
Media:
Links:
WEBSITE
FACEBOOK
TWITTER
Yep Roc Discography: