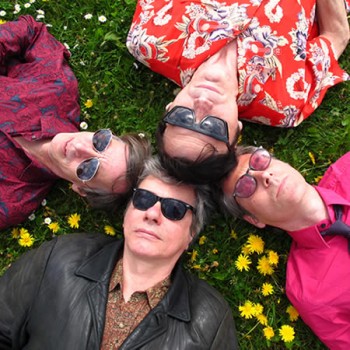 The Fleshtones
.........................................................

People have been asking "What have those Fleshtones been up to, usually they'd always be playing somewhere around here?" Let's say we have been busy, hell we haven't stopped since 1976. Actually, instead of escaping this dreadful winter, we've been at our good friend Florent Barbier's Cold Cut Productions Studio in Williamsburg, Brooklyn laying the groundwork for what will be our newest album on Yep Roc Records. We've worked with Flo often, most recently on many of the tracks for the 'Wheel Of Talent' album as well as our 45 featuring the lovely Mary Huff ­the Fleshtones most beautiful record in more ways than one! Now, as part of our plan to soften up the public, we're releasing a new 45. Maybe more. Let's consider it a preview, or perhaps warning, of what the Fleshtones have in store for fans ­and foes, alike. And it's just like The Fleshtones to revive the concept of the 'Double A-side 45' (or is it double B-­side?). We'll let you decide.
The Fleshtones reach back to their horn section­ driven sound of the '80s for our version of Bonnie St. Claire & The Gloria Unit's monumental 'I Surrender' . Better know for her hit 'Clap Your Hands & Stamp Your Feet' this song had oddly escaped our attention since 1968 until it was DJ'ed for us at a club we were playing in Graz, Austria. It's, may I say, a knock out, and author Joe Bonomo (Sweat, the story of America's Garage band) for one says it's "good to hear us rocking out four­on­the­floor again"'. That's Norwegian pop-chanteuse Vibeke Saugestad contributing the other­worldly soprano.
'Dominique Laboubee' is dedicated to the late lead singer of the seminal French rock & roll band The Dogs. We were lucky enough to know Dominique, and it was The Dogs who opened for us the first time we ever played Paris at Le Palace on April 15, 1982. Coming after a long, thankless tour of Great Britain it was a delirious night that ended with us leading the audience, still singing, up the boulevards of Paris through the line of waiting riot police. Needless to say we were on top of the world. Dominique's elegance ­and passion for rock & roll shall be missed forever. WE do not sing in French, just as Dominique would have wanted it to be. I get to play some harmonica however ­but don't leave the room, it's not a folk song. Not in the usual sense. The Dogs lead guitarist Tony Truant joins us with some 'leads' and his distinctive vocal style.
There will be more because that's The Fleshtones ­ever evolving to paradoxically remain the same. Because The Fleshtones have stayed remarkably true to their roots. All of them. Taking part in the punk rock revolution of the mid­-70's at CBGB and Max's Kansas City, proving that you could be revolutionary and still love to do The Jerk. Along the way there have been appearances at the First International New Wave Festival (M­80 at Minneapolis Walker Arts Center, 1979), and appeared on Andy Wharhol's last TV show along with Sir Ian McClellan. Besides being blue collar 'Bowery Boys' of rock and roll, we've remained a 'Band's Band'. If not forever young ­then forever juvenile, because as Iggy Pop demands to know about any music '"Is It Juvenile?" It is, and much more.
Peter Zaremba,
Greenpoint NY, 2015
On Tour:
Media:
Links:
Yep Roc Discography: