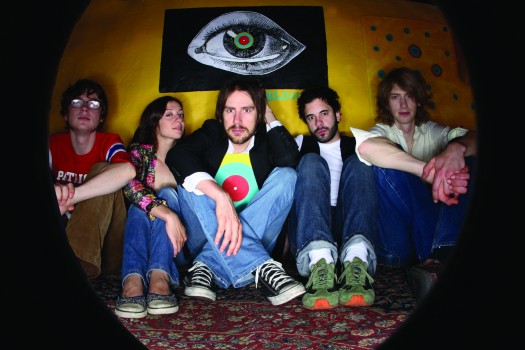 The Golden Dogs
.........................................................

"Somewhere amidst the mansion of pop music built by the likes of Supergrass, Super Furry Animals and early Wings lie the lovely Golden Dogs." – Jay Ferguson, Sloan
Nothing brings a band together like a good, old-fashioned near-death experience. Barreling down a dark ice-sheeted highway in the Canadian Rockies, Toronto's The Golden Dogs nearly became one of those snuffed-before-they-made-it side notes in the annals of rock history, a brief paragraph in a yet to be written book on the influential Canadian rock invasion of the early 2000s. But due to a little luck and some crafty driving, they are on their way to a lot more than a eulogized mention – their new album Big Eye Little Eye just might get them their own book.
The Golden Dogs songwriter Dave Azzolini remembers it with an audible quiver in his voice, "We were in the van on our way to our first gig with this line-up in Vancouver back in November of 2006. We went into a slide and started careening downhill. There was a barrier on our left and a cliff on our right. Taylor was driving and I was in the passenger's seat. We both went into survival autopilot and after what seemed like minutes, Taylor managed to get the car settled back onto the road and we missed the car in front of us by a few feet. We seriously almost died. It was surreal."
Following their small brush with the hereafter the band proceeded to lay down the most legendary show in their brief but storied career. "When we hit the stage a strange sort of adrenaline took over and we just started raging! The crowd was wild and it was a sweat, filled, super-charged set. People were dancing everywhere and yelling out songs. That was a pretty glorious gig." Since that defining evening in Vancouver, their live show has served as The Golden Dogs' living, electric calling card, blowing minds and drenching crowds in sweat all across Canada. "That's really what it's all about for us as a band. It's about that energy exchange between us and the audience. It's like a ritual. That feeling affects everything we do." The result is Big Eye Little Eye, an album of knife's-edge pop that flies off the disc with melodic precision and the bleary passion of a drunken rage.
Formed in 1999 by songwriter David Azzolini and now wife Jessica Grassia, The Golden Dogs began as a long distance relationship. Azzolini moved to Toronto to start a band and Grassia would drop in on her breaks from university to collaborate. Azzolini recalls, "Pretty soon we had recorded two EP's." (These would be combined to become debut 2002 album Everything in 3 Parts). Following the release of their debut, the band toured off and on with a litany of different drummers and bass players, only firming up the current line-up of Azzolini on guitar/vocals, Grassia on keys/vocals, Taylor Knox on drums, Neil Quin on guitar and Stew Heyduk on bass in the first months of 2006.
The band has had two sold out tours of Canada since solidifying the line up, also playing two consecutive South by Southwest Music Festivals (where their renowned live show garnered the praise of New York Times pop music critic Jon Pareles). Despite their near nonexistent tour history in the States, Everything in 3 Parts received shocking success on American college radio reaching #20 on the CMJ charts in January of 2006. The Dogs are also a video favorite on MuchMusic and MTV Canada. A headlining spot at the influential Canadian Music Week and a showcase at Berlin's renowned Popkomm Festival rounded out an amazing year for a band barely out of its nascency. In 2007, with the release of Big Eye Little Eye, these Canadian firebrands are primed, pumped and ready to carve a smoldering swath across the United States, converting nonbelievers in smoky clubs and dive bars from Boston to L.A.
Recorded in three weeks, Big Eye Little Eye is muscular and intense much like a live Golden Dogs gig. "I wanted the feeling we have playing live to come through on the album but I also took a lot of time to make sure that we had the arrangements down," says Azzolini. "I feel like we achieved it but I want to capture that vibe even more in the future." The songs themselves bristle with nervous energy and an emotional tautness seldom seen in today's pop music lexicon.
"Never Meant Any Harm" and "Force of Nature" explore the volatility of relationships and the stress that closeness and separation can bring. "For three years Jess was a voice on the telephone. It was incredibly hard going through the emotional highs and lows brought on by that. But now we're together and married and that brings on its own set of joys and problems. I would have never thought that I would want to be around another person as constantly as you are when you're married, but then I found Jess and I can't imagine not being with her all the time."
"Construction Worker" finds Grassia playing breezy vocal counterpoint to Azzolini's breakneck rhythms and angular 70s singing style. The juxtaposition makes for a carefree swing that feels as though it's always teetering on the verge of a beautiful, tumbling collapse.
The cover of "Nineteen Hundred and Eighty-Five", the B-side to Paul McCartney & Wings' nonsensical epic "Band on the Run," slithered onto Big Eye Little Eye through the band's passion for performing it live. "It has become a real favorite for us to perform live. We usually do it in the middle of our set and it serves as an amazing apex for the show. Crowds have come to expect us to really rock that out and we love to make them happy by losing ourselves in it."
Big Eye Little Eye is so rife with bright, hummable Beatles-esque melodies that even before you get to "Nineteen Hundred and Eighty-Five" at track nine it's obvious Mr. McCartney couldn't be very far out of Dave Azzolini's mind, but perhaps not in the way you might think. "Saints at the Gates" sees The Golden Dogs leader paying tribute to one of his heroes by interpreting him through American music's quintessential anti-hero. " 'Saints at the Gates' is my attempt to write a McCartney song as if I were Tom Waits. I love them both so much and they're so different I just thought there was no way that it wouldn't be an interesting song." Thematically, "Saints at the Gates" also brings the Big Eye Little Eye around full circle, back to the give and take between a band and their audience. "Lyrically that song is about the trading of energies during a show. We invite them to feed on our energy and in turn we feed on theirs. That's where the vampire imagery comes from. A Golden Dogs show is a bloodletting."
In many ways the unholy union of McCartney and Waits is a telling metaphor for The Golden Dogs' musicality as a whole. Equal parts hook and hammer, the band seamlessly blends the addictiveness of classic pop craftmanship with enough grit and grease to make the music true rock n' roll gospel – Sweet on the surface and dirty down below.
On Tour: