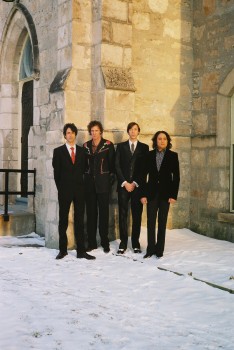 The Sadies
.........................................................

No agenda. No motive. Only the idea to create some damn good music–that was the driving force behind The Sadies' last installment, Darker Circles.
The follow-up to The Sadies' acclaimed last record, Country Club, recorded with punk icon John Doe, Darker Circles showcases the band at the top of its game after more than a decade of fine tuning its chops. Guitarist brothers Dallas and Travis Good, drummer Mike Belitsky and bassist Sean Dean offer the band's signature swirl of alt-country, psychedelic garage rock and surf mixed with Dallas' somber and introspective lyrics to make a finished product that is brooding and soul-searching but never at once heavy.
"I get people like my mom asking me if something is wrong because the lyrics are somber and dark. I don't think that would be the first question that I would ask of a horror film director," Dallas said. "Writing poetry depends on how you look at it. Some people write poetry to purge their darkest sins and feelings. Other people write poetry because it's a craft they like to work on. As far as I know, those would be the two root things–either some sort of profound gotta-purge-it or a guy going, 'what the fuck rhymes with love?' I would put myself on the latter side but I don't know. That's up to the listener."
If Darker Circles is about anything, it's about improving on past successes. But, that's been a theme for The Sadies since day one. From the foreboding "Cut Corners," which evokes the band's good friend and fellow Canadian Gordon Lightfoot, to the jangling Sweetheart of the Rodeo-esque lightness of "Postcards," The Sadies' maturation is apparent here, just as a fine wine gets better with age.
"A redundant lifestyle will result in refining said lifestyle," Dallas said.
Darker Circles also marks the second time the band has worked with legendary Jayhawk and sought-after producer Gary Louris, which, Dallas and Travis admit might have been more of an effective kick in the pants to get this record done than anything else. Louris also produced 2007′s New Seasons.
"Our first date was over," Travis said. "There was a comfort zone in working with him. We knew what to expect and what he was going to want. This time we went in already knowing what his input was going to be while we were writing (the record.)… We had kind of done more homework before this record."
Like another acclaimed group of Canadians, The Band, The Sadies are as renowned for their collaborations as for their own releases: from the set of classic country covers with Doe on 2009′s Country Club, they've worked with Neko Case and recorded albums with The Mekons' Jon Langford (The Mayor of the Moon), cult soul legend Andre Williams (Red Dirt) and others.
"No motive, no agenda. No people that we're still hoping that we'll get the call from. We're a working band."
On Tour:
Media:
Yep Roc Discography: