With Yep Roc 20 getting closer, now's your chance to own a piece of Yep Roc history! In honor of YR20, we're offering twenty total test pressings from YR15 and YR20 artists! Starting today, you'll be able to bid on these twenty test pressings (several of which are autographed!), and all of the proceeds will be going to four local nonprofits. Test pressings are extremely rare first pressings of a vinyl record that are used to approve the vinyl pressing before the LP is mass-produced. Generally, only four copies are made– one for the artist, one for the producer, one for the label, and one extra (sometimes a few extra are made, but overall the quantity is always very small). Simply put, these are collector's items, and anyone in ownership of one is part of a very small and exclusive group.
Here are our YR20 & YR15  test pressings that are up for auction today:
YR20 Artists
Chuck Prophet – Let Freedom Ring

Dave Alvin and Phil Alvin – Lost Time

Dave Alvin and Phil Alvin – Common Ground

Eli Paperboy Reed – My Way Home

Fleshtones – Quatro x Quatro

Fleshtones – Brooklyn Sound Solution

Los Straitjackets – Deke Dickerson Sings the Great Instrumental Hits

Nick Lowe – 1982-1990 Catalog Reissues Bundle

The Stray Birds – Best Medicine

Tony Joe White – Hoodoo
YR15 Artists
Chatham County Line – Sight & Sound

Fountains of Wayne – Utopia Parkway

John Doe – A Year in the Wilderness

John Wesley Harding – John Wesley Harding's New Deal

Liam Finn – The Nihilist Demos (10")

The Minus 5 – The Minus 5 (w/ Bonus 7")

Robyn Hitchcock – The Man Upstairs

Sloan – The Double Cross

Tift Merritt – Bramble Rose

YR15 – Yep Roc Heresy / They Call It Roc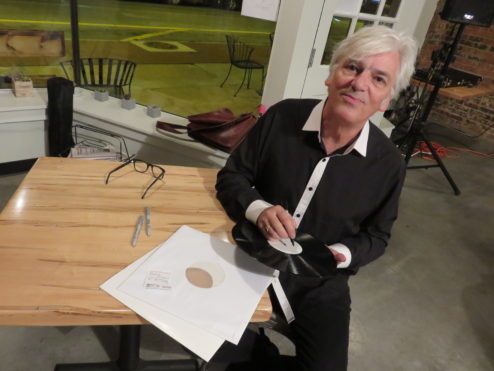 You can find out information on the local nonprofits benefiting from the auction here:
Girls Rock NC

– In thirteen years of programming, Girls Rock NC has held nearly 100 music programs for girls in Chapel Hill, Durham, and Raleigh. Campers have gone on to perform in successful bands and have even take on leadership roles at camp.
Activate Good

– With a goal that all good causes in the Triangle will get the help they need, Activate Good continues to influence the community and work with volunteers who realize and exercise their potential to make a change, facilitating over 360 local causes in 2016 alone.
WHUP

– Broadcasting from Hillsborough, WHUP's vision is consistent with that of excellent community stations around the country – present a high-quality, eclectic, host-driven mix of music and conversation that collectively reflects the community we serve, with an emphasis on local and regional talent.
Be Loud! Sophie Foundation

– The Be Loud! Sophie Foundation supports adolescent and young adult cancer patients and their families at UNC Hospitals. The foundation funds the only adolescent and young adult program director at a cancer hospital in the United States in honor of Sophie Steiner, a Chapel Hill teenager who died of cancer in 2013.
Visit our eBay store here to check out the auctions! Happy bidding!
Still confused on what a test pressing is? Watch below!