Grant-Lee Phillips shares "Gather Up," the third track unveiled from his forthcoming tenth solo album, Lightning, Show Us Your Stuff, out September 4th.
Glide Magazine premiered the official video for the track noting, "Phillips lets his gritty, soulful vocals shine while backed by a rich cacophony of percussive sounds."
"When I was kid, I was forever being dragged off with my grandparents to some little country church," says Phillips. "The folks were always friendly as the long cars pulled up into the gravel driveway. Everyone in their Sunday best – my grandpa in a suit, grandma in a flowered dress. Once in the pews, the mood would sometimes darken with the threat of some cataclysm. There was also music. A guttural kind of music that comes out of the mouth of an old man and an overdriven amplifier. Those things stuck with me."

Grant-Lee Phillips on "Gather Up"
"Gather Up" is the third track to be unveiled ahead of Lightning…'s September 4th release date, including "Straight to the Ground," which premiered at SPIN in June.
Lightning, Show Us Your Stuff is currently available for preorder on the Y-store! The First Edition Vinyl LP includes a red vinyl 45 single featuring two unreleased tracks from the Lightning, Show Us Your Stuff sessions. The First Edition Vinyl LP is limited to 1,000 copies worldwide.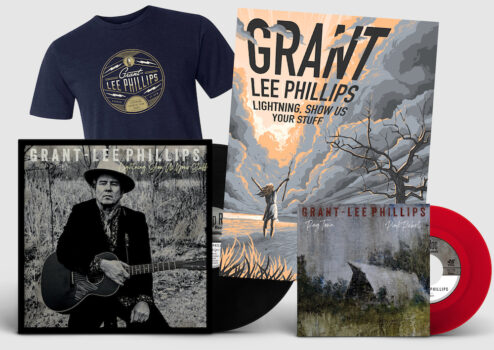 Bundle your purchase of the Lightning, Show Us Your Stuff LP or CD with a screen printed poster autographed by Grant and the poster's illustrator + a limited edition t-shirt and save 20% on your purchase of the LP or CD.
Tags:
Grant-Lee Phillips
,
new music
,
New Music VIdeo