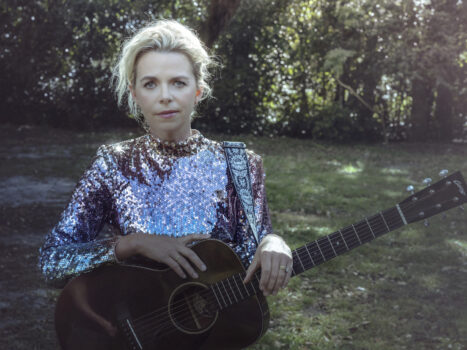 Aoife O'Donovan
.........................................................

GRAMMY® Award-winning artist Aoife O'Donovan operates in a thrilling musical world beyond genre. Deemed "a vocalist of unerring instinct" by The New York Times, she has released two critically-acclaimed and boundary-blurring solo albums including In the Magic Hour, which Rolling Stone hailed for its "Impressionistic, atmospheric songs [that] relay their narratives against gorgeous pastoral backdrops."  O'Donovan spent the Winter and Spring of 2021 in the studio with acclaimed producer Joe Henry (Bonnie Raitt, Rhiannon Giddens) recording her third full-length solo album titled Age of Apathy, which will release January 2022.
A savvy and generous collaborator, Aoife is one third of the group I'm With Her with bandmates Sara Watkins and Sarah Jarosz. The trio's debut album See You Around was hailed as "willfully open-hearted" by NPR Music. I'm With Her earned an Americana Music Association Award in 2019 for Duo/Group of the Year, and a Grammy-award in 2020 for Best American Roots Song.
O'Donovan spent the preceding decade as co-founder and frontwoman of the string band, Crooked Still and is the featured vocalist on The Goat Rodeo Sessions – the group with Yo-Yo Ma, Stuart Duncan, Edgar Meyer, and Chris Thile. She has appeared as a featured vocalist with over a dozen symphonies including the National Symphony Orchestra, written for Alison Krauss, performed with jazz trumpeter Dave Douglas, and spent a decade as a regular contributor to the radio variety shows "Live From Here" and "A Prairie Home Companion."
On Tour:
Media:
Links:
WEBSITE
FACEBOOK
TWITTER
TUMBLR
INSTAGRAM
Yep Roc Discography: