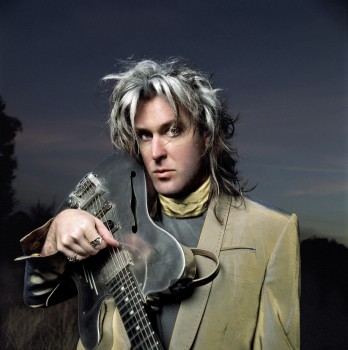 C.C. Adcock
.........................................................

Lafayette, LA: Swamp rock 'n' roller CC Adcock has packed a lot of living into his 33 years: guitar stints with Bo Diddley and Buckwheat Zydeco, an acclaimed solo record, film scores and album productions, as well as being founder and leader of the all-star swamp-pop supergroup, Lil' Band O' Gold.
A sharp-dressed man who favors custom-made suits and fine footwear (usually reptilian), Adcock's wit is as nimble as his fingers' this is a player who's been gigging and immersing himself in the Louisiana music scene since his early teens. "The greatest thing about living down here is that you can still go and knock on the door and hang out with all your heroes, and you can even start bands and play with 'em, which is double cool," says Adcock. "I mean, it's not like you can go and hang around with Robert Johnson, but comin' up down here I have been able to hang out with cats who played with Howlin' Wolf and Clifton Chenier and lots of first and second generation real-deal cats whose blues turned into rock 'n' roll. To me, it's just amazing, in this day and age, to be this close to it all and to still be able to make that connection."
By age 14, Adcock was gigging throughout south Louisiana in a teenage group called Boogie Chillun'-"we were like the rhythm and blues Menudo," he quips-and honing his guitar skills. On non-gig nights, he'd use the band's PA to spin '80s new wave hits at local high school dances. "The drinkin' age wasn't too strictly enforced down here, back then," recalls Adcock. "So afterwards, we'd always go out to a black Zydeco club or to the Grant St. Dancehall, just in time to catch John Lee Hooker, the T-birds or Stevie Ray Vaughan [with early incarnation Triple Threat] – all in a little nightclub!"
After leaving high school, Adcock lit out for Hollywood (pre-Nirvana). "It was full-on glam metal, which I hated – couldn't stand it. But the girl factor was amazing, even though I was playin' in blues bands. I mean, even the guys were all made-up and good-lookin', so you can imagine how fine the girls were." Ironically, he found that he was getting most of his work because of his Louisiana sound and connections. He spent some good times hangin' out on the Sunset Strip with his childhood buddy, "Lil' Doyle" (Doyle Bramhall II), and playing dates with a Who's Who of L.A. roots royalty backing up the great Bo Diddley. Eventually, he got a tip through Los Lobos' David Hidalgo that Buckwheat Zydeco needed a guitar player. Adcock recalls, "I decided, 'Well, if the reason I'm working in L.A. is because I'm from Lafayette, then I might as well move back.' I had a wish list of musicians and artists back home that I wanted to play and work with." He ended up touring for over a year with Buckwheat, but had his heart set on recording his own music. "In California, I realized that I wanted my songs to be recorded and written from the vantage point of living and being back at home in the South. I didn't want it to all be homesick music."
Back in Lafayette, Adcock, looking to land another guitar gig, started recording demos, which made it into the hands of his friend/producer Tarka Cordell (a Brit he'd first met sweeping a soundstage in Hollywood). "Tarka heard my demos, helped me out finishing them, brought 'em to New York and played 'em for his daddy," says Adcock. "Daddy" turned out to be legendary A&R man Denny Cordell (Shelter Records, Mad Dogs & Englishmen, Tom Petty etc. etc.), who was then head of A&R at Island Records. Denny heard the demos and immediately signed Adcock to his label.
"So we made a record; I kinda got shot out of a cannon," Adcock recalls. "I was pretty naive and I thought everybody got to make major label records with cats like the Cordells. Denny Cordell was one of the last of that breed of record men. He was a true A&R man -he'd really give you great direction and help to develop you and make you a better artist. He and Tarka granted me the great gift of realizing my own sound and style, making music for myself and not just playing someone else's stuff." He and Tarka recorded the debut, which coupled his original songs alongside his own take on songs by Bobby Charles, Bo Diddley and Arthur Alexander. Tremolo guitars pulsed and throbbed, with Adcock enlisting some of his aforementioned heroes – Tommy McClain, Warren Storm and Clarence "Jockey" Etienne (Storm and Etienne having drummed on most of the great Excello sides) – to lend a hand. No less an authority than Nick Lowe picked it as a favorite record of his, and Adcock hit the road opening shows for Jimmie Vaughan and Melissa Etheridge.
Unfortunately, before he could finish recording the follow-up, Denny Cordell unexpectedly passed away. Adcock kicked around Island for a while, but without Cordell's guiding hand, he eventually was shown the door. He wasn't down for long, though. Pop genius Jack Nitzsche, whose jaw-dropping credits are too numerous to mention, by chance heard Adcock's record at a party. He spent the rest of the night listening to the album repeatedly, scratching production notes out on the CD booklet. By the end of the night, he was convinced that he had to make rock 'n' roll records again – this time with Adcock!! The two became inseparable-traveling together to Mexico to write and gather songs, spending countless hours in the studio, and navigating the ever more treacherous waters of the music business. Nitzsche's notoriously difficult and demanding personality stifled a few record deals along the way, but as a friend and musical mentor the experience proved invaluable to Adcock. The two managed to complete several tracks in the studio, including the powerful "Stealin' All Day," which anchors the sound of Adcock's second album, Lafayette Marquis.
"With Nitzsche, I realized that there's a direct correlation between roots and pop music," says Adcock. "As long as something is infectious and popular it's all one and the same, and you can definitely bridge that gap and make something that sounds strangely new again out of the roots you grew up listening to, even if it's from a place like Louisiana where the music's really colloquial. You can carry on in the traditions of your home and still be current and modern -you can actually use the traditions to invent new things."
"The big misconception about the art, style and feel of 'The South' is that it's all been inherited. The best things here are invented, but you invent from within the traditions- you apply new ideas to things that are classic, tried, true and tested. All that, what was in my heart and a lil' magic, is what I learned in that period with Jack," he says.
During that same time, Adcock brought together the Lil' Band of Gold, which featured an impressive roster of seasoned vets culled from the local scene, including famed swamp-pop great Warren Storm. "I decided I wanted to be playing more live. I wanted to do some honky-tonks and festivals around here and around the Gulf Coast and sing with some of the old guys," says Adcock. "I mean, Warren is one of the baddest singers on the planet and he played on Slim Harpo records! Working with him and watching him do his thing every night is such a trip. While I was working with Nitzsche and trying to keep my solo thing together – and especially after losing him [Nitzsche died of a heart attack in 2000], I just wanted to leave it alone for a while and hang out with all my local cats." He had another band with Clifton Chenier's longtime guitar player, Lil' Buck Senegal. "We called it Cowboy Stew Blues Revue. A cowboy stew is a Creole dish down here with, like, tripe, guts, tongue, all the innards …you make a big stew out of it, and we were kind of a cowboy stew- a black and white band – all thrown in together." Adcock also served as producer on a couple of forward looking albums with Cajun music's premier young outfit, Steve Riley & The Mamou Playboys.
When it came time to finish up his oft-started second album, Adcock decided he had to look hard at what he had recorded over the last years. "I realized I should clean out all these collaborations in different formats and different stages of completion – some of which proved to be complete, and some of which I re-recorded from the ground up." Working with his old friend and confidante Tarka Cordell and respected New Orleans engineer/producer Mike (aka 'Mic') Napolitano, they were able to combine the different formats and different sessions and finish this group of songs. "We were able to take a vocal or guitar recorded by Jack Nitzsche on 2-inch, put it on top of a loop of a 4-track cassette demo I did in my house the night I wrote the song, and then add a new piano part by John Cleary that was recorded last week," says Adcock of the process. "In many cases, you're getting an amalgamation of different sessions and attempts – I never thought that any one version that I had layin' around was the definitive one. But now I do.
The cool thing about the process is that with this record, finally the cream was able to rise to the top."
The result is an album that fuses the different sessions, styles and influences that have been a part of Adcock's life over the past decade. Spend a few minutes talking with CC and it'll instantly become clear that he has a vast knowledge of and appreciation for his hometown and its storied musical heritage – a heritage that exists to this day.
"One thing that hasn't changed," says Adcock, "is that on any given night, you can start out in the country with some food, drop in to a Cajun dancehall and watch the old folks glidin' round the floor, then put the top down and jump back into town and rock around to the new sounds of some up-and-coming-cats. Then, you can cross the tracks and bump at a Zydeco disco, have a few crown and sevens and – at the end of the night – head south to another Parish where they stay open all night, and you can boogie 'til daybreak in front of a classic swamp-pop jukebox and still make it home in time for Mass. And that' not even a fairy tale night.
That' what inspires me."
On Tour: