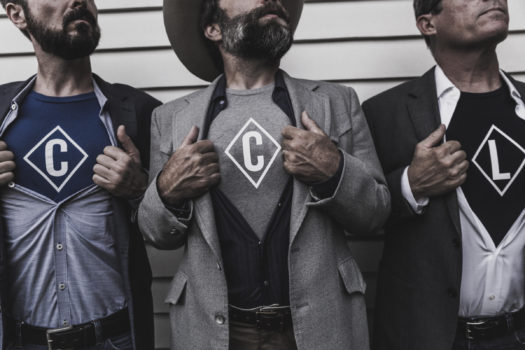 Chatham County Line
.........................................................

"Well, I guess we're not a bluegrass band anymore because once you lose the banjo, you fall right out of that one," says Dave Wilson, the guitarist, lead vocalist, and chief songwriter of Chatham County Line. He laughs because the North Carolina string band has been far removed from that genre's confines for years, despite topping the Billboard bluegrass charts with its last three releases. On the band's ninth studio album, Strange Fascination, they stray even further from bluegrass conventions in the midst of a lineup change that features dedicated percussion for the first time. "We've always seen ourselves as an Americana band that breathed through instruments that are conventionally considered to be bluegrass, so we're replacing the banjo with drums and hoping we can up the ante a little." 
Fiercely dedicated to originality and honesty, Chatham County Line draws from a deep well of American roots traditions as often as a decade-spanning array of rock, pairing Wilson's timeless songwriting—which often examines the human condition through a personal lens—with clever and skilled instrumental work. Twenty years into the band's lifetime, Strange Fascination marks an important point in their slow and steady evolution, serving as both the final release with co-founding banjo player Chandler Holt— the first change to their line-up since 2001—and their first to feature drums throughout. Despite the potential for a radical shift in style, the album finds the veteran group reinvigorated by broadening their palette rather than attempting to completely reinventing their sound. 
"It's liberating to not have a concrete formula for the band like we had in the past," offers Wilson, who discovered bandmates Greg Readling (bass, pedal steel, piano, organ, synthesizer) and John Teer (mandolin, fiddle) were freed up to add more colorful flourishes on Strange Fascination without being relied upon to provide the percussive elements. Yan Westerlund (Mipso, Phil Cook) was enlisted to add percussion on the record through a connection with Chris Boerner (Hiss Golden Messenger, The Foreign Exchange), who mixed and mastered the album after recording at Mitch Easter's Fidelitorium studio in Kernersville, North Carolina.
Chatham County Line's first album of originals since 2016's Autumn—which debuted at number one on Billboard's Bluegrass Album chart—Strange Fascination was tracked in April 2019 amidst a banner year for the band. After returning to the top of Billboard's bluegrass chart in March with Sharing The Covers—a collection that features interpretations of songs made famous by artists from The Stanley Brothers and Del Reeves to The Rolling Stones and Beck—Chatham County Line hit number one again in December with Winter Stories, a collaborative album with American folk icon Judy Collins and Norwegian legend Jonas Fjeld. Between a short run with Collins and Fjeld and a handful of dates supporting Steve Martin and Martin Short on the comedians' Now You See Them, Soon You Won't tour, the band also landed slots at MerleFest, AmericanaFest, and Telluride Bluegrass Festival along with a slew of appearances at theatres, clubs, and other festivals.
"We've had opportunities to perform with all these different people that have been great for the growth of the band and for us as individuals and musicians," says Teer, adding that it feels like a vote of confidence in the band's tightness and almost telepathic level of interplay that comes with two decades of playing together. On Strange Fascination, though, "it's less about the different instrumentation than it is the evolution of Dave's songwriting, which gets better every year," Readling believes. "I have 110% confidence in his songwriting because it's just very true and honest."
Easing into the fuller sound of Strange Fascination, the lovelorn shuffle "Oh Me Oh My" opens the record with plenty of piano accented by stray bits of banjo and backed by subtle percussion. The lush and tender title track, which features Sharon Van Etten on backing vocals, alludes to a new era of Chatham County Line in more ways than one. "One of the unwritten rules we had was that the people on the record are us four guys," says Wilson in reference to the guest vocal, the first since the band's debut. "We wanted to be able to recreate [our albums] live, but the rules have kind of gone out the window so we're just going to do whatever it takes to present the songs the best way possible." Coincidentally, "Strange Fascination" also helped inspire the band to move away from the single microphone set-up that has long defined its live performances in order to more faithfully reproduce the fidelity of the song. 
Revisiting a song originally recorded by Stillhouse—Wilson and Readling's rock band that gave rise to Chatham County Line—for their 2013 album The Great Reprise, the introduction of "Leave This World" demonstrates the band's development by incorporating a decade-old attempt at recording the tune during the Wildwood sessions. Somehow suggesting both psychedelia and gospel, Readling's droning pump organ fades into a spirited, staccato take that highlights the interaction between mandolin, banjo, and drums. Never one to shy away from touching on social issues, Wilson—who penned the lyrics after losing someone close to him— addresses the right to die with dignity at a time when medical advances can keep bodies functioning after the mind is already gone.
With a chugging rhythm bolstered by lively piano and harmonica, the sanguine "Free Again" addresses the American Dream in light of both the immigrant experience and the country's history of slavery. Built around the album's most atmospheric arrangement, "The Eagle and the Boy" recounts a mother rescuing her son from a bird of prey, employing the true story as a parable to subtly critique sexism considering the life-giving power of women. Another cut that demonstrates his masterful storytelling, Wilson makes his own addition to the canon of folk tales from the North Carolina coast with the dark and moody "Queen Anne's Gold," which evokes creaky ships on stormy seas with fiddle flourishes and dramatic cymbal swells while recounting the legend of the pirate Blackbeard and his shipwrecked treasure. 
Breezy bouts of harmonica, nimble guitar runs, and twinkles of piano twirl around a steady rhythm that mimics a locomotive on "Station to Station," another addition to the band's repertoire of train songs that includes fan favorites "Speed of the Whippoorwill" and "The Carolinian. Wilson's fascination with antiques continues on "Guitar (For Guy Clark)," where he ponders the past lives of a well-worn instrument while imagining its original owner. The album ends with the leisurely "Nothing," which Wilson calls his favorite song he's written in years. Imbued with a lazy Sunday feel, lyrics like "most my days I'm overworked and worn out from nothing" are matched with a sparse but playful arrangement of strings and brushed drums. "It's got everything I want—it's mellow, it's got some weird chords, and you don't have to think too hard to enjoy it," Wilson explains. 
Though "Nothing" is inspired by Wilson's downtime at home when worn out by the band's constant touring, he feels like the addition of percussion to the band's lineup—a revolving group of players will fill the drum throne on upcoming tours—will help breathe new life into the band's back catalog. "It's been a shot in the arm to be able to re-imagine some of the old tunes and to be able to rest on the beat of a drummer," he says. Like the rest of Strange Fascination, "Nothing" is far from what listeners would expect from all but the loosest classification of bluegrass, but Wilson is quick to point out that the band benefits from a perspective that the genre's pioneers never did. "I grew up on Jimi Hendrix and owned every single thing that U2 ever put out," he asserts. "Bill Monroe didn't have that luxury."
On Tour:
Media:
Links:
WEBSITE
TWITTER
FACEBOOK
YOUTUBE
INSTAGRAM
Yep Roc Discography: