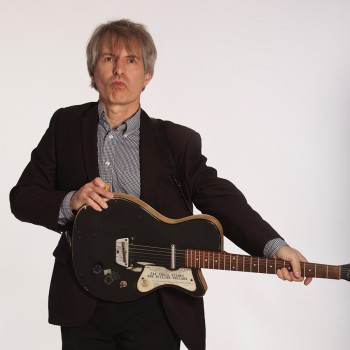 Chris Stamey
.........................................................

"To me, euphoria lives inside an electric guitar," Chris Stamey says of his new Yep Roc release. "That's a place I find freedom, passion, exhilaration: in the spaces between the notes, in the distance between the frets."
Euphoria is a distinctly compelling entry in a body of work that already contains a startling amount of acknowledged classics and underappreciated gems.  As solo artist and founding co-frontman of seminal indie combo The dB's, the North Carolina-bred singer-songwriter-guitarist has built a beloved and influential catalog that's earned him a devoted international fan base and established him as a godfather to the Southern alternative pop community.
Arriving on the heels of his widely acclaimed 2013 chamber-pop excursion Lovesick Blues and 2012's long-awaited dB's reunion album Falling Off the Sky, Euphoria finds Stamey reembracing his electric roots with an emotionally resonant set of rocking, melodically infectious, sonically bracing new tunes, with expansive arrangements incorporating horns and other unexpected sonic textures, and a supporting cast that includes Norman Blake of Teenage Fanclub, Pat Sansone of Wilco, Django Haskins of the Old Ceremony and longtime cohort Mitch Easter.
"I found these songs inside the same dilapidated old Silvertone lipstick guitar that I'd written my first records on," Stamey asserts.  "Maybe that's why it sounds a bit like those records in some ways."
While Euphoria's songs carry echoes of Stamey's earliest work, they also explore some unfamiliar sonic and compositional territory.  "The songs sound simple, but I've been listening to Gershwin and Cole Porter, and trying to use chord changes in places where, on other records, I might have used echo or mixing tricks," he says.  "On songs like 'Where Does the Time Go?' and 'Make Up Your Mind,' it seems like the parts repeat, but actually they're shifting around all the time, with little modulations and variations.  I'm finding new places to go."
In addition to Stamey's own memorable compositions, Euphoria's highlights include the rousing opening track "Universe-sized Arms," a previously unreleased Ryan Adams composition that Adams suggested he record.
While the heartfelt "You Are Beautiful" ranks with Stamey's finest ballads and "When the Fever Breaks" is one of his punchiest rockers, the propulsive "Rocketship" offers a tip of the hat to legendary punk progenitors the MC5, whose 1971 visit to Stamey's hometown of Winston-Salem was a seminal event in the lives of those who witnessed it.
"I've grown very fond of the last several Wes Anderson movies," Stamey notes.  "I love how handmade and 'auteur' they look, and I wanted to make a record that sounded a bit like that.  At the same time, my teenage daughter got a turntable and regularly spun some of the Beatles' records, including Rubber Soul and Revolver, albums that I'd not paid much attention to when I was growing up but that now drew me in.
"That sound—of a few musicians working up a song and playing it together, leaving a little room for George Martin-isms to fill in the gaps—was very appealing to me," he continues.  "I liked how funky and natural it all sounded.  A lot of modern records sound like they're made by people wearing new, shiny clothes who are scripting in car crashes and Marvel superheroes and the Perfect Snare.  But I wanted a T-shirt sound."
To that end, Stamey assembled some longtime friends from Chapel Hill's fertile musical community—Tony Stiglitz, F.J. Ventre, Wes Lachot, Matt McMichaels and producer Jeff Crawford—and did some literal woodshedding.
"We started rehearsing in a tiny old shack out in the woods, and I wrote some new songs so we'd have something to play together," Stamey recalls.  "Then we ran down the road to Mitch Easter's Fidelitorium studio to cut tracks together as a band, with Mitch on guitar as well."
Having already explored the possibilities of string and woodwind arrangements on Lovesick Blues, Stamey, using the Beatles' Revolver as his inspiration, incorporates a horn section—including members of New York's legendary Uptown Horns—throughout Euphoria, along with some "Tomorrow Never Knows"-style loops on the album's title track.  The latter element was drawn partially from a woodwind piece that Stamey wrote in his youth.  That composition, like several other early classical pieces he'd written, was long thought to have been accidentally destroyed, but a recording of it resurfaced last year at the tail end of the master tape of the dB's' 1978 debut single "If and When."
Euphoria's birth cycle also found Stamey reacquainting himself with another early source of inspiration.  "I was joyfully reunited with my old family piano, a Steinway baby grand that I'd first played when I was six," he explains.  "'Make Up Your Mind' and 'Where Does the Time Go?' both came from this beloved instrument."
For the wistful, bittersweet "Invisible," Stamey, seeking to capture a classic Winston-Salem sound, reunited Easter and Let's Active drummer Eric Marshall, with Stamey on bass.
The sense of discovery and adventure that energizes Euphoria is a consistent thread that runs through Stamey's expansive catalog, which he began assembling while making avant-garde home-recording experiments in his teens.  Those early efforts set the stage for obscure, but ultimately influential, independent releases with his early outfits Rittenhouse Square (with his future dB's bandmate Peter Holsapple) and Sneakers (including dB Will Rigby and future Let's Active leader Mitch Easter).
Moving to New York at the dawn of the '80s, Stamey launched his own pioneering indie label, Car Records, and played bass in Alex Chilton's band, before making a pair of now-classic albums, 1981's Stands for deciBels and 1982's Repercussion, with The dB's.  He then began turning out a series of personally charged, musically adventurous gems including It's A Wonderful Life, Instant Excitement, It's Alright, Fireworks, his 2004 Yep Roc debut Travels in the South and the holiday-themed Christmas Time.
The Stamey oeuvre also includes a pair of duo albums with Peter Holsapple, Mavericks and Here and Now, and A Question of Temperature, on which he was backed by Yo La Tengo.  He's also worked as a sideman with the likes of Bob Mould and the Golden Palominos.
Stamey has also produced and recorded a wide variety of artists at Modern Recording, the Chapel Hill studio that he's operated for the past two decades, including recordings by the likes of Whiskeytown, Alejandro Escovedo, Flat Duo Jets, Le Tigre and Tift Merritt.
Since 2010, Stamey has also been the musical director and orchestrator for a series of all-star international concert performances of Big Star's classic album Sister Lovers aka Third, with a rotating musical cast that includes Big Star's Jody Stephens as well as members of the Posies, R.E.M., Teenage Fanclub, Wilco and Yo La Tengo.
Prestigious as Stamey's resume is, Euphoria makes it clear that the veteran artist is presently making some of the most vital and expressive music of his career.
"A lot of people who've heard this album have expressed the opinion that it's very much a Winston-Salem album, and I can definitely hear that," Stamey says, adding, "To me, these songs really lend themselves to be played live, and I'm really looking forward to doing that."
UPCOMING DATES
Performing with Big Star's Third concert at First Avenue, Sept. 30 – Buy Tickets
Performing with Big Star's Third concert at Great American Music Hall, Oct. 1
Performing with Big Star's Third concert at Hardly Strictly Bluegrass on Oct. 2. – Buy Tickets
Ponysaurus Brewery, Durham, Oct. 24.
On Tour:
Media:
Links:
WEBSITE
YOUTUBE
FACEBOOK
TWITTER
Yep Roc Discography: