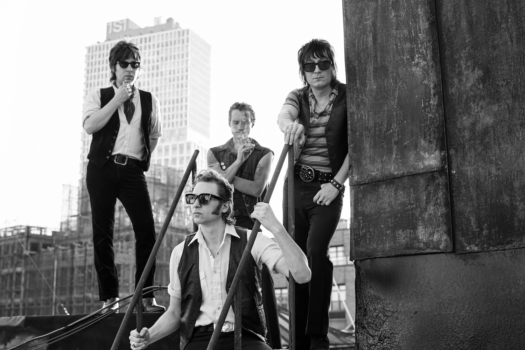 DADDY LONG LEGS
.........................................................

Today DADDY LONG LEGS, New York City's most diabolical Rhythm & Blues street gang, have announced their eagerly anticipated new album Street Sermons, to be released on March 17th via Yep Roc Records. The group has also shared the title track "Street Sermon," which sees the group beseeching their troubled congregation to "Work with one another/Not against each other" as the Brooklyn band evolve into a chain gang that sounds like they're emanating through the cracks of a hot and sticky subway station. Street Sermons is currently available for pre-order here.
Vocalist / harmonicist Brian Hurd writes about the track, "We were upset about a lot of things when we wrote this song and one thing that struck me was that there was a real lack of meaningful protest songs being written at the time so we decided to take matters into our own hands."
The band's fourth studio album represents a wellspring of bottled-up feelings and emotions that need to be taken to the streets. Produced by Oakley Munson of the Black Lips at Old Soul Studios in Catskill, NY the band expands upon a sound that's all their own and features guest appearances from Punk Rock legend Wreckless Eric providing backing vocals on "Nightmare" and "Silver Satin" and The Lovin' Spoonful's John Sebastian on "Ding-Ding Man," In dark times DADDY LONG LEGS continue to shine their light everywhere they go, leaving a piece of themselves on stage every night because it's in them and it's got to come out. 
DADDY LONG LEGS' previous album, Lowdown Ways (Yep Roc, 2019), reached #4 on the Billboard Blues Chart. The band has received high praise from Rolling Stone and No Depression who declared that "from the first note, this is clearly a record made by people who live and die for rock and roll." 
Over the last decade these gentlemen have burned down houses the world over with their explosive fire ceremony and have amassed a cult-like following all their own with a tough to beat reputation for being one of the finest live acts on the road today. Written and recorded against a backdrop of political tension, riots in the streets and a deeply uncertain future, Street Sermons is a testament to triumph over adversity.
Street Sermons tracklist:
01) Street Sermon
02) Nightmare
03) Rockin' My Boogie
04) Harmonica Razor
05) Been a Fool Once
06) Star
07) You'll Die Too
08) Silver Satin
09) Two Dollar Holler
10) Ding-Ding Man
11) Stop What You're Doin'
12) Electro-motive Blues
DADDY LONG LEGS US Tour Dates:
March 10 – The Sultan Room – Brooklyn, NY
On Tour:
Media:
Links:
WEBSITE
FACEBOOK
TWITTER
INSTAGRAM
YOUTUBE
Yep Roc Discography: