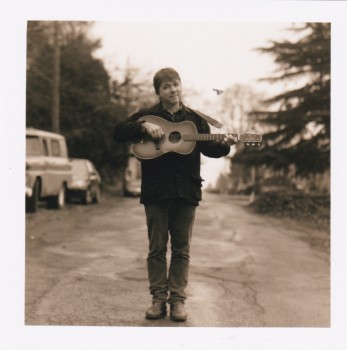 Darren Hanlon
.........................................................

One ambitious yet unorganised Australian. One battered old guitar. One Amtrak pass. Five recording studios. About twenty-seven musical strangers. And six bullet holes. The story of Darren Hanlon's fifth album proper Where Did You Come From? spans two continents and a whole lot of miles travelled,resulting in his most resplendent musical effort yet, the songs reaching new levels of maturity without ever losing his trademark lyrical charm and twinkling eye.
Recording it involved an unplanned and sometimes perilous lope through the American South, through various cities, towns and recording studios. "For lack of any real purpose I went on an exploratory adventure of the American southern states and the whole thing grew up around me like rogue lantana. I spent about 20 nights sleeping on different Amtrak trains with my jumper rolled up for a pillow."
Prior to his time in America, Hanlon spent a month in the Australian desert. Whilst sowing the seeds for a batch of new songs in the mining town of Broken Hill – famous as the filming location for Mad Max 2 – he sent some demos to a list of US studios he liked the sound of. By the time he'd flown to Portland, Oregon to begin work, he'd only heard back from one.
Andrija Tokic wrote with positive feedback from his Bomb Shelter studio in Nashville. Having recently garnered great success with the Alabama Shakes, his calendar was pretty full, save for a single session. Hanlon took the long train trip to Nashville, arriving with a kinked neck and notebook full of lyrics, discovering that Tokic had handpicked a backing band and organised a bed in a friend's basement. "Another songwriter was staying upstairs. Riley Downing, from a folk band called the Deslondes," Hanlon says. "We spent many nights trading songs and talking. Through him I met a revolving cast of musicians he was friends with. I got a real sense of a scene that was developing across many cities of the South, connected by friendships and a mutual appreciation of traditional roots music."
This chance encounter was just one wellspring that would feed into the songs that eventually made up Where Did You Come From? And people he'd meet would tell him about other interesting studios in other places, each journey unlocking the next. Leaving from Nashville he did one-off sessions in Memphis, Muscle Shoals, New Orleans and Clarksdale. Sometimes the musicians these studios had on hand had played on hit songs Hanlon had heard since a child.
David Hood and Spooner Oldham sat in on a song in legendary Fame Studios, and Howard Grimes, the 72-year-old long-time Al Greene drummer, backed him up on the Memphis sessions. "Now that was a strange and beautiful collaboration," Hanlon remembers, "I don't think Howard had played with anyone as straight and Queensland as me before. He said I was taking him back to school!"
To hear the analogue richness and singular vision resulting in the collection of songs that make Where Did You Come From? belies the accidental nature of its process. It's a cohesive, hopeful and vibrant testament to the joys of travel, the tyranny of distance and the vagaries of love and fate. To know the precariousness of the steps it took to realize only makes it more special and amazing.
"When I hopped off the Amtrak I just walked around and met buskers, tap-dancers, preachers, drunks and drug dealers, all of whom had something worth learning about," Hanlon tells. "I started having compulsive notions that whoever I met should somehow contribute to the album. Let fate play into it. One guy tried to break into a car I was sitting in and even he ended up playing bass on a song."
On Tour:
Media:
Links:
WEBSITE
FACEBOOK
TWITTER
MYSPACE
Yep Roc Discography: