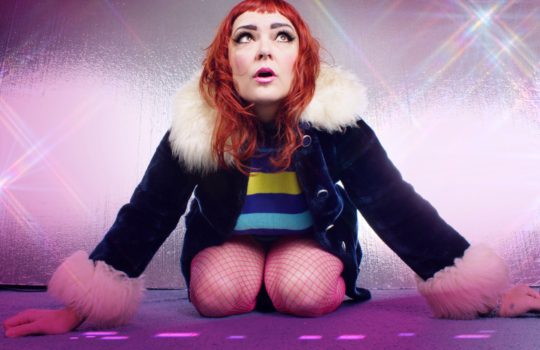 Dressy Bessy
.........................................................

Tammy Ealom – vocals/guitar
John Hill – guitar
Craig Gilbert – drums
Marcus Renninger – bass
"This album comes out 20 years after our first one," guitarist John Hill says of Dressy Bessy's second Yep Roc Records release, Fast Faster Disaster. "We're better than ever.  Tammy's songwriting and performance are as vital as ever.  She's the genuine article and one of the strongest, most talented women I know."
"This is the most selfless record I've ever written," asserts frontwoman Tammy Ealom. "In the past, the bulk of my songwriting was inspired by something or someone who'd pissed me off. Writing a song about it made me feel like I was getting the last word, case closed in my mind. With this album, most songs were written for someone or inspired by something I love." 
Fast Faster Disaster makes it clear that, two decades from the band's seminal D.I.Y. beginnings, Tammy Ealom's distinctive songcraft remains as sharp as ever. The Denver combo's second Yep Roc release, and their second since the seven-year recording hiatus that preceded 2016's KINGSIZED, Fast Faster Disaster's new songs affirm Tammy Ealom's career-long commitment to barbed lyrical insight and effortlessly catchy melodies.
 Throughout Fast Faster Disaster, such engaging new tunes as "It's Not That Hard," "Fearless," "Cheerup Teardrop" and "Stay True" reflect on universal emotional foibles with the same pointed insight that Ealom has brought to her lyrics since the band's early days as iconoclastic indie pop darlings. "Tiny Lil' Robots" and "Sweet Medicine," meanwhile, were inspired by Tammy's relationship with her daughter, while "Mon Cheri" was sparked by the emotions that accompanied the sudden death of Dressy Bessy's original bass player Rob Greene in January 2018. 
Elsewhere on the new collection, the bittersweet "The Real McCoy" pays heartfelt tribute to longtime friend and label mate (Minus Five/Young Fresh Fellows leader) Scott McCaughey, who had suffered a stroke at the time the song was written. John Hill, in his alternate role as a freelance tour coordinator, was actually in San Francisco with McCaughey when he suffered the stroke, and a distressed Tammy Ealom wrote the song while following the details back home.  Tammy invited several of McCaughey's friends and band mates to make guest appearances on the track, including Kurt Bloch (Young Fresh Fellows, Fastbacks), Ken Stringfellow (Posies), Corin Tucker (Sleater Kinney), Andy Shernoff (Dictators), Keith Streng (Fleshtones), and Michael Giblin and Josh Kantor (Split Squad).
"We were in shock," Tammy says. "I wrote that song in a night and sent it off to numerous friends to add tracks while they were also struggling with the news. We even had people send in tracks that they sang into a phone while listening to the song through speakers.  At the time it seemed urgent to complete the song so we could present it to Scott, but later realized we wanted it to live on as an album track. It fits right in with the emotions of this album."
Fast Faster Disaster also features another memorable tribute in the form of the band's fresh take on "What Do I Get," originally by Brit pop-punk pioneers the Buzzcocks, whose leader Pete Shelley passed away while Dressy Bessy were finishing the album. "What Do I Get" was recorded prior to Shelley's passing, but then immediately adopted as a tribute following Shelley's death. 
"I think this is our best album yet," Tammy assesses. "There's an undeniable sense of honesty and freedom to it, lyrically and sonically, and it came with a humbling ease. We pay close attention to current events, including politics, and have been profoundly impacted by the recent climate. There's nothing like the threat of losing your basic freedoms and realizing the fragility of democracy to open up your eyes and pull you out of your personal bubble. More than ever, we've come to appreciate the importance of family, friends and community."
Though the album has serious elements , Fast Faster Disaster also remains consistent with the same pursuit of joy and transcendence that's motivated Dressy Bessy since its early days.
Such seminal Dressy Bessy releases as Pink Hearts Yellow Moons, the California EP, SoundGoRound, Little Music: Singles 1997-2002, Dressy Bessy and Electrified earned the band an enthusiastic fan base with their effervescent, uplifting pop tunes.
"I always laugh when people call us sugary or bubblegum," Hill notes.  "They obviously haven't seen us live.'  Tammy adds," yeah we're more like a semi-sweet, hard rockin' friendly smack in the face!"
Dressy Bessy plan to launch Fast Faster Disaster's twenty-year anniversary campaign with a pair of hometown shows at the legendary Lion's Lair in Denver, where Dressy Bessy performed its first club show. 
As for the coming months, John predicts, "Touring and more touring the United States and abroad. We just want to have fun and rock out! We've met so many people over the years that, in many cases, our fans around the world have become some of our best friends and their kids are now some of our biggest fans.  
"It's all really exciting," concludes Tammy. "We're surrounded by so many energetic, supportive people, great bands and artists. The creative possibilities are endless.  We've never shied away from hard work and are up for anything. Working hard makes us stronger, the struggle is part of it, maybe even a necessary ingredient." 
On Tour:
Media:
Links:
WEBSITE
FACEBOOK
TWITTER
YOUTUBE
INSTAGRAM
Yep Roc Discography: