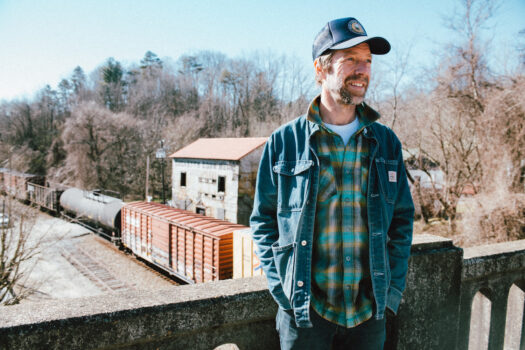 Graham Sharp
.........................................................

Graham Sharp has been one of my closest friends for the past 25 years, and he has been my favorite songwriter for nearly as long. As a friend, Graham is wise, thoughtful, and honest, and his musicianship and songwriting share those same qualities. I've had the great honor – and a coveted front row seat – to watch Graham create song after song all the while becoming a world class songwriter. He has written, with little exception, the entire catalogue for the band we share with our four other brothers in music, reaching well past 100 songs. At the same time letting just as many be gently set down, only to admittedly rely on the collective memory of the band to remind him of a verse or melody he once carefully crafted and briefly shared.
Here we have Truer Picture, Graham's first solo endeavor. This project is raw, diverse, and wonderful: simple in the most perfect way. Truer Picture is in contrast to the music we have grown accustomed to hearing Graham write and help shape. Instead of 4 or 5 voices, it's just his. Instead of his complex banjo lines, it's his tasteful finger-style guitar. This record, to me, is Graham channeling the music he loves most: writing it, playing it, and singing it all on his own. It's like a Sunday morning cup of coffee with Don Williams, a late night tour bus ride with Terry Allen, or an afternoon with John Hartford.
Sought-after Asheville, NC producer Seth Kauffman explains, "I've always felt a connection to Graham's songs – his voice and songwriting are absolutely classic. After hearing the material, I could tell the path forward was to lay down a simple, classy, timeless, slightly greasy southern soul foundation to highlight his songs." Partnering with Seth was a brilliant choice. He brings his own unique approach, sound, and style, and he's been trusted by many to let the pure essence of the music lead the way, providing subtle yet genius accompaniment throughout.
Truer Picture features Graham's writing in its purest form. When songs are written and shared with other artists it's nearly impossible to avoid the intentional or unintentional changes that occur to the original melody, phrasing, and lyrics. This collection of songs are all written and sung by Graham the exact way he intended for them to sound. The warmth in his deep baritone vocal, the soul and care in his lyrical storytelling are immensely appealing and honest to the core, from the beautiful country ballad "North Star" to the barebones of "Bad Apple" and "Coming Back to Life." From the fatherly wisdom in "Love Yourself" or the lover's plea in "Truer Picture of Me" to the sultry invitation of "Come Visit My Island," Graham has showcased his incredible diversity as a writer and a vocalist.
 Graham is quite possibly the most driven and creative artist I have ever known. From a musician who developed his musical reputation as a banjo player and songwriter, Truer Picture is very effectively the newer picture of Graham Sharp and all that he has to offer the greater world of music. Enjoy!
— Woody Platt, Steep Canyon Rangers
Media:
Links:
WEBSITE
FACEBOOK
INSTAGRAM